NATPE BUDAPEST 

2019
CALINOS ENTERTAINMENT
InterContinental, Suite 223

Revival (drama series) (pictured)
Kemal falls into a coma following a disastrous fire at his office building. When he reawakens, he discovers that his family has moved on without him.
Forbidden Fruit (drama series)
Two sisters, Zeynep and Yildiz, want vastly different things out of life. Zeynep dreams of a career she can be proud of. Yildiz wants to marry a rich man.
Our Story (romantic drama series)
Filiz was forced to become a surrogate mother to her young siblings. She doesn't think she has time for love in her life. Until she meets Baris, that is.
Woman (drama series)
Bahar is a young mother of two who constantly contends with issues of abandonment. Unexpectedly, Bahar's estranged mother and sister reappear in her life.
---
KANAL D
InterContinental, Suite 219

Ruthless City (drama series)
After moving her family to Istanbul, single mother Seher is tested when she encounters Agah, a wealthy man from her same town.
Afili Aşk (romantic comedy series) (pictured)
With two controlling brothers and a boyfriend who deserts her, Ayse forces Kerem, the son of one of the wealthiest families in Istanbul, to marry her.
Price of Passion (romantic drama series)
While working as a hitman for his criminal uncle, Ferhat forces Asli to operate on a man that he shot. The two then marry in order to save Asli's life.
Wounded Love (period drama series)
One man witnesses his family's decline, while the woman he leaves behind is forced to accept a marriage proposal while pregnant with another man's child.
Double Trouble (action drama series)
Police officers Mustafa Kerim Can and Mert Barca — two men who hate each other — work together in order to tackle a giant drug raid known as the "Mermaid" operation.
Twins (family drama series)
Memo and Can lead very different lives: Memo clings to his small-town life and family, while Can lives in the lap of luxury under his grandfather's strict rules. Big secrets will be revealed when the two young men meet.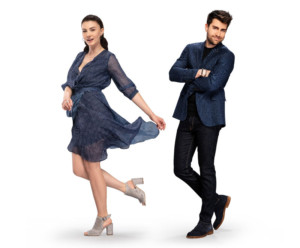 ---
MADD ENTERTAINMENT
InterContinental, Suite 225

Kuzgun (drama series)
Kuzgun infiltrates a gang in order to exact revenge. When he meets the gang leader's daughter, Dila, this new bond will be his biggest obstacle.
My Little Girl (family drama series)
Eight-year-old Öykü and her unaccountable father Demir must take care of each other, even though Demir would rather get rid of her in order to get rich with his best friend.
Crash (drama series) (pictured)
In attempt to commit suicide, Kadir gets into a car accident that involves three other people. As a consequence, the four will offer each other something the other is missing.
---
MEDIASET DISTRIBUTION
Viewing Booth 2

Kidnapped By Justice (L'amore strappato) (drama series)
A father is falsely accused of abusing his daughter, who ends up in the adoption system. His wife will fight to prove her husband's innocence and get her daughter back.
The Silence of Water (Il silenzio dell'acqua) (drama series)
The local police inspector must work with a homicide detective to uncover the truth behind the disappearance of a young girl that seems to involve all of the town's residents.
Doctor Giò (Dottoressa Giò) (medical drama series)
Determined to fight against the abuse of women, the doctor dreams of opening an anti-violence center within the hospital.
Love And Sacrifice (Sacrificio d'amore) (period drama series)
During the last year of the Belle Epoque and throughout World War I, the period drama's protagonists live out their passions.
It's Never Too Late To Be Happy (Casa de Muñecos) (drama series) (pictured)
When their mother divorces their father, four sisters are left in disbelief. But their mother's desire for a new life will force them to question their own lives.
Paradise Island (Isla Paraiso) (romantic comedy series)
As a result of her husband's irresponsible business dealings, Carolina is forced to leave her home with her son and take refuge with her twin sister.
Power Games (Juegos de Poder) (drama series)
Presidential candidate Mariano Beltrán must overcome a serious family problem so that his political campaign can run smoothly.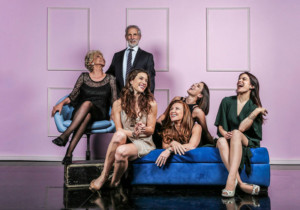 ---
MISTCO
Viewing Booth 4

Hold My Hand (romantic drama series) (pictured)
With her father recently found dead and her brother missing, Azra meets Mrs. Feride. When Mrs. Feride offers her an incredible opportunity, Azra meets the spoiled Cenk.
The Circle (crime drama series)
Kaan and Cihangir come to terms with their interwoven pasts while fighting against the criminal organization known as The Circle.
Beloved (romantic drama series)
Aziz falls in love with Feride, who is initially less than keen on her suitor. But when their fathers, who are sworn enemies, discover this young relationship, the lovers become pawns in a filthy game.
The Prisoner of Love (romantic drama series)
A poor woman enters a contractual marriage with a wealthy man to get money for her sick father's surgery. Out of this forced union emerges an unexpected romance.
Resurrection: Ertugrul (epic drama series)
The hero Ertugrul struggles to find land for his tribe and the woman he loves.
One For All (drama series)
Halit, a Turkish ice hockey coach, attempts to form a hockey team made up of six idle boys with criminal leanings.
Little Archer and the Legend (animation series)
10-year-old Mete imagines himself as a hero named Tozkoparan, an archery legend, and joins his school's archery team, making new friends in the process.
---
MONDO TV GROUP
Meeting Table 24

MeteoHeroes (comedy adventure series) (pictured)
Fulmen, Nix, Nubes, Pluvia, Thermo, and Ventum discover their supernatural powers of controlling the weather and atmospheric phenomena.
Invention Story (comedy adventure series)
Set in fictional Carrot Town, a freethinking rabbit named Silas and a clever fox named Kit butt heads while thinking up inventions.
Sissi the Young Empress (comedy adventure series)
Through magic and friendship, the title princess helps people and animals achieve harmony on the Schönbrunn Palace grounds.
YooHoo to the Rescue (comedy adventure series)
The group of friends is on a mission to help endangered animals on Earth in order to return to their magical home of Yootopia.
---
MULTICOM ENTERTAINMENT GROUP
Follow Me (horror)
Arriving in L.A. with her two friends, Sophie confides secrets to her YouTube viewers. Their trip turns spine-chilling when they start receiving anonymous messages.
Fat Legs (dramedy)
With no stable career, Anna travels to Paris with her best friend to escape her nagging parents. While there, her best friend spends his time caring more for Anna than his dying mother.
Blood 13 (thriller)
In order to solve a mysterious serial killing spree, a reckless female detective risks her life and career by placing herself directly in the killer's sights.
The Remarkable Life of John Weld (biographical drama)
Delves into the humble beginnings of John Weld and continues to chronicle his time as a Hollywood stunt double and as a journalist and novelist.
For Now (dramedy) (pictured)
Four Aussie pals and siblings take a road trip to California to audition for a dance school.
---
RECORD TV 
Jezebel (Jezabel) (soap opera) (pictured)
A Phoenician princess uses her beauty and powers of seduction to marry King Ahab. She attempts to impose the worship of pagan gods, but is opposed by the prophet Elijah.
Jesus (Jesús) (soap opera)
Tells the fascinating life story — from birth to resurrection — of the man who changed the world and the people who became his followers.
Leah (Lea) (HD series)
Leah marries Jacob, although he is in love with Leah's younger sister, Rachel. Jacob secretly marries Rachel, too, while Leah resolves to turn her life around.
Apocalypse (Apocalipsis) (soap opera)
This portrayal of the End of Times begins in 1980s New York and unfolds across three generations, ending with the rivalry between a prestigious scientist and the antichrist.
The Rich and Lazarus (El Rico y Lázaro) (soap opera)
Three childhood best friends enter a romantic triangle of intrigue and betrayal. Meanwhile, Nebuchadnezzar's invasion of Jerusalem takes place in the background.
The Promised Land (La Tierra Prometida) (soap opera)
Gifted with courage and a powerful faith, Joshua becomes the newly appointed leader of the Hebrews and guides his people to Canaan.
The Slave Mother (La Esclava Madre) (soap opera)
The prologue to The Slave Isaura focuses on the terrible story of the light-skinned slave obsessively pursued by Mr. Leoncio.
---
ZEE ENTERTAINMENT ENTERPRISES LIMITED
Viewing Booth 3
The Life of Earth From Space (factual documentary)
Delivers a cinematic view of the entire history of planet Earth, from its most dramatic catastrophes to the planet's greatest moments.
Kundali Bhagya (Destined Love) (family drama series) (pictured)
After the death of their father, Preeta and Shrishti discover their estranged mother Sarla and their sister Pragya. Along the sisters' journey, they encounter two rich brothers, Rishabh and Karan.
Altar'd (lifestyle reality series)
Twelve weeks before their big days, engaged couples are determined to lose weight with the help of personal trainers.
Carmen (family drama series)
Carmen came to Cairo to fulfill her dream of being rich and famous. Once she lies to get a job, she will have to tell a thousand more to save herself.