MIPCOM 

2018
9 STORY MEDIA GROUP
Stand R7.E75

Clifford the Big Red Dog (animated series)
A fresh take on the beloved children's book series with Emily Elizabeth and her big red dog Clifford.
Xavier Riddle and the Secret Museum (working title) (animated series)
Xavier, Yadina, and Brad travel through time to meet famous heroes of the past and learn how to be their own heroes in the present.
Dr. Panda (animated preschool series)(pictured)
With a combination of creativity and teamwork, Dr. Panda and his friends solve ordinary problems in Panda City, from a mix-up at the post office to the mysterious disappearance of carrots.
The Magic School Bus: Rides Again (animated series)
Over the course of the school year, a new Ms. Frizzle will take her class on incredible scientific adventures aboard the legendary magic school bus.
Let's Go Luna! (animated series)
Luna the Moon guides her animal friends in learning about people and customs in different parts of the world.
Anne of Green Gables Collection (live-action)
The family movie trilogy retells the timeless story of Anne Shirley, mistakenly sent to live with two farmers who had intended to adopt a boy to help on their farm.
The Diary of Bita and Cora (animated series)
Best friends Bita and Cora explore the galaxy and crash land on the strange new planet Pruna, where they meet a funny group of beings called the Elms.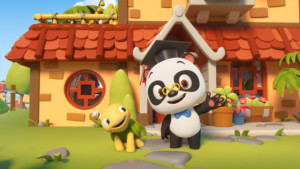 ---
A+E NETWORKS
Stand P3.C1

Project Blue Book (scripted series) (pictured)
Astrophysicist Dr. J. Allen Hynek is recruited by the U.S. Air Force to research UFOs and related phenomena.
American Princess (scripted series)
New York socialite Amanda catches her fiancé cheating on their wedding day, resulting in a complete and total meltdown for her.
Watergate (factual series)
The documentary recounts the backstory of the Watergate scandal, starting with the first troubling signs in Nixon's presidency.
Nightwatch Nation (factual series)
Viewers experience the most unnerving time for first responders: the overnight shift.
I Knew Jesus (factual series)
Docu-drama investigates the men and women who were closest to him while he was alive, from Mary Magdalene to John the Baptist.
Snap Decision (format)
Contestants must make instant judgments of random strangers on the street in order to take home the grand prize.
Jane Green (movie series)
The trio of TV movies depict passionate stories, from extramarital affairs to mid-life crises.
---
ALFRED HABER DISTRIBUTION
Stand P-1.L50

61st Annual Grammy Awards (music awards show)
One of the music industry's biggest nights airs on CBS, with additional plans to broadcast in over 190 territories worldwide.
Shallow Grave (factual crime series) (pictured)
Investigators piece together clues tied to murder cases in which a victim's body has been transported far from the crime scene.
Help! My House is Haunted! (paranormal reality series)
The latest creation of Zak Bagans showcases investigations of supernatural events that plague ordinary family homes.
Elvis '68 Special: An All-Star Tribute (music variety)
The star-studded tribute commemorates the 50th anniversary of Elvis Presley's "Comeback Special."
Top 20 Funniest (reality series)
The week's funniest viral videos, home movies, and news bloopers are collected while hosts deliver hilarious commentary.
Hitched in Vegas (reality series)
What happens in Vegas doesn't always stay in Vegas when couples engage in wedding shenanigans in the Wedding Capital of the World.
2019 25th Annual Screen Actors Guild Awards (awards show)
Entertainment's biggest stars recognize each other's finest performances of the year.
---
ALL3MEDIA INTERNATIONAL
Stand P3.C10

Informer (drama series)
A second-generation immigrant is coerced into undercover work for a counter-terrorism officer.
Agatha Raisin (drama series) (pictured)
Series two continues to follow the antics of the favorite amateur detective.
Blood (drama series)
An isolated woman confronts her mother's death and returns to the family she's tried to avoid for the last 10 years.
Storm on Everest (factual entertainment)
Ant Middleton subjects himself to extreme conditions as he attempts to climb the unforgiving mountain.
Born Famous (factual entertainment)
Privileged teenagers of Britain's celebrities get a taste of what life would have been like had they not been born into the lap of luxury.
The Circle (entertainment series)
A group of strangers live together but are only allowed to interact through a voice-activated Social Media platform.
Flirty Dancing (factual entertainment)
Singles are taught specially choreographed dance routines that they then must perform with a stranger they've never met.
www.all3mediainternational.com
---
AMC STUDIOS
VIP Club

Unspeakable (drama series) (pictured)
Chronicling the emergence of HIV and Hepatitis C in Canada, the drama follows two families who, tragically, were affected by tainted blood.
Dietland (drama series)
Plum Kettle, a ghost-writer for the editor of a New York City fashion magazine, struggles with self-image in a world in which men who have been accused of sexual abuse are disappearing and dying violently.
Documentary Now! (comedy series)
Hosted by Dame Helen Mirren, each episode tells a fascinating (yet untrue) story inspired by some of the world's most famous docs.
Eli Roth's History of Horror (documentary series)
Eli Roth brings some of the masters of horror together to reveal the themes that most inspired them and explore how horror has evolved through the years.
Jonestown: Terror in the Jungle (documentary series)
Docu-series shows how Jim Jones went from a charismatic preacher and champion of civil rights to an egomaniacal demagogue who led the biggest mass suicide in American history.
Lodge 49 (dramedy series)
Dud, an optimistic ex-surfer, finds himself at a rundown fraternal lodge, where he discovers a world of cheap beer and easy camaraderie.
Ministry of Evil: The Twisted Cult of Tony Alamo (documentary series)
This four-part series traces the rise and fall of cult leaders Susan and Tony Alamo through archival footage, including an exclusive videotaped deposition with Tony.
www.amcstudiosinternational.com
---
BANIJAY RIGHTS
Stand C20.A

Straight Forward (crime drama series) (pictured)
Con-woman Sylvia Petersen goes after the gangster who killed her father, and in the process gets drawn into a fight for control of the Copenhagen underworld.
The Red Shadows (crime drama series)
More than two decades after Clara vanishes, her sister tracks her down and persuades her to come back to her family, unraveling dark family secrets.
Couple Trouble (drama series)
The strains of everyday life take their toll on Anders and Lise's relationship, driving them to see a marriage counselor.
Super Salon (factual entertainment)
This reality series follows the beauticians and stylists who work at a family-owned salon and depicts the intimate bonds they form with their clients.
The Last Survivors (factual entertainment)
Examines the stories of the last living survivors of the Holocaust in the U.K.
Taste For The Nation (cooking format)
Culinary enthusiasts wow a jury of celebrities with recipes of their own creation in this cooking show.
Strike! (game show)
Celebrities help contestants answer questions in this game show combining trivia and bowling.
---
BOMANBRIDGE MEDIA
Stand P-1.E18
Terra (documentary)
From Yann Arthus-Bertrand and Michael Pitiot, this documentary reflects on the relationship between humankind and other species living on Earth.
Wild Italy: Top Predators (nature & wildlife documentary)
Showcases the special wildlife in the heart of the Mediterranean, where the animal species live free among the vestiges of a distant past.
Delicacy Hunter (food & travel series) (pictured)
British chef Jamie Bilbow travels along the Silk Road to track down gastronomic delicacies in and around China.
Paul Goes To Hollywood (food & travel series)
Paul Hollywood travels cross-country to Tinseltown to explore the connection between film and food.
Baby Animals Around The World (nature & wildlife series)
This nature and wildlife documentary series showcases a broad range of the animal kingdom's cutest youngsters.
Oddbods (kids' animation series)
This sketch-based animated series follows seven adorable characters who laugh their way through the most ordinary of situations.
John Torode's Korean Food Tour (food & travel series)
The Australian chef embraces South Korea's cultural delicacies — both traditional and modern.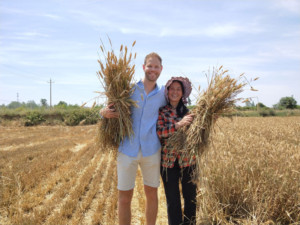 ---
CALINOS ENTERTAINMENT
Stand P-1.M51

Forbidden Fruit (drama series)
A tale of two sisters: Zeynep, who lives by her ethics and wants a successful career that she worked hard for, and Yildiz, who wants nothing more than to marry rich.
Our Story (drama series) (pictured)
Filiz, the oldest of six kids, is forced to become a surrogate mother to her siblings since her useless alcoholic father cannot parent them.
Woman (drama series)
Bahar is a woman who's suffered much loss in her life, from being abandoned by her mother to her husband's unexpected death.
---
CBS STUDIOS INTERNATIONAL
Stand R7.E2

FBI (drama series)
Agents tackle tough cases — including terrorism, organized crime, and counterintelligence — in an effort to keep the country safe.
A Million Little Things (drama series) (pictured)
When a member of a group of friends dies, the rest take it as a wake-up call to start living.
Happy Together (comedy series)
A married couple become reacquainted with their younger, cooler selves when a pop star named Cooper unexpectedly moves in with them.
The Neighborhood (comedy series)
The friendliest guy in the Midwest moves his family to Los Angeles only to learn that not everyone appreciates his neighborliness.
Charmed (drama series)
Three sisters in a college town discover that they're witches who must balance vanquishing supernatural demons with maintaining familial bonds.
The Code (drama series)
The military's brightest are tested in and out of the courtroom, where each attorney is trained as a prosecutor, a defense lawyer, an investigator, and a Marine.
Blood & Treasure (drama series)
An antiquities expert and an art thief travel the globe to catch a terrorist and find themselves at the center of a 2,000-year-old battle for the cradle of civilization.
---
CHICK MEDIA
The Chick Channel (erotic programming) (pictured)
Showcases new voices in erotic programming, with a library of original Chick Media series and licensed content.
Sexperts (talk show)
A panel of renowned sex therapists helps one couple with creative and practice strategies for challenges faced in their intimate lives.
Naked Hollywood (reality series)
Goes behind the scenes with a look into the lives of stars in the adult entertainment business.
Contact: [email protected]
---
DICK CLARK PRODUCTIONS INTERNATIONAL
Stand P0.A27
The Football Show (factual entertainment) (pictured)
Hosted from six of the greatest football cities, each episode offers exclusive access to the personal lives of elite players, showing what they do when off the field.
Fail Army (non-scripted comedy)
Compiles blooper videos, epic fail videos, sports washouts, natural disasters, and other hilarious mishaps.
Unknown Champions (factual entertainment)
People with shocking talents compete in activities that range from computer hacking to wingsuit flying.
The 76th Annual Golden Globe Awards (awards show)
As the first major awards show of the season, The Golden Globes remains one of the entertainment world's most recognized events.
The 2019 Billboard Music Awards (music awards show)
The biggest pop stars perform and celebrate honorees. This year's show featured Janet Jackson and Ariana Grande.
Beyond Belief: Fact or Fiction (sci-fi format)
Five bizarre scripted re-enactments are shown. Some of them truly happened and some did not.
The 47th Annual American Music Awards (music awards show)
Over 16 performances from top musical acts will be featured to pay tribute to influential and iconic artists.
www.dickclark.com/international
---
DISNEY MEDIA DISTRIBUTION – LATIN AMERICA
Stand C14
El Secreto de Selena (Selena's Secret) (drama series)
The revealing drama goes into the circumstances surrounding the murder of Selena Quintanilla, the Queen of Tex-Mex.
Monzón (biographical drama series) (pictured)
This biopic focuses on the Argentinian boxer Carlos Monzón, a onetime sports idol who was convicted of murdering his wife.
www.disneymediadistribution.tv
---
FILMRISE
The Premium Lounge
The Miseducation of Cameron Post (drama)
A teenage girl is sent to a gay conversion therapy center where she develops a bond with her fellow internees.
Mountain Rest (drama) (pictured)
Attempting to reconnect with her daughter and granddaughter, a former actress relives her glory days.
Life In The Doghouse (documentary)
Director Ron Davis highlights two men and their dedication to the cause of rescuing and re-housing unwanted dogs.
Modern Hero (documentary series)
Celebrates women who are shattering the glass ceiling in their careers, including educators, businesswomen, and celebrities who are inspiring young girls to dream big.
Mantovani: The King of Strings (biopic)
This documentary tells the story of one of the greatest orchestra conductors of all time, a man who served as musical director for countless West End productions.
---
GLOBAL AGENCY
Stand R8.E18
Gulperi (drama series) (pictured)
Gulperi fights to win back the hearts of her children who have been brainwashed against her by her late husband's family.
Finding Hope (drama series)
Elif believe her baby is a gift from God, but Yilmaz is troubled by his conscience.
Once We Were Young (drama series)
When Hulusi dies, his children return to their childhood neighborhood filled with regret and sorrow for the past.
Daydreamer (dramedy series)
Sanem starts working at an advertising agency, where she meets Can, the owner's son, and the two quickly fall in love.
Breathless (drama series)
Rüya crosses the Turkish-Syrian border to search for her mother, but is captured by Yusuf. The hostage and captor develop an unusual relationship.
Waves (drama series)
Evren and Yildiz own a modest hotel in Bodrum. Their children, Ates and Su, learn about the struggles of life from their friends in the town.
Meryem (drama series)
To protect Oktay, Meryem takes the blame for a car accident that killed a young woman, and goes to prison.
---
GMA WORLDWIDE
Stand P-1.E67
Heart of Courage (action adventure series) (pictured)
Victor, an ordinary mortal who's chosen as the rightful wielder of Thor's hammer, must protect the world from the evil Loki.
Happy Together (romantic comedy series)
Happylou's simple life becomes complicated when her millionaire boss designates her as his sole heiress.
Broken Hearts (revenge drama series)
Mother and daughter become fierce rivals when they fall in love with the same man.
The Heart Knows (family drama series)
An autistic man is forced to embrace parenthood when a prostitute seduces him and claims that he fathered her baby.
The Clash (talent reality series)
Sixty-two amateur singers compete in a one-versus-everyone sing-off to become the next singing sensation.
Contessa (revenge drama series)
After being accused of a crime that she didn't commit, Bea escapes from prison and takes on a new name. She wants revenge.
The Stepdaughters (revenge drama series)
Two rivals suddenly become stepsisters when their single parents fall in love and get married.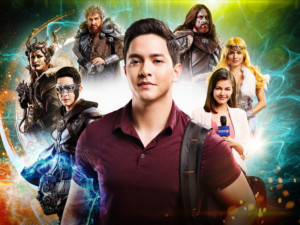 ---
GRB STUDIOS
Stand R7.K17
Executed (crime series)
Shocking cases of heinous crimes are highlighted as experts analyze each and every horrific detail.
Irreconcilable Differences (lifestyle series)
Showbiz insiders expose the details of Hollywood's most controversial divorces.
Cashed Out (documentary series)
Viewers are treated to stories of celebrity fortunes evaporating amidst drugs, dishonest money managers, and greedy parents.
Man At Arms (documentary series)
Skilled craftsmen recreate iconic weaponry from films, video games, and comic books. Danny Trejo hosts.
Showdown of the Unbeatables (competition series) (pictured)
Inventors pit their machines against each other in head-to-head combat.
Day 5 (scripted series)
A post-apocalyptic drama follows the adventures of a junkie who emerges from a high only to learn that most of humanity has inexplicably died in their sleep.
Beyond Boundaries: Harvey Weinstein Scandal (documentary)
This documentary examines the bigwig's scandal with commentary from film industry insiders.
---
INTER MEDYA
Stand C16.D
The Pit (drama series) (pictured)
The Koçova family is okay with some crime, but do not allow drugs to be used or sold in Cukur. When one upstart breaks the ban, this means war.
The Perfect Couple (reality format)
Eleven men and 11 women will live each day to the fullest in a Caribbean villa. But there isn't enough room for everyone, so they'll compete in order to score a limited number of room keys.
19 (quiz format)
Two contestants, and five other would-be players, answer 19 questions in order to win.
Flames of Desire (drama series)
Blood brothers Bayram and Salih hatch a plan to marry their children to one another, but it doesn't go as planned with their kids fall in love on their own.
Money Monster (game show format)
Contestants win the money they manage to count after a correct answer. In order to keep the money, they have to know the exact amount they count.
Entrusted (drama series)
After the death of his wife and child, Kerem decides to isolate himself from work, family, and friends.
---
KANAL D INTERNATIONAL
Stand R9.A32
Fatmagül (romantic drama series)
When a gang of men brutally rapes Fatmagül, her fiancé breaks off the marriage. Kerim, one of the men, is forced by his parents to marry her to cover up the scandal.
Price of Passion (romance series) (pictured)
Ferhat is a hitman. Aslı is an idealistic doctor. After Aslı operates on a man that Ferhat shot, she is forced to marry him to save her life.
Sunshine Girls (family drama series)
Günes, a mom of three daughters, falls for a businessman named Haluk. She marries him and they bring their two families together.
Sweet Revenge (romantic drama series)
Pelin is left at the altar by her fiancé and believes it's bad karma for having humiliated a young man who loved her during college.
Time Goes By (family drama series)
Ali Akarsu returns from a sailing journey and is forced to choose between his beloved wife and his young mistress.
War of the Roses (romance series)
This coming-of-age story of Gülru and Gulfem involves childish admiration, broken hearts, and betrayal.
Wounded Love (romance series)
The story of an epic romance with strong characters, timeless human emotions, and a penetrating script.
---
KEW MEDIA DISTRIBUTION
Stand C15.A6
Frankie Drake Mysteries (detective drama series) (pictured)
Season two continues to follow Toronto's first female private detectives at a time when prohibition and communism are hot topics of conversation.
The Bletchley Circle: San Francisco (drama series)
Set during the 1950s, the drama series follows Millie and Jean as they travel to America and team up with a pair of U.S. code-breakers.
Care (event drama movie)
In the aftermath of a family tragedy, a single mother must raise her two children by herself.
The Dead Lands (drama series)
An action-packed narrative based on the successful film set in pre-European contact Polynesia.
Decades of Movies (documentary series)
Each episode recounts events that most impacted the film industry.
My Crazy Birth Story (non-fiction series)
This series shares bizarre birth stories, proving that going into labor can sometimes be funny, and at other times can quickly get out of hand.
Chuck Berry (biopic documentary)
Featuring interviews with John Lennon, Bruce Springsteen, and many more, this biopic emphasizes Berry's talent, charisma, and unquestionable impact.
---
LIONSGATE ENTERTAINMENT
Stand C15.A8
The Rook (drama series) (pictured)
Myfanwy Thomas must fight to regain her memory and resume her position as the head of Britain's Secret Service before those who attacked her return.
The Spanish Princess (event series)
When Prince Arthur dies shortly after their nuptials, Catherine of Aragon finds herself at the mercy of a divided Tudor court and threatened by enemies.
You Kiddin' Me (unscripted series)
Children prank their famous parents and the unsuspecting public.
BoJack Horseman (comedy series)
The Hollywood has-been makes a comeback with the help of his human sidekick, Todd, and a feline talent agent.
I Love You America (comedy series)
This variety sketch show delivers laughs while also spreading the message that people should not be divided by their differences in beliefs.  
---
MADD ENTERTAINMENT
Stand P-1.J69
My Little Girl (family drama series)
Eight-year-old Öykü and her unaccountable father Demir must take care of each other, even though Demir would rather get rid of her in order to get rich with his best friend.
One Litre of Tears (family drama series)
Tells the tale of Cihan, a teenager diagnosed with an incurable degenerative disease that affects her brain.
Persona (super series) (pictured)
Agah, a retired judiciary clerk, and Nevra, a female police officer, meet when they are both at turning points in their lives.
Phi (super series)
A celebrated psychologist falls in love with the woman next door. The only problem? She has a boyfriend.
---
MEDIASET DISTRIBUTION
Stand R7.F7
Ultimo-Chasing Narcos (crime series) (pictured)
Interpol enlists Ultimo, a police captain famous for tracking down ruthless crime bosses, in order to stop a dangerous alliance between Italian organized crime and a Mexican drug cartel.
Code Name Solo 2 (crime series)
Undercover cop Marco infiltrates the Corona family, but when the daughter of the boss is kidnapped, he must go against orders to free her.
Forgive Our Sins (telenovela)
The arrival of Reynaldo Suárez, a charming new parish priest, to Villa Ruiseñor causes lots of problems for Armando Quiroga, the richest man in town.
Hidden Truths (telenovela)
Laura, a poor mother of two little girls, is forced to sell her youngest daughter, Rosita, to Rodolfo, the rich owner of a chain of restaurants.
Would You Take Your Ex Back? (reality series)
Twelve former couples spend time with their onetime partners and relive relationship highs and lows to decide whether or not to take a second chance at love.
Race for Real (reality competition series)
Three contestants will challenge each other to test their physical stamina, alertness, and concentration.
---
MGM
Stand R9.A30
Four Weddings and a Funeral (romantic comedy series)
A group of friends experience five pivotal events in their lives.
Our Lady, LTD (drama series)
A young grifter preys upon a pastor, only to learn that the latter is far more dangerous than he appears.
The Truth About the Harry Quebert Affair (drama series) (pictured)
A literary icon is indicted for the murder of a girl whose body is found on his property.
Condor (spy thriller series)
A CIA analyst stumbles onto a plan that threatens the lives of millions.
The Contender (reality competition series)
A new version of the boxing franchise that launched multiple boxers into contention for world titles.
The Addams Family (animated comedy)
While preparing for an extended family celebration, the Addams crew faces off against a reality-TV host.
The Girl in the Spider's Web (drama)
The first-time adaptation of the bestseller featuring the outcast vigilante Lisbeth Salander.
---
MISTCO
Stand P-1.N51
Hold My Hand (romantic drama series) (pictured)
When her father dies, Azra is left alone in the streets with her autistic brother, and meets Cenk, the spoiled son of a wealthy family.
The Prisoner of Love (romantic drama series)
Troubled by his mother's abandonment, Omer enters into a marriage with Zehra to make his sister happy.
The Last Emperor (epic drama series)
Tracks the real life of the last Ottoman emperor, Abdulhamid Han, who led an ambitious empire, but faced opposition from family and state traitors.
Resurrection: Ertugrul (epic drama series)
The hero Ertugrul struggles to find land for his tribe and the woman he loves.
Aslan (animated series)
A young boy in elementary school thinks up extraordinary inventions with his inexhaustible imagination.
Ege and Gaga (animated series)
The title characters head off on nature adventures in which the two learn new facts about their surroundings.
Jade (animated series)
Curious Jade goes on trips with her bug-like friends called Mat Mats, during which she saves her clumsy pals from troublesome situations.
---
MONDO TV
Stand P-1.N1
Heidi, Bienvenida a Casa (live-action series)
A friendly girl adapts from rural to city life, where she discovers a gift for singing and befriends a girl who suffers from agoraphobia.
Heidi Bienvenida al Show (live-action series) (pictured)
Heidi makes more friends and embarks on new experiences. She even discovers a passion for perfume-making.
MeteoHeroes (animated series)
Fulmen, Nix, Nubes, Pluvia, Thermo, and Ventum discover their supernatural powers of controlling the weather and atmospheric phenomena.
Robot Trains (3D animated series)
Five young trains that transform into robots bravely face adventure and adversity.
Invention Story (3D animated series)
Set in fictional Carrot Town, a freethinking rabbit named Silas and a clever fox named Kit butt heads while thinking up inventions.
YooHoo to the Rescue (3D animated series)
The group of friends is on a mission to help endangered animals on Earth in order to return to their magical home of Yootopia.
Sissi The Young Empress (animated series)
Through magic and friendship, the title princess helps people and animals achieve harmony on the Schönbrunn Palace grounds.
---
MULTICOM ENTERTAINMENT
Stand R7.F28
For Now (dramedy) (pictured)
Four Aussie pals and siblings take a road trip to California to audition for a dance school.
Streaker (sports comedy)
High school teacher Balz Naef is experiencing a financial crisis. His solution is to recruit students as streakers in an illegal sports gambling ring.
Film Restorations (variety)
Since 2017, Multicom has completed more than 20 film restorations, including The Long Way Home, The Convent, and The Adventures of Pinocchio.
Remarkable Life of John Weld (documentary)
Looks at John Weld, from his start in Hollywood as a stunt double in the '20s to his later accomplishments as a journalist and novelist.
Shadow of Suribachi: Sammy's Story (historical documentary)
World War II Marine and Iwo Jima survivor Sammy Bernstein tells the terrifying tale of the two battles he was forced to fight.
The Grapevine (unscripted)
Multicom's unscripted channel showcases true stories, interviews, and reality programming.
The Archive (archival)
Multicom's archival channel shows rare, retro, and restored films, as well as classic TV series.
---
NBCUNIVERSAL INTERNATIONAL DISTRIBUTION
Stand P4.C4
New Amsterdam (drama series) (pictured)
This medical drama follows the brilliant Dr. Max Goodwin as he sets out to tear down a hospital's bureaucracy and provide exceptional care to all.
Magnum P.I. (drama series)
Thomas Magnum, a former Navy SEAL, returns home from Afghanistan to become a private investigator in Hawaii.
The Enemy Within (drama series)
When FBI Agent Will Keaton (Morris Chestnut) wants to bring down an elusive criminal, he enlists a former CIA operative serving a life sentence.
The Inbetween (drama series)
Cassie Bishop finds herself reluctantly helping the dead with their unresolved issues.
The Village (drama series)
A Brooklyn apartment building is home to a nurse and single mom, a law student and his older roommate, and a war veteran.
DreamWorks Where's Waldo? (animated series)
Waldo and Wenda go on international missions so they can earn their Wanderer stripes for the Worldwide Wanderer Society.
I Feel Bad (comedy series)
Follows one woman who fails to be the perfect boss, wife, friend, and daughter, and feels badly about it.
---
RAI COM
Stand R7.D5
My Brilliant Friend (drama series)
Elena retraces the history of her dead friend, beginning with their shared childhood in a working class neighborhood of Naples.
The Name of The Rose (drama series)
The Franciscan monk William of Baskerville and his apprentice arrive at a secluded monastery in the Alps to investigate a series of murders.
The Ladies' Paradise (romance series) (pictured)
Chronicles the lives of women at the height of the 1960s economic boom.
Escape from Mafia – A Family Saga (drama series)
A courageous mother takes charge of her family's survival in order to escape the mafia's revenge.
That's Happiness (romance series)
Orlando and Angelica fall in love and struggle to raise their four children under unfortunate circumstances.
Inspector Coliandro (crime series)
The troublesome policeman deals with new criminal cases, including that of Giacomino, who is accused of a series of brutal murders.
Donne (romance series)
Adapted from Andrea Camilleri's collection of short stories about women's journeys of self-discovery.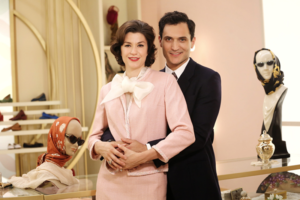 ---
RAINBOW
Stand R7.H2
44 Cats (3D animated comedy series) (pictured)
The feline adventures of a group of cat musicians who are confused by the world of humans.
Winx Club Season 8 (action-adventure series)
The Winx fairies head out on cosmic adventures to save the stars in the Magic Universe.
Shark4 (comedy series)
Norman helps out Wallie and his trusty team of lifeguards, who just happen to be super-powered Sharks.
2 Happy Farmers (comedy edutainment series)
A brother and sister bear take charge of their farm with a little help from some cheerful farm animals.
Dancing Horses (musical comedy series)
Three friends and their magical horses save Dance World from an evil villain intent on destroying music and dance.
Pinocchio (adventure comedy series)
The famous former puppet must defeat a great danger to save the Other World and his new life as a real boy.
Maggie & Bianca Fashion Friends Seasons 1, 2, and 3 (live-action series)
Maggie and Bianca meet at the Milan Fashion Academy, where they soon learn what it takes to be one another's friend.
---
RECORD TV
Stand P-1.G22
Jesus (Jesús) (soap opera)
Tells the fascinating life story — from birth to resurrection — of the man who changed the world.
Leah (Lea) (soap opera) (pictured)
Leah falls in love with Jacob, but is shocked and saddened to learn that he wants her sister Rachel, instead.
Apocalypse (Apocalipsis) (soap opera)
Begins in 1980s New York where four university students meet, then takes place across three generations.
Belaventura (soap opera)
Set in Belaventura, a 15th century region at war due to a territorial dispute, the series follows the lives of Pietra, a plebe, and Enrico, a rich heir with great familial expectations.
The Rich and Lazarus (El Rico y Lázaro) (soap opera)
A romantic drama about three inseparable childhood best friends.
The Promised Land (La Tierra Prometida) (soap opera)
Joshua, the newly appointed leader of the Hebrews is an experienced warrior gifted with courage and a powerful belief in God. He leads his people to Canaan.
The Slave Mother (La Esclava Madre) (soap opera)
The prologue to The Slave Isaura focuses on the terrible story of the light-skinned slave obsessively pursued by Mr. Leoncio.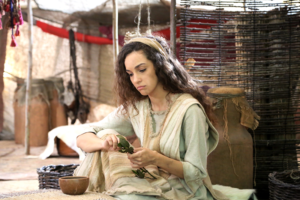 ---
STUDIO 100 MEDIA
Stand R7.C15
Wissper (preschool animated series) (pictured)
A little girl uses her gift of talking to animals to help them around the globe.
Arthur and the Minimoys-The Series (fantasy adventure series)
Arthur visits his friends Selenia and Betameche in the world of the Minimoys, who are organizing a resistance against tyrant Malthazar.
Tip the Mouse (preschool animated series)
Based on the original character "Topo Tip" from the bestselling children's book series.
Mia and Me (live-action animated series)
Mia and her friends in Centopia must contend with a new villain who threatens their fantastical realm.
Maya the Bee (preschool animated series)
Maya and her best friends go on 52 new adventures.
Drop Dead Weird (live-action comedy series)
A trio of Aussie kids tries to acclimate to their new hometown while hiding the fact that their parents are zombies.
Random & Whacky (live-action comedy series)
A top-secret agency solves problems faced by real-life kids.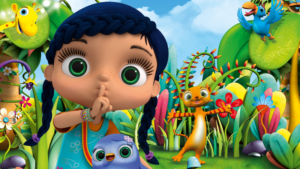 ---
TELEFILMS
Stand P-1.C2
Adrift (drama)
Two free spirits are left stranded in the middle of the Pacific Ocean after surviving one of the deadliest hurricanes in recorded history.
Hereditary (horror) (pictured)
A family unravels shocking secrets about their ancestry when their old matriarch passes away.
Peppermint (thriller)
After a drug lord murders her husband and child, a young mother embarks on a brutal quest for vengeance.
The Happytime Murders (action comedy)
A disgraced LAPD puppet detective turned private eye must crack the case of a series of horrific murders.
Mile 22 (crime action)
A crack CIA team will have to face the daunting task of safely transporting an Indonesian police officer with vital intel to an airstrip 22 miles away.
---
TV AZTECA INTERNATIONAL
Stand R8.B10
Maria Magdalena (historical drama series) (pictured)
Recreates the life and times of a passionate woman during oppressive times, who challenged the laws of a corrupt society run entirely by men. 
Mundo Metro (reality documentary series)
Depicts one of the most advanced underground transport systems in the world, that of Mexico City.
Dementia (drama series)
A reporter makes the unorthodox decision to check herself into a psychiatric hospital in order to solve her grandmother's murder.
La Academia (format)
A musical format that has already found success in Mexico, Singapore, Malaysia, Indonesia, and Central America.
Fut Azteca (sports)
TV Azteca has secured the worldwide broadcast rights to six of the 18 teams in Liga MX.
Wild By Nature (factual)
Actor and naturalist Arturo Islas travels to jungles, deserts, and bodies of water, in search of the endemic fauna of Mexico.
---
TWENTIETH CENTURY FOX TELEVISION DISTRIBUTION
Stand P3.A1
Proven Innocent (drama series) (pictured)
The story of one woman's fight to prove the innocence of others, as well as herself.
The Passage (drama series)
An epic thriller adapted by Liz Heldens of Friday Night Lights fame and co-produced by Ridley Scott.
The Cool Kids (comedy series)
A rowdy group of retirees are on a mission to inject some fun into their retirement community.
The Resident (drama series)
A provocative medical drama that takes a behind-the scenes look at life (and work) in a hospital.
The Gifted (drama series)
A suburban family on the run must rely on an underground network of mutants after they discover that their children also possess mutant powers.
The Orville (sci-fi comedy series)
Follows the crew of a rickety old ship that's part of Earth's interstellar Fleet.
9-1-1 (drama series)
This procedural drama follows the life and work of emergency response personnel.
---
VIACOM INTERNATIONAL MEDIA NETWORKS
Stand R7.K5
100 Days To Fall In Love (comedy series) (pictured)
Two friends make deals with their husbands to take a break from their marriages for 100 days.
Killing Me Lovingly (drama series)
A widower turns into a serial killer whose victims are women with fatal diagnoses.
Club 57 (live-action kids' series)
Siblings Eva and Ruben accidentally time travel to 1957, and change the future in the process.
Rise of the Teenage Mutant Ninja Turtles (animated kids' series)
The iconic band of brothers, consisting of Leonardo, Raphael, Donatello, and Michelangelo, returns.
Homens (comedy series)
Four close friends come together when one of them learns he is impotent.
N00bees (live-action kids' series)
Silvia creates an E-Sports team to enter the Professional League of Video Games.
---
ZDF ENTERPRISES
Stand P-1.L2
The Athena (live-action series) (pictured)
Model Nyela Malik's career implodes after she complains about a famous designer's treatment of her.
Worst Witch (live-action series)
Mildred Hubble attends Cackle's Academy for Witches, where she relies on her best friends Maud and Enid to get her through each assignment.
Find Me in Paris (live-action series)
A Russian princess, who is also a student at the Paris Opera Ballet School, accidentally time-travels to the present day.
Over Water (crime series)
John Beckers is a onetime TV celeb in Flanders whose addictions to drinking and gambling cost him everything he worked so hard for.
STHLM Requiem (crime series)
Police recruit Fredrika Bergman accepts a position with the Special Investigations unit of the Stockholm police.
JJ (crime series)
After the signing of the Colombian Peace Agreements, John Jeiver escapes to the jungles of Bogota, and takes care of his mother and a teenage son.
History of Weapons (science series)
Looks at the weaponry used in some of the most famous battles in history.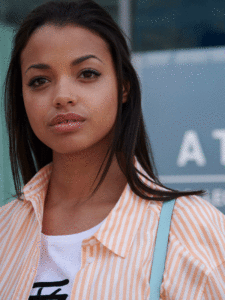 ---
ZEE ENTERTAINMENT ENTERPRISES LIMITED
Stand P-1.K51
The Life of Earth From Space (factual documentary) (pictured)
This cinematic view of the planet's history focuses on the origins of Earth, the forms of life that have inhabited the planet, and the most dramatic catastrophes that have occurred.
Altar'd (factual series)
Overweight couples separately work with fitness and nutrition experts in the weeks preceding their weddings. The next time they meet will be at the altar.
Kundali Bhagya (Destined Love) (family drama series)
After their father dies, sisters Preeta and Shrishti discover the existence of their mother, Sarla, and their sister, Pragya.
Finding Fido (lifestyle series)
Canine expert Seth Casteel helps would-be dog-owners locate their doggy soulmates.