MIP Cancun 2019
DISCOP Johannesburg 

2019
A+E NETWORKS
MIP Cancun Table 4
Hernan (scripted series) (pictured)
This epic drama depicts the conquest of continental America as Hernan Cortes lands with 500 soldiers on the Mexican coast.
Miss Scarlet and the Duke (scripted series)
The fearless Miss Scarlet takes over her father's private detective agency to solve crimes in the murky underworld of the murder investigation trade in 1880s London.
Project Blue Book (scripted series)
Dr. J. Allen Hynek, a brilliant astrophysicist, is recruited by a top-secret program to discover the truth behind a series of mysterious sightings.
Kings of Pain (unscripted entertainment series)
Caveman Rob and Adam Thorn journey to the remote corners of the world where they experience bites and stings from the planet's most poisonous creatures.
Jesus: His Life (factual series)
Each episode is told through the perspective of Jesus's closest followers, including John the Baptist, Mary Mother of Jesus, Caiaphas, Judas Iscariot, and Mary Magdalene.
Damian Lewis: Spy Wars (factual series)
Reveals the remarkable true stories behind some of the most gripping and important international spy operations over the last 40 years.
Marrying Millions (format)
Features newly-in-love couples, where one half of the pair is wealthy and the other is not.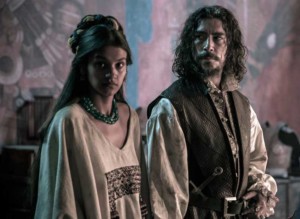 ---
ABS-CBN CORPORATION
DISCOP Stand 24

The Blood Sisters (family drama)
A wealthy couple enlists their housekeeper, Adele, to carry their baby for them. She births triplets — one for her, one for them, and another who is abandoned.
Asintado (action drama)
Two sisters separated by tragedy end up in a brutal rivalry, and one secret might be enough to change everything.
Forever My Love (family drama)
Gabriel Viloria plans to reunite with his parents and provide for his family. He develops a special bond with Bianca, a promising athlete, but the two lose touch.
The Heiress (family drama series) (pictured)
Former lovers Romina and Carlos each have their own rags-to-riches tale to tell when they marry different partners. Romina weds business tycoon Robert, while Carlos marries Robert's daughter.
The Killer Bride (revenge drama series)
The ghost of Camila Dela Torre, a woman who was found by her fiancé in a bloody wedding dress and veil, haunts the superstitious town of Las Espadas.
Mea Culpa (crime drama series)
Six friends have a night out on the town that turns into a drunken accident with disastrous consequences. Afterward, one mother will do anything to find her child.
www.abs-cbn.com/internationalsales
---
THE AFRICA CHANNEL
DISCOP Stand 29/30
World Wide Nate (lifestyle travel series) (pictured)
Nate's adventures through Africa will encourage viewers to pack their bags to join the fun or watch vicariously from their couches.
Minjiba Entertains (lifestyle food series)
Nigerian food blogger Minjiba Cookey shares recipes for African fusion cuisine while showing off the lifestyles of the hip and fabulous.
May's Kitchen (lifestyle food series)
Celebrity chef May Yacoubi goes on a culinary journey filled with personal stories and authentic recipes that celebrate North African and Mediterranean cuisine.
My Design Rules (reality competition series)
Three interior design duos from the southern tip of Africa compete to transform three white-box apartments into dream homes.
The Yard (drama series)
An emerging rap artist from the streets of Nairobi treads a delicate path between crime and fame in order to pursue his hip-hop dreams.
Finding Samuel Lowe (documentary series)
Three black siblings from Harlem learn about their heritage while searching for information about their long-lost grandfather, Samuel Lowe.
Forgiveness Project (documentary)
The violent perpetrators involved in the Rwandan Genocide come forward to ask forgiveness of the families whose loved ones were victims.
---
ALL3MEDIA INTERNATIONAL
DISCOP Viewing Box F – MIP Cancun Table 7
The Dog House (factual entertainment format)
This series takes place at a special dog shelter and shares the human-dog adoption experience.
Cash Cab (format) (pictured)
This dynamic quiz show format has been driving home success around the world for 15 years.
Van Der Valk (drama series)
Marc Warren stars as the eponymous Commisaris Van der Valk in this detective procedural filmed in Amsterdam.
Flirty Dancing (format)
Brings back the old-fashioned romance of meeting someone in person and dancing cheek to cheek.
Eddie Eats America (factual series)
The World's Strongest Man winner Eddie "The Beast" Hall tries to conquer America one meal at a time.
The Feed (drama series)
The Feed is implanted into people's brains and allows users to share information instantly. When the technology turns murderous, the inventor struggles to control his creation.
Blinded (thriller series)
Matias Varela and Julia Ragnarsson star in this financial thriller set in a world where risk is nothing and status is everything.
www.all3mediainternational.com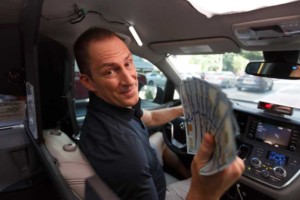 ---
ATV Distribution

MIP Cancun Table 14
Hercai (drama series)
Reyyan and Miran marry, but when Miran remembers how Reyyan's father killed his parents, he ends their relationship.
Love and Secrets (drama series) (pictured)
Sevda steals money in order to rescue her brother, who has been taken hostage by a drug gang. Meanwhile, former orphan Ali is unaware that his own brother heads the gang.
Lifeline (drama series)
Nefes, a child bride, was sold to a businessman named Mustafa. When Mustafa takes Nefes and their son to Istanbul for business, Mustafa's younger brother notices the domestic violence Nefes faces.
Grand Family (drama series)
Hizir tries to keep the balance among his family members, and refuses to choose between his wife and his mistress. All the while, he also tries to keep his family out of his mafia affairs.
Don't Leave Me (drama series)
Arzu is alarmed by her old friend, Esin, who threatens to reveal the truth about the real father of Tarik, one of Arzu's sons. Esin uses this information in the hopes of living the rich life she's always dreamed of.
Love and Hate (drama series)
Ali, who spent his youth in prison, and Mavi, who has never loved anyone, get to know each other by writing letters. When the time comes to meet face to face, will they be able to overcome their personal demons?
---
CALINOS ENTERTAINMENT
DISCOP Stand 45
Forbidden Fruit (drama series) (pictured)
Two sisters, Zeynep and Yildiz, want vastly different things out of life. Zeynep dreams of a career she can be proud of. Yildiz wants to marry a rich man.
Our Story (romantic drama series)
Filiz was forced to become a surrogate mother to her young siblings. She doesn't think she has time for love in her life. Until she meets Baris, that is.
Woman (drama series)
Bahar is a young mother of two who constantly contends with issues of abandonment.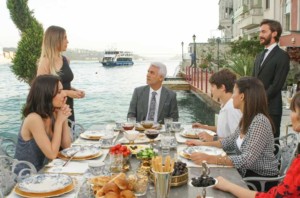 ---
GMA WORLDWIDE
Beautiful Strangers (drama series) (pictured)
In a story of betrayal and revenge, Faith will bring two people together who will learn that their true enemy has yet to be revealed.
Family Jewels (family comedy series)
Five sisters find their lives outrageously intertwined while competing for their father's love and the right to inherit the family business.
The Stepdaughters (revenge drama series)
Two women, who are each other's rival, suddenly become family when their single parents fall in love and get married.
The Way To Your Heart (El Amor Mas Grande) (drama series)
Onay lives with achondroplastic dwarfism. Her two daughters share different opinions on their mother: one loves her unconditionally, while the other is ashamed of her condition.
A Woman Scorned (Dulce Venganza) (drama series)
A simple wife and a seductive office manager engage in a tug-of-war to win the heart of a reputable pilot, who is recently widowed and yearning for true love.
Stay With Me (Quedate A Mi Lado) (drama series)
Thea's traumatic past haunts her when she tests positive for HIV. She will attempt to conquer her inner demons and reclaim her life and her family.
The Heart Knows (Un Corazon Especial) (family drama series)
A boy with autism faces the challenge of becoming a parent after a prostitute seduces him and claims he is the father of her baby.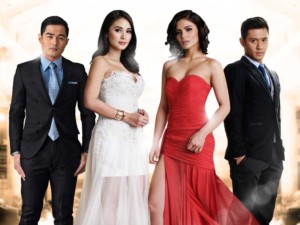 ---
MISTCO
MIP Cancun Table 114
Melek: A Mother's Struggle (drama series) (pictured)
A powerful woman fights to protect her children, and sacrifices everything for them in the process.
My Champion (drama series)
After Kafkas's wife passes away, the boxer will be forced back into the ring when he learns his son has the same disease as his wife.
Hold My Hand (romantic drama series)
With her father recently dead and her brother missing, Azra meets Mrs. Feride. When Mrs. Feride offers her an incredible opportunity, Azra meets the spoiled Cenk.
Beloved (romantic drama series)
It is love at first sight for Aziz and Feride. But when their fathers, who are sworn enemies, discover this young relationship, the lovers become pawns in a filthy game.
The Circle (crime drama series)
Kaan and Cihangir struggle to understand their interrelated pasts while balancing the demands of a criminal organization.
Resurrection: Ertugrul (epic drama series)
The hero Ertugrul struggles to find land for his tribe and the woman he loves.
The Last Emperor (epic drama series)
Depicts the real-life story of the last Ottoman Emperor, Abdulhamid Han.
---
MONDO TV/MONDO TV IBEROAMERICA
DISCOP Viewing Box A – MIP Cancun Co-Production Forum
MeteoHeroes (comedy adventure series)
Fulmen, Nix, Nubes, Pluvia, Thermo, and Ventum discover their supernatural powers of controlling the weather and atmospheric phenomena.
Robot Trains (comedy adventure series) (pictured)
Season one follows the adventures of Kay and his friends, while season two depicts Kay's journey in Rail World and its four regions that represent the Earth's natural resources.
YooHoo to the Rescue (comedy adventure series)
The group of friends is on a mission to help endangered animals on Earth in order to return to their magical home of Yootopia.
Invention Story (comedy adventure series)
Set in fictional Carrot Town, a freethinking rabbit named Silas and a clever fox named Kit butt heads while thinking up inventions.
Sissi The Young Empress 3 (comedy adventure series)
Through magic and friendship, the title princess helps people and animals achieve harmony on the Schönbrunn Palace grounds.
Heidi Bienvenida (live-action series)
A carefree girl leaves her beloved mountain home to move to the big city, where she encounters a cast of characters who become her unconventional family.
Bat Pat 2 (comedy adventure series)
Bat Pat and the Silver siblings travel on a quest to unravel the mysteries of scary creatures who lurk around their hometown of Fogville.
---
RECORD TV
DISCOP Stand 14
Jezebel (Jezabel) (telenovela) (pictured)
A Phoenician princess uses her beauty to seduce King Ahab and marry him so that she can become queen. She then attempts to impose the worship of pagan gods on the public.
Topíssima (telenovela)
An ongoing police investigation implicates all the main characters in this telenovela that depicts the struggles of the modern workplace.
Jesus (Jesús) (soap opera)
Tells the fascinating life story — from birth to resurrection — of the man who changed the world.
Leah (Lea) (soap opera)
Leah falls in love with Jacob, but is shocked and saddened to learn that he wants her sister, Rachel, instead.
Apocalypse (Apocalipsis) (soap opera)
Begins in 1980s New York where four university students meet, then takes place across three generations.
The Rich and Lazarus (El Rico y Lázaro) (soap opera)
A romantic drama about three inseparable childhood best friends is set against Nebuchadnezzar's invasion of Jerusalem.
The Promised Land (La Tierra Prometida) (soap opera)
Joshua, the newly appointed leader of the Hebrews, is an experienced warrior gifted with courage and a powerful belief in God. He leads his people to Canaan.
---
SPI INTERNATIONAL
DISCOP Meet Me Lounge #5
Global media company SPI International operates 40 television channels across six continents. SPI's 60 million subscribers can access the company's linear and on-demand content, including live streaming and UHD programming. The Netherland's Film1 premium movie services have recently been added to SPI's portfolio, which includes its flagship channel FilmBox. In addition to distributing theatrical films and TV content worldwide, SPI International recently launched its production arm and its first partnership with director and producer Philippe Martinez. The agreement includes mafia comedy Mister Mayfair, TV series Salvage Marines, sci-fi action-comedy The Intergalactic Adventures of Max Cloud, and mystery trilogy Miss Willoughby and Bentley. SPI International will continue to produce premium content and align with independent distributors to bring locally produced content to their viewers.
---
VIACOM INTERNATIONAL MEDIA NETWORKS
MIP Cancun Table 175
Victoria Small (Pequeña Victoria)(dramedy series)
Four women who wish to become mothers welcome the birth of newborn Victoria. They put aside their differences in order to raise her.
To Catch A Thief (Atrapa a un ladrón) (mystery series) (pictured)
Juan Robles returns to Buenos Aires to get his sick uncle, who has been charged with burglary, out of jail. His uncle is suspected of being El Gato, an infamous thief whose identity is known only to Juan.
Club 57 (live-action teen series)
Siblings Eva and Ruben accidentally time-travel to 1957, but when Eva falls in love with JJ, her minor action causes a butterfly effect on the future.
N00bees (teen telenovela)
Silvia and David are enjoying their lives as boyfriend and girlfriend when the AI bot Game Over emerges and attempts to transform the real world into a video game.
Dani Who? (sci-fi thriller series)
After Lorena disappears, Dani's life turns into a nightmare in which she struggles to understand who her real friends are.
Se rentan cuartos (sitcom)
A wealthy family is left bankrupt and must move to their last remaining property, a large and old house in one of the most popular neighborhoods of Mexico City.
Backdoor (comedy series)
Short satirical sketches illustrate unique social situations.