Content Highlights — Summer 

2020
AMERICAN CINEMA INTERNATIONAL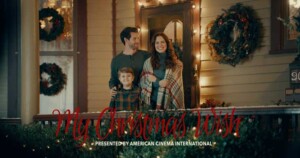 My Christmas Wish (romance) (pictured)
Abbey, a successful real estate broker, moves back to her hometown to repair a Victorian inherited from her grandmother. She decides to sell the house and hires single dad, Josh, to help with the repairs. Old memories and a growing relationship with Josh and his son, Noah, help Abbey to make a home for herself.
From The Heart (romance)
Kathy, an established travel writer, gets a call from her estranged younger sister, who lives in Amish Country, about the death of their father. Kathy returns home to settle family affairs and is reminded of her life before she left the Amish community, including her old love, Samuel.
A Chocolate Covered Christmas (holiday)
Successful marketing executive Sadie decides to spend Christmas in her hometown, only to learn that her parents are planning to sell their chocolate store and jeopardize her childhood dreams of inheriting it.
Infidel (action thriller)
In this contemporary thriller inspired by true events, an American journalist is kidnapped in the Middle East. Taken hostage by the Iranian regime, he is put on trial for trumped-up charges of espionage. Feeling desperate and alone, his wife realizes that the American government can do nothing, so she goes to Iran to try to free him herself.
Emanuel (documentary)
On June 17, 2015, a white supremacist walked into a bible study and murdered nine African Americans. This is the story of the victims and survivors of that night.
How To Train Your Puppy/Husband (comedy)
A marriage therapist attempts to fix her own marriage by focusing on how to change her husband.
Finding Love In Mountain View (romance)
After learning she's been entrusted to take care of her deceased cousin's children, an architect is torn between focusing on her career and honoring her cousin's wish.
Contact: Carlos Herrera Trujillo, Sales & Development Executive
[email protected]
Tel: (818) 907-8700
Address: 15363 Victory Blvd.
Van Nuys, CA 91406
---
BANIJAY RIGHTS

The Hunt For A Killer (true-crime drama series) (pictured)
In March 1989, the sadistic murder of 10-year-old Helen Nilsson in Hörby, southern Sweden, traumatised a nation. The series tells the story about a region left behind; about class inequalities and social exclusion. It is also a story about a man within the Police Force who revolted against corruption and never gave up. He solved the impossible crime.
Informer 3838 (true-crime scripted series)
Tells the untold story of the dangerous double life of Nicola Gobbo, the youngest female barrister in Victorian history, who against all the rules informed police on the very gangland criminals she was defending.
Michael Palin Travels (factual travel series)
Michael travels back in time to encounter the places he visited – extraordinary countries and moments from Around The World In 80 Days, Pole To Pole, Full Circle and Sahara, allowing us to experience them as he did, and hear for the first-time his untold personal stories.
Swingers (factual)
Explores the hidden world of Britain's secretive swinging scene through unprecedented access to one of the country's exclusive Swingers clubs. It follows the men and women, young and old, at the clubs' big Valentine's Day party to find out.
Survivor (format)
A group of contestants are marooned on a tropical island, with little more than the clothes on their backs and their own animal cunning. As they build their own shelter and order their own society, castaways must compete in increasingly difficult tests of strategy, guile, and ruthlessness.
Contact: [email protected]
Tel: +44 (0)20 7013 4000
Address: Gloucester Building, Kensington Village
Avonmore Road, London, W14 8RF
---
GRB STUDIOS
Untold Stories of the E.R. (factual format) (pictured)
These intense true stories demonstrate the dramatic nature of medicine practiced under pressure, where every moment can be a turning point. See how a doctor's personal blend of expertise, coolness under fire, and decision-making ability are challenged by unpredictable circumstances.
On The Case (crime series)
Explore intriguing murder mysteries through in-depth interviews and examine the forensic evidence that helped crack the cases. First-person accounts from witnesses and suspects reveal the raw emotions of those who've suffered personal tragedies, as well as the motives of the perpetrators.
Jim Gaffigan: Quality Time (comedy)
Jim Gaffigan doesn't understand why we aren't more honest about the reasons we don't want to attend events, while at the same time embrace lying to kids. From horses and dog birthdays to traveling and museums, Jim continues to impress with his relatable takes on everyday life.
Kevin Hart's Guide To Black History (comedy)
Kevin Hart highlights the fascinating contributions of Black history's unsung heroes in this entertaining and educational film.
Turquoise Fever (reality TV series)
For three generations, the Otteson family has been unearthing sought-after turquoise. They battle inhospitable conditions and intense dangers — from detonating explosives on treacherous slopes to the pressures of meeting buyers' demands.
Close Up With The Hollywood Reporter (celebrity series)
This roundtable interview series features the hottest A-list stars and directors from the year's most acclaimed films and television series. Guests discuss their craft and true stories of the business that keep them coming back for more.
Served (documentary)
On February 24, 2020, disgraced media mogul Harvey Weinstein was sentenced to 23 years in prison for rape and other sexual criminal acts. The world of Weinstein came crashing down and helped fuel the global #MeToo Movement. Women at long last are encouraged to speak out in a crusade against sexual abuse. The voices of victims are now being heard; silence is not always golden.
Contact: [email protected]
Tel: (818) 728-4140
Address: 13400 Riverside Dr., #300
Sherman Oaks, CA 91423
---
GUSTO WORLDWIDE MEDIA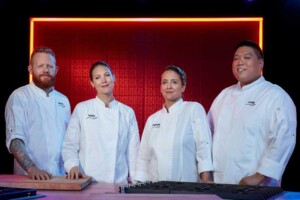 Cooking Like a Chef (food/cooking series) (pictured)
The modern, live-to-tape reboot features a diverse cast of four expert chefs with distinguished culinary backgrounds who teach viewers how to cook, not what to cook. 
DNA Dinners (food/cooking series)
Takes viewers on an emotional roller coaster ride of self-discovery that is powerful and uplifting, with delicious dishes along the way. Accompanied with recipes and short-form content.   
Bonacini's Italy (food/cooking series)
Celebrity chef Michael Bonacini cooks sumptuous Italian fare in this elegant food series.
Flour Power (food/cooking series)
Set in a retro-style kitchen, the lovely host inspires viewers with simple to extravagant baked treats.
Spencer's BIG 30 (food/cooking series)
Shot in real time, this fast-paced series features healthy, family-style meals made in around 30 minutes for around 30 dollars.
One World Kitchen (food/cooking series)
Visually stunning food series featuring nine delicious international cuisines (Italian, Indian, Thai, Argentinian, Japanese, Cantonese, Lebanese, Vietnamese, and Greek).
Watt's on the Grill (food/cooking series)
This fast-paced cooking series is all about delectable barbecue and inspiring viewers to entertain guests outdoors.
Contact: Krynn Wrigley, International Sales Manager, [email protected]
Tel: (613) 730-1728 )
Address: 6-2191 Thurston Dr.)
Ottawa, ON K1G 6C9
http://www.gustoworldwidemedia.com
---
KANAL D INTERNATIONAL
Romance Next Door (romantic comedy series) (pictured)
This love story is also a story of friendship between four young people from different social classes and cultures. They will not only fall in love but build a strong friendship based on a "cheerful lie."
Hekimoglu (drama series)
In the Turkish local version of the U.S. scripted series House M.D., an anti-social, witty, and arrogant medical doctor saves his patients from infectious diseases.
New Life (drama series)
Captain Adem, a former Special Forces soldier, is tasked with protecting Yasemin, the young wife of a powerful businessman. For Adem, this job seems like child's play compared to the dangerous operations he used to know, but when he accepts the post, he and his family step into a world where they are foreigners.
Ruthless City (drama series)
Seher's family life changes dramatically when her mother-in-law makes a deal to sell one of her daughters to Agah, a wealthy man from her hometown. This new encounter will test each and every person in both families.
Love Trap (romantic comedy series)
Ayse, who comes from a working-class family, busts her boyfriend canoodling with her best friend. As payback, she plots to marry Kerem
Contact: [email protected]
Tel: +90 212 413 56 66
Address: Yelda Haber Ve Gorsel Yayincilik A.S.
Demioren Medya Center 100. Yıl Mah. 2264. Sk. No:1/21 34218
Bagcilar Istanbul Turkey
---
MADD ENTERTAINMENT 
A Miracle (medical drama series)
Ali, an autistic savant medical school graduate, dreams of becoming a surgeon. His godfather decides to give him a chance and hires him for a six-month trial period at a private hospital.
Crash (drama series)
While attempting to commit suicide, Kadir gets into a car accident that involves three other people. The lives of Kadir, Zeynep, Kerem, and Cemre all intertwine in the aftermath of the crash.
Kuzgun (drama series)
Kuzgun grew up on the streets after he was taken from his family by thugs. As an adult, he infiltrates a gang to exact revenge against Rifat, who ruined his father's reputation. When Kuzgun falls for Rifat's daughter, he finds this new bond to be his biggest obstacle.
Love Makes You Cry (drama series) 
Ada lives in a remote village serving a mean uncle who sells her to a gangster set on making Ada his wife. After a confrontation with her would-be fiancé, she runs away with another man to start a fresh life.
Nehir (drama series)
Tarik and Nazim struggle to assume each other's identities for the love of Nehir, who attempts to escape her dark past. For the trio, every new day creates more lies. Is the truth the only thing that can set them all free?
The Choice (drama series) (pictured)
Irfan's life is turned upside down when he is wrongfully terminated from his job as a professor and his son gets sick. He soon finds himself on a dark adventure he never could have imagined..
The Teacher (drama series) 
Physics teacher Akif holds his students hostage so that they face the truth behind the death of their classmate Rüya. The students slowly uncover their classmate's story and admit their own guilt in what happened.
Contact: [email protected]
Tel: +90 212 273 24 34
Address: Esentepe, Kore Şehitleri Caddesi, No.5/3
Şişli/Istanbul 34394 Turkey
---
MEDIASET DISTRIBUTION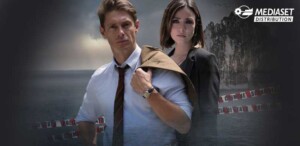 The Silence of Water (drama series) (pictured)
The disappearance of a young girl is a dramatic starting point to an investigation that will expose what is behind the respectable façade of a small seaside village. The local police inspector is forced to work with a homicide detective to unearth hidden truths and secret affairs. Season two will soon air in France on Canale 2.
On The Brink (medical drama series)
Tosca Navarro, the head of a psychiatric unit at the cutting edge of treating adolescents with mental disorders, always manages to help her young patients by leading investigations that often bring her to diagnose and cure those cases that seem unsolvable.
Amanda (drama series))
With her professionalism and charm, a young nurse earns the trust of the Santa Cruz family. Fourteen years ago, the four Santa Cruz brothers raped her and now she is ready to make them pay.
Love And Sacrifice (period drama series)
The series' protagonists live out their passions with staggering intensity against the striking scenery of the Carrara marble quarries.
Contact: [email protected]
Tel: 39 06 66390 566
Address: Viale Aventino 26
00153 Rome, Italy
---
MULTICOM ENTERTAINMENT 
Inside Game (sports drama)
In 2007, when NBA referee Tim Donaghy got caught betting on games he worked, he said two men associated with the Gambino crime family threatened to kill his family if he didn't give them gambling picks. That's what Donaghy told the FBI. That's what he told 60 Minutes. And that's what he testified in court. But that's not what really happened.
Beyond The Mask (action-adventure) (pictured)
The leading mercenary for the British East India Trading Company, Will Reynolds, was double-crossed and left for dead by his employer, Kemp. Working to redeem his name behind a mask, Will now works closely with Ben Franklin and other Patriots in the hopes of thwarting Kemp.
New Orleans Live (music and culture)
These productions give incredible musical artists the best opportunity to shine while introducing New Orleans music and culture to viewers around the world.
The Trials of Rosie O'Neill (drama series)
Following a messy divorce, Fiona "Rosie" O'Neill leaves her lucrative Beverly Hills law practice to become a public defender in Los Angeles. As she navigates her new career, she comes across cases that break her heart, boil her blood, and make her question what is truly right and wrong.
Cagney & Lacey Reunited! (TV movie package)
Cagney and Lacey are back and better than ever in this package of four made-for-TV movies. Christine Cagney, now working at the District Attorney's office, and Mary Beth Lacey, now retired from the police force, must team up to solve classic cases the way only they can.
Amityville Horror Collection (film package)
Presents beautiful 4K restorations of four Amityville Horror films to audiences for the first time since their release. Amityville: A New Generation, Amityville: The Evil Escapes, Amityville: It's About Time, and Amityville: Dollhouse have been fully restored from their original 35mm.
The Archive (channel)
The Archive channel streams rare, retro, and restored 4K films and TV. Lovers of story and silver screen fun have access to timeless series, a killer horror library, and music bios, with titles featuring Reese Witherspoon, Orson Welles, Marilyn Monroe, and Samuel L. Jackson.
Contact: [email protected]
Tel: (310) 693-8818
Address: 8530 Wilshire Blvd. #550
Beverly Hills, CA 90211
---
RECORD TV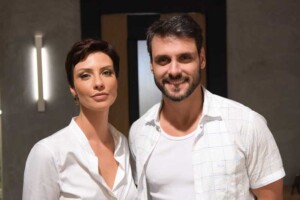 Jezebel (Jezabel) (telenovela)
A Phoenician princess uses her beauty and seductive powers to achieve all she wants. She marries King Ahab to become queen, but she suffers strong opposition from the people in attempting to impose the worship of the pagan gods. Stubborn and unwavering in her convictions, she is a woman capable of anything to achieve her goals and destroy her enemies.
Topíssima (telenovela) (pictured)
Delves into the struggles of a modern woman in work versus love life, and independence versus solitude, among others. The series takes place during an ongoing police investigation full of twists and turns involving the main characters.
Jesus (Jesús) (telenovela)
Tells the fascinating story of the man who changed mankind. It tells not only the story before his birth but elaborates on stories from people who were healed by him.
Apocalypse (Apocalipsis) (telenovela)
Depicts The End of Times in three phases, with the first beginning in 1980s New York where Alan, Adriano, Deborah, and Susana all meet. In the second phase, Adriano, Deborah, and their son, Ricardo, reestablish contact with Alan, Susana and their son, Benjamin. The third phase tells of a rivalry between Benjamin and Ricardo, who will attempt world domination.
The Rich and Lazarus (El Rico y Lázaro) (telenovela)
Asher, Joanne, and Zach were inseparable… until both of the boys fell deeply in love with Joanne, that is. Along with the intrigues and emotions of this love triangle, they will have to live through the invasion of Jerusalem by the king of Babylon, Nebuchadnezzar.
The Slave Mother (La Esclava Madre) (telenovela)
Tells the life story of the light-skinned slave girl who was obsessively pursued by Mr. Leôncio.
Moses and the Ten Commandments (Moisés y los Diez Mandamientos) (telenovela)
Depicts one of the most famous periods in the Bible: the life of Moses. The story of the Hebrew leader, from his birth until his death, highlights the encounter with God on Mount Sinai, the passage through the Red Sea, the revelation of the Ten Commandments, and the arrival of the people in the Promised Land.
Contact: Edson Mendes, International Sales Manager, [email protected]
Tel: +55 11 3300 4022
Address: Rua da Várzea, 240 – Barra Funda
01140-080 – São Paulo-SP, Brasil
---
SPI International 
SPI International operates 42 television channels on six continents. Working with over 700 operators worldwide, the global media company uses state-of-the-art technology to provide its 65 million subscribers with access to its linear and on-demand content. SPI added Film1 premium movie services to its portfolio, including four movie channels and digital services.
SPI International is also a leading distributor of theatrical films and television programming worldwide. SPI's solid alliances with major independent producers provide premium content with A-list stars. SPI's catalogue presents a wide range of more than 3,000 titles, consisting of new releases as well as evergreen library feature films and TV series.
SPI's new ad-based channel Filmstream made its worldwide debut in May with an initial launch in the U.K. with Samsung Electronics' Samsung TV Plus. Filmstream's current catalogue offers independent world cinema gems and classic movies from iconic directors.
The company recently inked a new agreement with HUAWEI, the global ICT infrastructure provider and smart phone manufacturer, to bring FilmBox On Demand content to HUAWEI Video in 23 countries, including the U.K., Germany, Sweden, Poland, Turkey, and Russia. SPI has also signed a distribution deal in the past month with 2BENAMED for its specially curated SVOD packages and localized linear channels in Argentina, Chile, Ecuador, Peru, and Uruguay.
SPI's Timeless Dizi Channel (TDC), billed as the first global Turkish drama channel, continues to soar to global success with its drama series, such as Kara Sevda (pictured). Within a year from its launch, the channel has reached over five million households in 15 countries through 18 operators.
Contact: [email protected]
Tel: (212) 673-5103
Address: 99 Hudson Street
New York, NY 10013
---
TV FRANCE INTERNATIONAL
TV France International is the industry association of French TV program exporters that consists of producers, broadcasters, and distributors. Its mission is to promote the international sales of French television programs and assist in coordinating international co-productions. TV France facilitates these exchanges in a number of ways.
Le Rendez-Vous, a market dedicated to French audiovisual content, presents over 1,100 examples of recent French TV content. This year, in light of ongoing health concerns, TV France International announced that it will transform the upcoming edition of Le Rendez-Vous into a digital market. Traditionally, the market offers in-person meetings and networking opportunities. The company will utilize its Screenopsis platform to adjust for a digital format.
Screenopsis is a database offering free access to French audiovisual production for accredited buyers. It lists more than 15,000 video files for streaming. In April, the organization revealed its plans to roll out Les Screens, a series of digital markets tailored to different themes that will be hosted through Screenopsis. The first unique market announced was ScreenKids (pictured), which will highlight entertaining and educational content for children.
TV France International also provides its member companies with various resources, such as information and research, as well as Le Mag de TV France, its online newsletter service. The organization continues to promote French productions on the international stage with the Export and Format Awards, which celebrate programs that have sold exceedingly well.
Contact: Philippe Vacquie, Communication Manager, [email protected]
Tel: +33 1 40 53 23 00
Address: 5, rue Cernuschi
75017 Paris, France
---