Content Highlights — May 

2020
ABS-CBN CORPORATION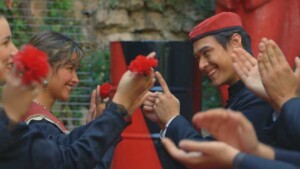 Make It with You (romance series) (pictured)
Billie and Gabo meet in Croatia where the two develop a friendship. But when Gabo returns to the Philippines to run his wealthy family's company, Billie is left heartbroken.
24|7 (crime mystery series)
Mia works as a night shift security guard at a hospital to provide for her son Xavier. When a severe strain of dengue spreads and Xavier is infected, Mia will stop at nothing for a cure.
The Killer Bride (drama series)
New to the town of Las Espadas, Emma claims to be possessed by the ghost of Camila dela Torre, an heiress who was imprisoned for murder. Some residents believe Emma's possession to be the fulfillment of the Killer Bride's curse and the fruition of her revenge.
I Am U (drama series)
Elise welcomes her doppelgänger, Rose, into her life with open arms, but soon comes to think that this was a mistake. A game of "Truth or Dare" leads to a fatal accident for Rose. Elise and her friends cover up the incident, but some mysteriously meet their own demise.
Your Moment (talent competition)
The best dancing and singing duos and groups from around the world compete in this breakthrough 2-in-1 talent reality competition.
Gold Stars (talent competition)
Men and women who are 50 or older take to the stage to sing an old song and a modern song in one performance. The competitors will prove that they can keep up with the younger generation by singing any type of song.
Everybody Sing (game show)
This community-oriented singing game show features 100 players who sing and help one another win in a series of sing-along games. Ultimately, everyone works together in the tension-filled jackpot round in order to win the grand prize.
Contact: [email protected]
Tel: 6323 415 2272
Address: 10/F, ELJ Communications Center, Lopez Drive
Quezon City 1103, Metro Manila
www.abs-cbn.com/internationalsales
---
AMERICAN CINEMA INTERNATIONAL
Infidel (action thriller) (pictured)
An American journalist is taken hostage by the Iranian regime and put on trial for trumped-up charges of espionage. After realizing that the government can do little to help, his wife tries to free him herself.
Finding Love in Mountain View (romance)
When an architect learns that she's been entrusted to take care of her deceased cousin's children, she feels torn between her career and honoring her cousin's wish.
From The Heart (romance)
Now a successful travel guide writer, Kathy Yoder used to be part of an Amish community. When she returns to settle her dad's affairs, she begins to reminisce about her old love, Isaac. Will Kathy decide to stay or return to her nomadic lifestyle?
Palau (biographical drama)
Tells a true story of a man who committed his whole life to the works of the Lord and became one of the most renowned evangelists in history.
Toby's Big Adventure (family)
Toby, a curious and rambunctious baby white tiger, accidentally gets separated from his caretakers. He is joined by Lana, a crotchety old dog, on a journey through the wilderness as they try to find their way home.
Contact: [email protected]
Tel: (818) 907-8700
Address: 15363 Victory Blvd.
Van Nuys, CA 91406
---
DISNEY MEDIA DISTRIBUTION

Modern Family (comedy series) (pictured)
The Pritchett-Dunphy-Tucker clan, a wonderfully large and blended family, give an honest and often hilarious look into the sometimes warm, sometimes twisted, embrace of the modern family.
American Horror Story (horror series)
Since 2011, creators Ryan Murphy and Brad Falchuk have redefined the horror genre through the FX limited series. Each season takes place in a new locale with a new cast of characters. Past seasons have explored a creepy asylum, a coven of witches, a travelling freak show, a haunted hotel, and the apocalypse itself.
Criminal Minds (procedural drama series)
An elite team of FBI profilers analyzes the country's most twisted criminal minds and tries to anticipate their next moves before they strike again. Each member brings his or her own area of expertise as they pinpoint predators' motivations and identify their emotional triggers.
The Walking Dead (horror series)
Based on the comic book series written by Robert Kirkman, this gritty drama follows a group of survivors in the wake of a zombie apocalypse. In the months and years after, they are constantly on the move in search of a secure home.
Grey's Anatomy (drama series)
The high-intensity medical drama follows Meredith Grey and the team of doctors at Grey Sloan Memorial who are faced with life-or-death decisions on a daily basis. They seek comfort from one another, and, at times, more than just friendship. Together they discover that neither medicine nor relationships can be defined in black and white.
Tel: (305) 567-3700
Address: 2121 Ponce de León
Coral Gables, FL 33143
www.disneymediadistribution.com
---
KANAL D INTERNATIONAL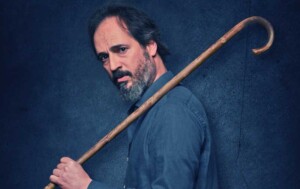 Hekimoglu (medical drama) (pictured)
In the Turkish local version of the U.S. scripted series House M.D., an anti-social, witty, and arrogant medical doctor saves his patients from infectious diseases.
New Life (drama series)
Captain Adem, a former Special Forces soldier with his own family, is tasked with protecting Yasemin, the young wife of a powerful businessman. Unhappy in her own marriage, Yasemin wishes to leave, but Adem becomes her biggest obstacle.
Ruthless City (drama series)
After moving to Istanbul, Seher encounters Agah, a wealthy businessman from her hometown. The two cross paths when Seher's mother-in-law strikes a deal to sell one of Seher's daughters to Agah. This serendipitous meeting will test both their families.
Love Trap (romantic drama series)
Ayse, who comes from a working-class family, busts her boyfriend canoodling with her best friend. As payback, she plots to marry Kerem, whose family owns a successful textile factory. This marriage will bind them forever.
Wounded Love (period drama series)
This drama intertwines the lives of a hero destined to witness his family's decline, a father fated to be left alone, and a woman who is forced to accept a marriage proposal.
Price of Passion (romantic drama series)
Young doctor Asli operates on a man who was shot by Ferhat, a hitman for his criminal uncle. In a wild turn of events, Asli must marry Ferhat to save her life. The two opposites quickly grow close, but their circumstances are too dark for an innocent love story.
For My Son (action drama series)
Former police officer Poyraz Karayel loses his family and his job after being suspended because of a crime he didn't commit. His old chief enlists him to get intel on a mafia boss and he has no other choice but to accept this mission.
Contact: [email protected]
Tel: +90 212 413 56 66
Address: Yelda Haber Ve Gorsel Yayincilik A.S.
Demioren Medya Center 100. Yıl Mah. 2264. Sk. No:1/21 34218
Bagcilar Istanbul Turkey
---
LIONSGATE ENTERTAINMENT
Love Life (dramedy series) (pictured)
Each season follows a different protagonist's search for love, with every episode chronicling the story of one relationship. This romantic comedy anthology series shows the journey from first love to last love, and how the people along the way make us into who we are.
Zoey's Extraordinary Playlist (drama series)
Whip-smart computer coder Zoey Clarke starts to hear the innermost wants and desires of the people around her through songs. At first, she questions her own sanity, but she quickly comes to see that this unwanted curse may be a wonderful gift.
Cold Courage (drama series)
Mari is a psychologist fighting for underdogs, and Lia is a shy graphic artist on the run from an abusive stalker. These two determined women meet during a series of murders and team up to bring justice.
Ramy (comedy series)
First-generation Egyptian-American Ramy Hassan begins his spiritual journey in a politically divided neighborhood. Along the way, he explores the nuance of being part of a Muslim community, as well as a Millennial.
The Goes Wrong Show (comedy series)
The fictitious Cornley Drama Society undertakes ambitious endeavors that are constantly on the verge of being undermined by the troupe's screen-hogging actors. Each show will attempt to illustrate a different genre, ranging from a courtroom drama to a World War II spy thriller.
Florida Girls (comedy series)
Living in a dilapidated beach town, four girlfriends try to find self-worth while partying and learning to be "adults." Their non-judgmental and loving friendships will help them better their lives.
Hightown (drama series)
Jackie Quiñones's journey to sobriety becomes overshadowed by a murder after she discovers a body on the beach and believes it's up to her to find answers.
Contact: [email protected]
Tel: (310) 449-9200
Address: 2700 Colorado Ave.
Santa Monica CA, 90404
---
MADD ENTERTAINMENT 
A Miracle (medical drama series)
Ali, an autistic savant medical school graduate, dreams of becoming a surgeon. His godfather decides to give him a chance and hires him for a six-month trial period at a private hospital.
Crash (drama series)
While attempting to commit suicide, Kadir gets into a car accident that involves three other people. The lives of Kadir, Zeynep, Kerem, and Cemre all intertwine in the aftermath of the crash.
Kuzgun (drama series)
Kuzgun grew up on the streets after he was taken from his family by thugs. As an adult, he infiltrates a gang to exact revenge against Rifat, who ruined his father's reputation. When Kuzgun falls for Rifat's daughter, he finds this new bond to be his biggest obstacle.
Love Makes You Cry (drama series) 
Ada lives in a remote village serving a mean uncle who sells her to a gangster set on making Ada his wife. After a confrontation with her would-be fiancé, she runs away with another man to start a fresh life.
My Little Girl (family drama series)
Eight-year-old Öykü suffers from a rare disease that affects the memory. Her unaccountable father, Demir, is released from jail under the condition that he must take care of her. Father and daughter will soon become a real family.
The Choice (drama series) (pictured)
Irfan's life is turned upside down when he is wrongfully terminated from his job as a professor and his son gets sick. He soon finds himself on a dark adventure he never could have imagined..
Teacher (drama series) 
Physics teacher Akif holds his students hostage so that they face the truth behind the death of their classmate Rüya. The students slowly uncover their classmate's story and admit their own guilt in what happened.
Contact: [email protected]
Tel: +90 212 273 24 34
Address: Esentepe, Kore Şehitleri Caddesi, No.5/3
Şişli/Istanbul 34394 Turkey
---
MONDO TV IBEROAMERICA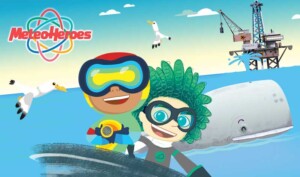 MeteoHeroes (comedy adventure series) (pictured)
The show addresses issues like fighting pollution and climate change through the amazing adventures of six children who transform into superheroes with special powers over the weather.
Bat Pat 2 (comedy adventure series)
A spooky adventure-comedy series in which Bat Pat and friends try to unravel the mysteries of the scary creatures that lurk in and around their home town of Fogville.
YooHoo To The Rescue (comedy adventure series)
YooHoo and his friends travel from their home in YooTopia to Earth to confront threats to nature and wildlife and meet many endangered animal species.
Robot Trains 3 (comedy adventure series)
New adventures for the trains who can transform into robots as former opponents join forces with them to take on new challenges.
Sissi the Young Empress 3 (comedy adventure series)
Sissi and Franz are now married. Sissi is still a free-spirited girl and doesn't hesitate to help her human and animal friends around Schönbrunn estate!
Invention Story (comedy adventure series)
The tale of a creative young fox, whose brilliant and eccentric inventions delight the inhabitants of Carrot Town and infuriate the angry, jealous mayor.
Contact: Maria B. Fois, Mondo TV Iberoamerica CEO, [email protected]
Tel: +34 913992710
Address: Calle Álvarez de Baena 4, bajo centro
28006, Madrid, Spain
---
MULTICOM ENTERTAINMENT 
The Archive (channel)
Dedicated to folks who love rare, retro, and 4K-restored films and classic TV, the channel features legends such as Boris Karloff and John Wayne, as well as contemporary stars like Reese Witherspoon and Jared Leto.
The Grapevine (channel)
Features hundreds of documentaries, specials, and unscripted series, covering topics including food, travel, politics, pop culture, crime, current events, and social issues.
Remarkable Life of John Weld (biographical drama) (pictured)
Tells the true story of John Weld, who went from a stuntman during Hollywood's golden era to a journalist and novelist.
A Woman Called Moses (historical period drama)
Escaped slave Harriet Tubman risked recapture each day by organizing the Underground Railroad, which allowed hundreds of enslaved African Americans to escape to freedom in the North.
Blood 13 (thriller)
A reckless female detective faces a gruesome crime scene in a basement bathroom during a murder investigation. When a fellow detective insists that her case is part of a larger serial killing spree, she puts herself in the killer's sights to bring him to justice.
Fat Legs (dramedy)
Dreading the uncertainty of her future, Anna travels to her best friend's Paris home where he is eager to find a distraction from his own problems
The Great Escape 2 (action-adventure)
A former POW leads a special task force to hunt down those responsible for carrying out the orders to murder 50 of the 76 escapees from Stalag Luft III.
Contact: [email protected]
Tel: (310) 693-8818
Address: 8530 Wilshire Blvd. #550
Beverly Hills, CA 90211
---
RECORD TV
Ultimate Love (telenovela) (pictured)
Angélica, known as Poderosa, experiences a drastic change in her life when she meets Miguel. They learn of an incident involving them both that leads Angélica on a path to revenge.
Jezebel (Jezabel) (telenovela)
A Phoenician princess uses her beauty to seduce King Ahab and marry him so that she can become queen. She then attempts to impose the worship of pagan gods on the public.
Topíssima (telenovela)
An ongoing police investigation implicates all the main characters in this telenovela that depicts the struggles of the modern workplace.
Jesus (Jesús) (soap opera)
Tells the fascinating life story — from birth to resurrection — of the man who changed the world.
Apocalypse (Apocalipsis) (soap opera)
Begins in 1980s New York where four university students meet, then takes place across three generations.
The Rich and Lazarus (El Rico y Lázaro) (soap opera)
A romantic drama about three inseparable childhood best friends is set against Nebuchadnezzar's invasion of Jerusalem.
The Promised Land (La Tierra Prometida) (soap opera)
Joshua, the newly appointed leader of the Hebrews, is an experienced warrior gifted with courage and a powerful belief in God. He leads his people to Canaan.
Contact: Edson Mendes, International Sales Manager, [email protected]
Tel: +55 11 3300 4022
Address: Rua da Várzea, 240 – Barra Funda
01140-080 – São Paulo-SP, Brasil
---
SPI International 
SPI International operates 40 television channels on six continents. Working with over 1,400 operators worldwide, the global media company uses state-of-the-art technology to provide its 65 million subscribers with access to its linear and on-demand content. SPI added Film1 premium movie services to its portfolio, including four movie channels and digital services.
SPI International is also a leading distributor of theatrical films and television programming worldwide. SPI's solid alliances with major independent producers provide premium content with A-list stars. SPI's catalogue presents a wide range of more than 3,000 titles, consisting of new releases as well as evergreen library feature films and TV series.
SPI's new ad-based channel Filmstream made its worldwide debut in May with an initial launch in the U.K. with Samsung Electronics' Samsung TV Plus. Filmstream's current catalogue offers independent world cinema gems and classic movies from iconic directors.
The company recently inked a new agreement with HUAWEI, the global ICT infrastructure provider and smart phone manufacturer, to bring FilmBox On Demand content to HUAWEI Video in 23 countries, including the U.K., Germany, Sweden, Poland, Turkey, and Russia. SPI has also signed a distribution deal in the past month with 2BENAMED for its specially curated SVOD packages and localized linear channels in Argentina, Chile, Ecuador, Peru, and Uruguay.
SPI's Timeless Drama Channel (TDC), billed as the first global Turkish drama channel, continues to soar to global success (pictured). Within a year from its launch, the channel has reached over five million households in 15 countries through 18 operators.
Contact: [email protected]
Tel: (212) 673-5103
Address: 99 Hudson Street
New York, NY 10013
---
TV FRANCE INTERNATIONAL
TV France International is the industry association of French TV program exporters that consists of producers, broadcasters, and distributors. Its mission is to promote the international sales of French television programs and assist in coordinating international co-productions. TV France facilitates these exchanges in a number of ways.
Le Rendez-Vous, a market dedicated to French audiovisual content, presents over 1,100 examples of recent French TV content. This year, in light of ongoing health concerns, TV France International announced that it will transform the upcoming edition of Le Rendez-Vous into a digital market. Traditionally, the market offers in-person meetings and networking opportunities. The company will utilize its Screenopsis platform to adjust for a digital format.
Screenopsis is a database offering free access to French audiovisual production for accredited buyers. It lists more than 15,000 video files for streaming. In April, the organization revealed its plans to roll out Les Screens, a series of digital markets tailored to different themes that will be hosted through Screenopsis. The first unique market announced was ScreenKids (pictured), which will highlight entertaining and educational content for children.
TV France International also provides its member companies with various resources, such as information and research, as well as Le Mag de TV France, its online newsletter service. The organization continues to promote French productions on the international stage with the Export and Format Awards, which celebrate programs that have sold exceedingly well.
Contact: Philippe Vacquie, Communication Manager, [email protected]
Tel: +33 1 40 53 23 00
Address: 5, rue Cernuschi
75017 Paris, France
---
UNIVERSAL CINERGIA DUBBING
Universal Cinergia Dubbing provides quality dubbing, voiceover, subtitling, closed captioning, audio description, and post-production services to broadcasters, film studios, VOD platforms, distributors, TV channels, and producers.
Founded in 2012 by CEO Liliam Hernandez and COO Gema Lopez (pictured), Universal Cinergia Dubbing offers localization services for multiple languages, including Spanish, Portuguese, English, French, and Castilian. The company manages a vast network of voice talents, translators, and audio engineers, to address content localization for live-action series, documentaries, telenovelas, feature films, and animation.
Based in Miami, Florida, Universal Cinergia operates 45 recording studios worldwide, with locations in São Paulo, Paris, Valencia, and Mexico. Certified by TPN (Trusted Partner Network), the company produces over 600 hours of dubbed content monthly.
Contact: [email protected]
Tel: (305) 594-4548
Address: 1315 NW 98th Ct, Suite # 8
Miami, FL 33172
---
VIACOMCBS AMERICAS
The Internationals (thriller)
After 11 years behind bars, Fausto brings together a group of young people and seeks to instill in them the ancient codes of "Los Internacionales." They travel to Argentina to take advantage of the country's economic crisis and steal money and jewelry.
R (dramedy) (pictured)
Thinking he has a terminal illness, a dull middle-aged man decides to kill a powerful monster of a person. As he is chased by drug dealers, he learns that his diagnosis was the result of a typo and believes that a real terminal patient may be the only key to saving his life.
N00bees 2 (teen telenovela)
Silvia has taken a break from the N00bees to enjoy her life with her boyfriend David. Meanwhile, "Gameover," an AI villain, plans his revenge from Avatar City.
Homens 2 (comedy)
Four friends in their 30s face an unexpected problem when one of them learns that he is impotent. When a doctor doesn't seem to offer any help, his brotherhood of friends come to action and explore what it means to be a contemporary man.
Ana (comedy)
The daughter of a Mexican beauty queen pursues her own career in Hollywood. As she becomes a star, she realizes that her life has been ruled by appearances and her mother's unaccomplished dreams.
Backdoor (comedy)
Adapted from the famous Brazilian comedy channel, "Porta dos Fundos," this format features satirical and funny sketches about different social situations.
Se Rentan Cuartos (sitcom)
After the Garza family becomes bankrupt, they have no choice but to take shelter in the only property they have left: an old mansion converted into a guest house. Immersed in a world that they have always despised, the Garzas become embroiled in a class struggle.
Tel: +54 11 4012 5600
Address: 161 North West, 6 St. Suite 1200
Miami, FL 33136
www.viacominternationalstudios.com
---
ZOOMERMEDIA LIMITED



Anjelica's 22 Minute Workout (fitness series) (pictured)
Lifelong fitness fanatic and former "Belly Dancer of the Universe" Anjelica Scannura performs a tribute to the hottest aerobics shows of the 1980s with a modern twist. Scannura and her diverse backup crews instruct viewers through 22-minute fitness routines.
Anjelica's Dance Workout (fitness series)
Champion dancer Anjelica Scannura guides viewers through easy-to-follow fitness-focused world dance routines, including Flamenco, Irish Stepdance, and Samba.
Healing Yoga (fitness series)
Certified yoga instructor Deborah Devine leads restorative yoga sessions with an emphasis on achievable and gentle yoga poses. These lessons help relieve symptoms of common conditions like back and joint pain.
BollyFit (fitness series)
Host and creator Reshmi Chetram turns her expertise in the art of Kuthak into an invigorating and straightforward cardio routine.
Divine Intervention (lifestyle series)
Rabbi Shmuley Boteach — former spiritual advisor to stars like Michael Jackson and frequent guest on The Oprah Winfrey Show — gives practical, inspirational advice to those seeking to overcome their fears and make changes in their lives.
Messages From Spirit (lifestyle series)
World-renowned medium Collette Baron-Reid offers her unique insight with each reading, using
a blend of evidence from the other side paired with sound guidance.
Dr. Zach (lifestyle series)
Dr. Zachary Levine is a highly accomplished Emergency Doctor who has seen it all. In each episode, he shares his expert medical advice with people who have health concerns related to themselves, or those close to them.
Contact: John Moutsatsos-Thornton, VP Production & Distribution, [email protected]
Tel: (416) 886-1461
Address: 70 Jefferson Ave
Toronto, ON M6K 1Y4