NATPE BUDAPEST 

2017
AMC STUDIOS – Meeting Table 19
Brockmire (comedy) (pictured)
A famous baseball announcer experiences public humiliation on air when he discovers his wife's infidelity. Ten years later, he's trying to find love again.
Stan Against Evil (horror comedy)
Stan Miller is a former sheriff who was forced into retirement but joins the new sheriff to battle against a plague of unleashed demons.
Murder In The Heartland (documentary series)
An in-depth look at the original "Crime of the Century," based on the findings of Truman Capote's classic, In Cold Blood.
Visionaries: Robert Kirkman's Secret History of Comics (documentary series)
Robert Kirkman learns about the previously untold history of comic books, sharing the stories of creators and events that changed the genre.
Visionaries: James Cameron's Story of Science Fiction (documentary series)
James Cameron looks at the key themes of science fiction and the impacts the genre has made on society, technology, and pop culture.
Talking With Chris Hardwick (talk show)
Hosted by Chris Hardwick, this talk series brings relevant pop culture to the forefront.
Ride With Norman Reedus (travel documentary series)
The Walking Dead actor and motorcycle aficionado Norman Reedus gives viewers an inside look into the world of motorcycles.
www.amcstudiosinternational.com
BREAKTHROUGH ENTERTAINMENT – Meeting Table 38
L.M. Montgomery's Anne of Green Gables: The Good Stars (kids' series) (pictured)
The trilogy of family-oriented films about Anne, a young orphan who starts a new life in Avonlea.
Wandering Wenda (kids' series)
Inspired by Margaret Atwood's "The Wide World of Wandering Wenda," this story follows Wenda and her closest friends as they go on fantastical journeys.
The Shocking Truth (factual)
Deep dives into the true stories of real-life murders and paranormal activity, and how Hollywood made these events into memorable films.
Hollywood Homicide Uncovered (factual)
Each episode uncovers information into some of the most unthinkable murders in Hollywood.
Uprooted (lifestyle)
North American mom and food-lover Sarah Sharrat adjusts to her new life in rural France.
Young Once (lifestyle)
This eight-part series tells the unconventional lives of students who attend some of America's conservative universities, where alcohol and dancing are not allowed.
Daughters of Eve (docu-drama)
Tells of the extraordinary lives of the women from the Old and New Testament through dramatic re-enactment, and includes interviews with biblical scholars.
www.breakthroughentertainment.com
CARACOL INTERNATIONAL – Stand 6
El Bronx (super series)
Tells the entangled stories of individuals living in the Bronx, where failure and disappointment are interspersed with love.
The Goddess (romantic series)
Follows Patricia Teherán, a woman with talent and love, who encounters a chauvinistic world. After several disappointing romantic affairs, she uses that energy to sing on stage.
Night School (telenovela) (pictured)
This series shares the stories of eight characters who face obstacles while attending night school — challenges that will test family commitments and financial burdens.
Dynasty (telenovela)
A talented singer, Kaleth Morales dies in a car accident. His father, Miguel Morales, takes on his son's musical legacy and continues the Morales Dynasty.
CBS STUDIOS INTERNATIONAL – DUNA II Meeting Room
SEAL Team (drama) (pictured)
Follows the professional and personal lives of a team of Navy SEALS as they train and execute dangerous missions.
Valor (drama)
A highly trained unit of U.S. Army helicopter pilots, named the Shadow Raiders, is sent on a mission to Somalia, where the mission goes unexpectedly wrong.
Wisdom of the Crowd (drama)
A technological pioneer creates a groundbreaking, crowdsourcing app to solve his daughter's murder.
9JKL (comedy)
A recent divorcé moves into the building where his family lives, sandwiched in an apartment between his meddlesome parents and rival brother.
Instinct (drama)
Alan Cumming plays a former CIA operative who returns to his old life in order to catch a serial killer on the loose.
Salvation (drama)
An MIT grad student notifies a low-level Pentagon official that an asteroid will collide with Earth in six months.
KANAL D – Suite 219
Blood Ties (family drama)
Tells the story of the Akbas family, Turkey's leading family in the energy industry, and the love, betrayal, and power struggle between the family members.
Crossroad (family drama) 
After an unwise investment, Evren Erguven's family must decide whether to sell their last hotel. A familial battle of ownership takes place in deciding what to do.
Family Secrets (romantic comedy)
Kemal leads a double life with two separate families. When the two families find out about each other, Kemal will have to deal with new issues between his children.
Flames of Desire (romantic drama)
Blood brothers Salih and Bayram arrange for their children to marry one another. When their kids grow up, however, they have other ideas as to whom they want to marry.
Innocent (crime drama) (pictured)
Follows retired police captain Cevdet as he is put into a difficult situation, when his son, Tarik, tells him that he killed his wife. Cevdet finds out that his other son might have helped and that the two might have murdered others, as well.
Love Of My Life (romantic drama)
Gokce Senkal is in search of love. Surrounded by her two sisters who have no issues with love, Gokce deals with the troubles of being single.
Wounded Love (historical drama)
A story set along the Aegean coastline about two lovers who experience faith and betrayal, during the Turkish War of Independence.
MEDIASET DISTRIBUTION – Viewing Box 7
The Final Act (crime series)
Tonio Fortebracci has lost his memory. He has no recollection of the last two years. But once Tonio escapes prison, he goes in search of his family's past.
For Love Alone – Crossed Destinies (drama series) (pictured)
After three years of a tumultuous family life, Elena's loved ones are finally together again until an unexpected event flips her world upside down.
Donnavventura Challenge (reality show)
A group of young women enter a journalism competition to win their dream job that includes a one-year contract at a top magazine.
The Phone Secrets (game show)
Three couples decide to give up their privacy and share all of the content on their phones, possibly revealing confidential information.
On Your Skin (game show)
A quiz game show that involves 10 models who have the answers and amounts of money written on their bodies.
MONDO TV IBEROAMERICA – Meeting Table 16
Heidi, Bienvenida A Casa (youth fiction) (pictured)
Heidi is a charming girl who moves from her rural small town to the big city, where she has adventures and makes new friends.
YooHoo & Friends (animated children's series)
Five animal friends arrive on Earth to save endangered animals with the help of the magical Tree of Life. Once Earth is safe, they can return to the magical island YooTopia.
Invention Story (animated children's series)
A rabbit named Silas Hopner and a fox named Kit arrive in Carrot Town and compete against each other with their new inventions.
Sissi, The Young Empress (animated children's series)
Sissi, the Empress of Austria, falls in love with Franz, who is to marry Sissi's sister. With the help of a magic bracelet, Sissi goes on magical adventures.
Cuby Zoo (animated children's series)
When humans aren't around, cube-shaped animal toys come to life as characters to keep kids happy.
Adventures in Duckport (animated children's series)
Follows the whimsical adventures of Suzy Ducken and her friends as they interact and show love to the eldest members of their community.
Eddie Is a Yeti (animated children's series)
Eddie ventures from his isolated town in the wilderness and befriends nine-year-old Polly, who helps him from getting caught by the evil Dr. Atrocious.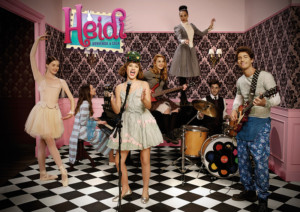 NBCUNIVERSAL INTERNATIONAL DISTRIBUTION – Suite 210 
The Brave (drama)
D.I.A. Deputy Director Patricia Campbell and her crew of analysts use advanced surveillance technology; meanwhile, Adam Dalton and his team of Special Ops perform dangerous missions.
Rise (drama)
Inspired by a true story, this series tells of a dedicated teacher and family man, Lou Mazzuchelli, who takes over a school's failing theater department and galvanizes the community in the process.
Reverie (drama)
A former hostage negotiator, Mara Kint finds a new calling in being able to save ordinary people who have lost themselves in a virtual-reality program.
The Bold Type (drama)
Tells the lives of three ambitious young journalists, each in different stages of their career, as they balance their professional aspirations with their romantic endeavours.
Law & Order: True Crime – The Menendez Murders (drama)
Recounts the notorious case of Lyle and Erik Menendez, brothers who were accused of murdering their parents in 1989.
Will & Grace (comedy)
A decade after its original eight-season run, the series returns with its full cast of Eric McCormack, Debra Messing, Sean Hayes, and Megan Mullally.
A.P. Bio (comedy)
After losing his dream job, philosophy scholar Jack Griffin begins teaching an A.P. Biology class, where he enlists his students to help him get the job he wants.
La Doña (Lady Altagracia) (drama)
After a traumatic past, Altagracia has become a ruthlessly ambitious woman, now in search of love. She meets Saul, but he has already wooed her estranged daughter, Monica.
El Señor de los Cielos (The Lord of the Skies) (super series)
Believed to be dead, Aurelio Casillas has been living in seclusion with his lover Emiliana Contreras. As the country is in chaos, he returns to bring peace.
La Reina del Sur (The Queen of the South) (super series)
After eight years of disappearing to the Italian countryside, Teresa Mendoza, who became one of Spain's most infamous drug traffickers, is made to return to the underworld of drugs and crime.
La Fan (The Fan) (dramedy) (pictured)
Valentina Perez is a super-fan and president of the Lucas Duarte Fan Club devoted to the famous telenovela star. By luck, she meets her idol, who soon realizes he needs her in his life.
RECORD TV 
The Rich and Lazarus (El Rico y Lázaro) (HD soap opera) (pictured)
Set against the historical backdrop of the invasion of Jerusalem, three childhood friends — Asher, Joanne, and Zach — experience turbulence in their relationship when the two boys fall in love with Joanne.
The Promised Land (La Tierra Prometida) (HD soap opera)
After Moses' death, Joshua is the leader of the Hebrews and must guide the 12 tribes of Israel in search of the promised land, Canaan.
The Slave Mother (La Esclava Madre) (4K soap opera)
The story of a light-skinned slave woman who is obsessively pursued by her master, Mr. Leoncio.
Moses and the Ten Commandments (Moisés y los Diez Mandamientos) (HD soap opera)
Chronicles one of the best-known characters of the Bible — from his birth to the arrival of his people to the Promised Land, and to his encounter with God on Mount Sinai.
The Miracles of Jesus (Los Milagros de Jesús) (HD series)
Based on Bible stories, each episode focuses on the hardships endured by those who were given the blessings of Jesus.
Victory! (¡Victoria!) (HD soap opera)
A 12-year-old named Arthur falls from a horse and becomes paraplegic. His father is unable to cope with this incident and begins to avoid his son.
Joseph from Egypt (José del Egipto) (HD series)
The miracle son, Joseph, is abandoned out of jealousy by his brothers in Egypt. When Canaan is suffering from hunger, Joseph has the ability to save his brothers.