NATPE Miami Content Highlights — January 

2021
ALL3MEDIA INTERNATIONAL
Eden (crime drama)
Set in the idyllic coastal town of Eden, Australia, this young adult thriller follows the repercussions of a young woman's disappearance, leading to a chain of events that exposes the dark, hidden heart of the community. This title also has scripted format potential.
The Drowning (drama)
This family-led thriller follows Jodie, a mother whose missing son still haunts her. When she catches sight of a teenage boy who bears a startling resemblance to her missing son, she is convinced she has found him. As a spark of hope is ignited, Jodie is transported to the edge of reason, where she'll threaten to up-end the life that she has carefully pieced back together.
The Cube-UK (entertainment)
The Cube is made all the more timely as it can be filmed with social distancing in place. The show's inherent dynamic and entertainment value remain intact as contestants complete physical challenges to win cash prizes.
10 Years Younger in 10 Days– UK (factual entertainment)
Updated for 2020, this heart-warming transformative makeover show follows contributors who are desperate to turn back the aging clock but do not know how. Guided by new presenter Cherry Healey and a panel of experts, the contributors undergo 10 days' worth of non-invasive cosmetic procedures, hair, make-up, and a fashion overhaul resulting in a transformation of their appearance. 
The Savoy- UK (documentary)
Viewers will be given unique and intimate access to one of London's most iconic hotels. The series captures the staff's hard work and exquisite attention to detail, as well as a unique moment in the hotel's history, as it is forced to closes its doors for the first time ever during the COVID lockdown.
I Quit- California /USA (factual entertainment)
This inspiring entrepreneurial show follows the tense and emotional journeys of six sets of hopeful entrepreneurs as they follow their dreams of launching their own businesses. This intense series is full of pressing deadlines and extreme decision-making where there are no safety nets, and these hopefuls must succeed or go broke. 
Gordon, Gino & Fred's Road Trip – UK (factual entertainment) (pictured)
The return of this hugely successful BAFTA-nominated series promises more comedy, chaos, and competitive missions for the three friends as they travel around the Americas
Contact: Janel Downing,  Janel.Downing@all3media.com
Tel: + 20 7845 4350 (U.K.); 1 917 606 3863 (U.S.)
Address: Berkshire House, 168-173 High Holborn
London WC1V 7AA U.K.
 www.all3mediainternational.com
---
AMERICAN CINEMA INTERNATIONAL

Farm To Fork To Love (romance) (pictured)
A young and talented chef, Alice, works as a sous chef at one of the top restaurants in New York. After a disastrous night serving a food critic, she receives an invitation to judge a food competition in honor of the prestigious annual fundraiser for the St. Andrew's Children's Hospital.  Alice accepts the invitation despite the dismay of Brett, her boss who is also her boyfriend. Once she gets to Kansas, Alice is surprised to find her former boyfriend in college, Christian, is amongst the judges. The cooking show and her reconnection with Christian will make Alice reconsider her calling and make her dreams come true.
Finding Love in San Antonio (romance)
After a season wrap on her show, successful L.A. TV chef Adela gets an offer to work on a new network series that will send her traveling around Europe, but she worries about moving Fabiola, her daughter who is still homesick for San Antonio. When Adela misses the Championship soccer match for work, Fabiola runs away to San Antonio. Adela returns to San Antonio and meets a local food writer who wrote a takedown piece on Adela, but their unlikely relationship will re-introduce the city to Adela. Now Adela must decide if she wants to stay home in San Antonio or take the offer of her show.
Squeaky Clean Mysteries Hazardous Duty (mystery)
Gabby St. Clair grew up dreaming of becoming a police forensics expert — that is, until she had to drop out of a graduate program in forensics science to help support her family. One day, Gabby and her beloved boss Harold are assigned to clean up the scene of a home invasion gone wrong. When Harold becomes suspected of robbing the Cunninghams' home and burning it down to destroy the evidence, the case gets personal — Gabby must uncover the identity of the true arsonist in order to prove her boss's innocence. Her number one suspect? Michael Cunningham himself!
Finding Love in Mountain View (romance)
After learning she's been entrusted to take care of her deceased cousin's children, an architect is torn between focusing on her career and honoring her cousin's wish. 
A Royal Surprise (romance)
Riley Stevenson and Mandla Amitu are madly in love. Before the two can take their relationship to the next level, Mandla invites Riley to his home in South Africa to meet his parents for their fortieth wedding anniversary.
Contact: Carlos Herrera Trujillo, Sales & Development executive, [email protected]
Tel: 818-907-8700
Address: 15363 Victory Blvd.
Van Nuys, CA 91406
---
ATV
Akıncı (drama)
During the day, Fatih is a history teacher, and during the night, he dons a mask to become the hero Akinci. The police are after him for all the good he does, and a successful journalist, Nergis, is after his real identity. While all of these events are happening, Akinci will fight for his country, avenge his father, and fall in love.
Maria and Mustafa (drama)
Maria and Mustafa's paths intersect during a series of unfortunate events and coincidences while they are on their way to Cappadocia. They are so impressed by one another that they decide to go to Ürgüp together, not knowing that this will be the road to a life-altering love.
The Ottoman (drama)
Tells the sweeping story of the people of Anatolia, who were forced to live in constant danger due to the presence of the Byzantine Empire and the Mongolian invasion. Within the Kayi tribe, a power struggle takes place between Osman, the youngest heir to Ertugrul Ghazi, and his uncle Dündar.
Hercai (drama)
Reyyan and Miran marry. But after just one night of wedded bliss, Miran ends the relationship because he was raised to avenge the death of his parents who were killed by Reyyan's father. More secrets will be revealed as Reyyan and Miran hold onto their love despite all obstacles.
Lifeline (drama)
Nefes, a child bride, was sold to a businessman named Mustafa. Although she tries, she repeatedly fails to escape with her young son. When Mustafa brings his family to Istanbul, his younger brother Tahir notices how Nefes is affected by domestic violence.
Love and Secrets (drama)
Sevda steals money in order to rescue her brother, who has been taken hostage by a drug gang. Meanwhile, former orphan Ali is unaware that his own brother, Pilot, heads the gang. Through it all, Sevda and Ali will learn to fight for their love.
Grand Family (drama)
Hizir tries to keep the balance among his family members, and refuses to choose between his wife and his mistress. All the while, he also tries to keep his family out of his mafia affairs.
Contact: [email protected]
Tel: 90 212 381 28 48
Address: Gayrettepe Mah. Barbaros Bulvarı, Cam Han No:153 Kat:8 Beşiktaş
Istanbul, Turkey 34353
---
DISNEY MEDIA DISTRIBUTION LATIN AMERICA
Bad Times at the El Royale (crime drama) (pictured)
Seven strangers, each with a secret to bury, meet at Lake Tahoe's El Royale, a rundown hotel with a dark past. Over the course of one fateful night, everyone will have a last shot at redemption… before everything goes to hell.
The Predator (sci-fi adventure)
From the outer reaches of space to the backwoods of southern Georgia, the hunt comes home in Shane Black's explosive reinvention of the Predator series. Now, the universe's most lethal hunters are stronger, smarter, and deadlier than ever before. And only a ragtag crew of ex-soldiers and an evolutionary biology professor can prevent the end of the human race.
Can You Ever Forgive Me? (biographical drama)
Melissa McCarthy stars as Lee Israel, the best-selling celebrity biographer (and cat lover) who made her living in the 1970s and '80s profiling the likes of Katherine Hepburn, Tallulah Bankhead, Estee Lauder, and journalist Dorothy Kilgallen. When Lee found herself unable to get published because she had fallen out of step with the marketplace, she turned her art form to deception, abetted by her loyal friend Jack.
Glass (sci-fi thriller)
In the final chapter of a trilogy inspired by the worlds of comic books, David Dunn, a man with supernatural abilities, finds himself trapped in a mental ward with an archenemy and an evil psychiatrist. His attempts to escape culminate in a final showdown that ends with long-held secrets finally coming to light.
Contact: Tel: (305) 567-3700
Address: 2121 Ponce de Leon Blvd, Suite 1020
Coral Gables, FL 33134
www.disneymediadistribution.tv
---
FILMRISE
Beans (drama) (pictured)
The coming-of-age story about a twelve-year-old Mohawk girl who is forced to grow up fast during the 1990 Indigenous uprising known as The Oka Crisis.
Drunk Bus (drama)
A young campus bus driver (Charlie Tahan) and a punk-rock Samoan security guard form an unlikely relationship on the bus that ushers drunk college students from one party to the next.
Preston & Brianna (reality/unscripted)
Known as two of YouTube's most hilarious pranksters and wholesome video game streamers, power couple Preston and Brianna share their life and love with their diverse fans.
MrBeast (reality/unscripted)
YouTube's challenge master is coming to streaming. Watch the supremely popular Jimmy Donaldson (aka MrBeast) perform outrageous stunts and challenges.
Lilly's Light (children's musical)
This uplifting family musical focuses on Lilly (Sherry Hursey), a loving foster mom and keeper of an enchanted lighthouse.
Bloodline Detectives (true crime documentary)
This compelling 20-part series, hosted by preeminent legal analyst and renowned former prosecutor Nancy Grace, explores familial DNA testing.
Deep In Vogue (documentary)
Synonymous with the black, gay ballrooms of 1980s NY, the film celebrates the colorful, queer, emotional, and political stories of Northern Vogue and its people.
Contact: [email protected]
Tel: 718-369-9090
Address: 220 36th Street, 4th Floor, Suite AA
Brooklyn, NY 11232
---
KANAL D INTERNATIONAL
Hekimoglu (medical drama) (pictured)
In the Turkish local version of the U.S. scripted series House M.D., an anti-social, witty, and arrogant medical doctor saves his patients from infectious diseases. With his team of three young doctors, Hekimoglu does whatever it takes to solve the most puzzling cases.
Ruthless City (premium drama)
Ruthless City is the story of two families who are tested by sin after an indecent deal. While the first season reflects the duality of good and evil within each person, the second season reveals the evil sides of these characters.
Love Trap (romantic comedy)
The marriage game between poor girl Ayşe and rich boy Kerem started as a "love trap." It will soon bind them forever.
Romance Next Door (romantic comedy)
This love story is also a story of friendship between four young people from different social classes and cultures. They will not only fall in love but build a strong friendship based on a "cheerful lie."
Price of Passion (romantic drama)
Can a doctor fall in love with a hitman? Can a woman heal the lost soul of her kidnapper? Did Snow White forgive the hunter? The answers to these questions lie with the unforgettable couple Aslı and Ferhat.
Wounded Love (period drama)
This is the story of one of the most tragic heroes of his time. The series poses several questions. For what reason would a man allow this to happen to him? Who is one's most sinister enemy? How can the most apparent truth bear the most tragic lie? Can love be against pride and honor? Can love stay unwounded in the face of betrayal?
War of The Roses (premium drama)
Tells the story of a love triangle between a wealthy woman, a handsome man, and a beautiful young woman.
Contact: [email protected]
Tel: +90 212 413 56 66
Address: 100. Yıl Mah. 2264. Sk.
Demioren Medya Center Apt. No:1/21
34218 Bagcilar Istanbul Turkey
---
MADD ENTERTAINMENT 
Abandoned (drama series)
Run by the gruff but well-meaning Mahir, the Ali Kaan Children's Home is home to Mavi and her three best friends: Mozi, the naïve piano prodigy; "Sparrow," who was brought to the orphanage under dangerous circumstances; and Bambi, who lives in a dream world. Together they will figure out that life can be hard, but it doesn't have to be impossible, so long as you stand by your friends.
A Woman Scorned (drama series)
When Asya met Volkan, she was alone in her own world. Years later, Asya discovers Volkan's affair with Derin. She also finds out that all their friends knew about this relationship, but no one ever told her. Asya refuses to be a victim and vows to exact revenge on her husband and everyone else who betrayed her.
Flames of Fate (drama series) (pictured)
Cemre, Rüya, and Ciçek cross paths during a fire in a cistern. They each have very different stories: Cemre, along with her little daughter, tries to escape the violent nightmare of a marriage she has fallen into; Rüya has never faced the bitter side of truth in her beautiful, privileged life; and Çiçek is on the verge of losing her identity and her beauty while trying to start anew. Nothing will ever be the same once the flames burn out.
Love Is In The Air (drama series)
Free-sprit Eda and corporate shark Serkan hate each other, but they pretend to be a couple so each can get what they want. Eda will pretend to be Serkan's fiancé until his ex-girlfriend's wedding, and Serkan will reinstate her scholarship so she can get her degree. But what starts as a simple deal doesn't stay simple for long…
The Agency (drama series)
When she comes to Istanbul, Dicle works at an agency, but she dreams of becoming a filmmaker. As Dicle struggles to exist in this glamorous world without losing her way, she learns that her estranged father works for the same agency. The magical lights of cinema also start to shed light on Dicle's first love.
Contact: [email protected]
Tel: +90 212 273 24 34
Address: Esentepe, Kore Şehitleri Caddesi, No.5/3
Şişli/Istanbul 34394 Turkey
---
MISTCO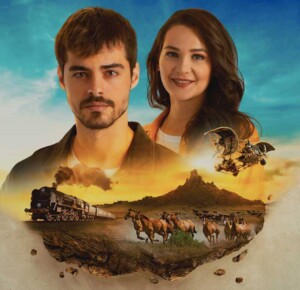 The Innocents (drama series)
Portrays the lives of Han and his family, and the love story between Han and İnci, who has her own complicated relationships with family and friends.
The Great Seljuks: Guardians of Justice (drama series)
Melikşah ascends the throne upon his father's death and receives news of his wife's death on the same day. To preserve the balance of the state, Melikşah places his newborn son, Sencer, in the custody of Nizamülmülk. Growing without a father, Sencer is trained by Nizamülmülk and after many years becomes the bodyguard of Sultan Melikşah, who does not know that his son works for him.
An Anatolian Tale (drama series) (pictured)
Taner is a young inventor living in a small town in the middle of the moor. Taner and his cousins Veysel and Ramazan finally manage to build the airplane they'd been dreaming of building for years, and at the same time manage to convince a company to invest in that airplane. The company sends an engineer to the town, who turns out to be Taner's childhood sweetheart, Dilek.
Melek "A Mother's Struggle" (drama series)
Melek, a powerful woman, is willing to sacrifice everything for her children and stop at nothing to protect them. A theme of female strength and empowerment runs throughout the drama series. 
Golden Cage (drama series)
Sometimes love is born out of revenge as in the story of Zuluf and Kenan, who are the children of two rival families. Their love will be nurtured by Zuluf's tears and Kenan's patience.
Hold My Hand (drama series)
The love story between the well-educated girl Azra and the reckless Cenk, the heir of a wealthy family, starts with tragedy and later brings fortune. The series chronicles a romantic and challenging story of the couple trapped between family and their love.
My Champion (drama series)
After his wife passes away from an incurable disease, boxer Kafkas decides to give up everything until he learns that his son has the same disease. To save his son's life, it is time to go back for the last round.
Contact: [email protected]
Tel: +90 216 695 1300
Address: Murat Reis Mh. Yeni Ocak Sk. No:45 34664 Uskudar, Istanbul-Turkey
---
MULTICOM ENTERTAINMENT GROUP
The Rest of Us (drama) (pictured)
Set in the fall of 2001 at the campus of Blair University amidst the aftermath of 9/11, a diverse group of college students spring into action when confronted by the reality of a suicide, which forces them to face a campus-wide mental health crisis. They struggle to make sense of their place in a new world order.
The Trials of Rosie O'Neill (drama)
Following a messy divorce, Fiona "Rosie" O'Neill left her lucrative Beverly Hills law practice to become a public defender for Los Angeles. As she navigates her new career, she relies on her mother, sister, ex-stepdaughter Kim, relationships, and her co-workers. She comes across cases that break her heart, boil her blood, and make her question her ethics.
The Worst Witch: Weirdsister College (children's fantasy)
Set a few years after The Worst Witch, Mildred Hubble now attends the prestigious Weirdsister College in London. Mildred, her new friends, and even her former rival Ethel Hallow have a new set of magical hurdles to overcome in this new school! Throughout their first year, Mildred travels through time, encounters long-lost friends, and gets super-charged with magic!
In the Deep Woods (crime mystery)
After her best friend is found murdered at the hands of a serial killer, children's book illustrator Joanna Warren's paranoia surrounding her safety soon proves warranted. Deemed the Deep Woods Killer, the killer dumps his victims' bodies in the forest. Initially wary of private investigator Paul Miller, Joanna eventually joins forces with him in order to pinpoint the true perpetrator.
Contact: [email protected]
Tel: (310) 693-8818
Address: 8530 Wilshire Blvd., #550
Beverly Hills, CA 90211
---
VIACOMCBS GLOBAL DISTRIBUTION GROUP
Made For Love (comedy)
A dark, absurd, and cynically poignant story of divorce and revenge that shows just how far some will go for love, and how much further others will go to destroy it.
Walker (drama)
A reimagining of "Walker, Texas Ranger," about Cordell Walker, a widower and father of two with his own moral code.
The Drew Barrymore Show (syndicated daytime show)
A one-hour nationally syndicated daytime show that brings information, inspiration, and entertainment to the daytime audience hosted by Drew Barrymore.
Spy City (spy thriller) (pictured)
A spy thriller series that tells the story of an English spy, who is sent to Berlin in 1961 – shortly before Berlin wall was built.
Star Trek: Lower Decks (animated comedy series)
Animated comedy series that focuses on the support crew serving on one of Starfleet's least important ships, the U.S.S. Cerritos, in 2380.
A Quiet Place Part II (drama-horror)
Following deadly events at home, the Abbott family must face the terrors of the outside world as they continue their fight for survival in silence.
Top Gun: Maverick (action adventure)
Top Navy aviator, Pete "Maverick" Mitchell is pushing the envelope as a courageous test pilot dodging the advancement in rank that would ground him.
Contact: [email protected]
Tel: + 1-323-575-5460
Address: 7800 Beverly Boulevard
Los Angeles, California 90036
---