CONTENT HIGHLIGHTS AT
ASIA TV FORUM 2018
ALL3MEDIA INTERNATIONAL – Stand K08
Clique S2 (drama series) (pictured)
In the second season of the seductive thriller, Holly tries to keep her head down until she meets Jack, the charismatic and dangerous ringleader of a boy clique.
Mrs. Wilson (drama series)
The sudden death of Allison's husband unlocks mysteries that she must investigate concerning his unresolved past.
Informer (drama series)
A second-generation immigrant is coerced into undercover work for a counter-terrorism officer.
Gordon Ramsay's 2 Hours to Hell and Back (unscripted series)
Gordon Ramsay goes through hell to make over failing restaurants and bring them back to life as lively businesses.
Gordon, Gino and Fred: The Ultimate Road Trip (factual entertainment)
Gordon Ramsay, Gino D'Acampo, and Fred Sirieix journey throughout their beloved homelands and enjoy special feasts.
Flirty Dancing (factual entertainment)
Singles are taught specially choreographed dance routines that they then must perform with a stranger they've never met.
Undercover Boss (unscripted format)
Corporate executives go undercover at their own companies, learning lessons on how to lead in the process.
www.all3mediainternational.com
---
CALINOS ENTERTAINMENT – Stand F23
Forbidden Fruit (drama series)
Zeynep wants a successful career, while her sister Yildiz wants nothing more than to marry rich. Yildiz's life takes a turn when she's enlisted in Ender's divorce scheme.
Our Story (drama series) (pictured)
Filiz, the oldest of six kids, and the surrogate mother to them, thinks she has no time for love until she meets Baris, who will do anything to join the family.
Woman (drama series)
Mourning the loss of her husband, Bahar is taken by surprise yet again when her estranged mother and sisters reappear in her life.
---
THE GLOBAL AGENCY – Stand E27
Gulperi (drama series)
Gulperi fights to win back the hearts of her children who have been brainwashed against her by her late husband's family.
Daydreamer (dramedy series)
Sanem starts working at an advertising agency, where she meets Can, the owner's son, and the two quickly fall in love.
Meryem (drama series)
To protect Oktay, Meryem takes the blame for a car accident that killed a young woman, and goes to prison.
Evermore (drama series)
Sureyya is a talented musician who lives with her one living relative, her aunt. When she meets Faruk, the two instantly fall for each other, except that Faruk's mother has her own plans for her son's love life.
My Wife Rules (cooking series)
A chef demonstrates a recipe to competing wives, who then must instruct their husbands through an earpiece on how to prepare the dish.
Momsters (cooking series)
Five brides and their mothers-in-law compete as a team to prepare and serve the best meal. The other participating mothers-in-law provide their criticism and commentary.
The Legend (talent competition series)
Contestants have the power to decide their own destinies in this talent show format in which the top two-rated contestants will move on to the semi-finals.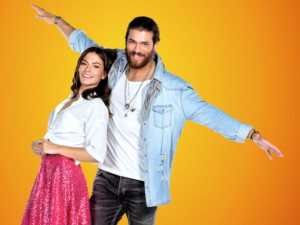 GMA WORLDWIDE – Stand J01
The Way to Your Heart (drama series) (pictured)
Onay lives with achondroplastic dwarfism. Her two daughters feel differently from each other about their mother's condition.
Revenge (revenge drama series)
Old wounds resurface when a fraternity hazing leads to the death of a beloved son.
Family Jewels (family comedy series)
Five sisters compete for their father's love and to become the heiress to the family business.
Silent Shadow (revenge drama series)
Rachel learns that the rival for her man's love is a transgender woman. But not just any transgender woman. It's her former husband, Nathan!
Color of My Blood (revenge drama series)
Two long-lost brothers compete for the love of one woman and become the worst of enemies in the process.
Happy Together (romantic comedy series)
Happylou's boss makes her the sole heiress to his million-dollar fortune, which brings unexpected complications.
The Stepdaughters (revenge drama series)
When the parents of two rivals wed, the stepsisters must learn to think differently of each other.
---
KANAL D INTERNATIONAL – J20
Price of Passion (romance series)
The unlikely marriage between Ferhat and Aslı takes place after Aslı operates on a man that Ferhat shot.
Tragedy (drama series)
Cemal, who works as a waiter in order to provide for his impoverished family, goes in search of his rich uncle, whom he hopes will help him.
Wounded Love (romance series)
The story of an epic romance with strong characters, timeless human emotions, and a penetrating script.
Big Fat Lies (drama series)
Müjgan wants to save her family from her husband Ahmet's infatuation with Sude, a young and beautiful girl who wants a rich husband.
Flames of Desire (drama series)
Blood brothers Bayram and Salih plan to marry their children to one another, but it doesn't go as planned when their kids turn out to have their own love interests and goals.
Double Trouble (drama series) (pictured)
Rival police officers MKC and Barca must collaborate in order to stop a drug network led by ruthless criminals.
Waiting For The Sun (drama series)
Demet and her daughter Zeynep move to Istanbul in the hopes of starting a new life. But Zeynep has trouble adapting to the city and her new school.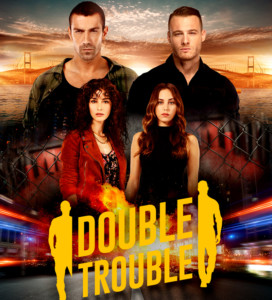 ---
MISTCO
Hold My Hand (romantic drama series)
When her father dies, Azra is left alone in the streets with her autistic brother, and meets Cenk, the spoiled son of a wealthy family.
The Prisoner of Love (romantic drama series)
Troubled by his mother's abandonment, Omer enters into a marriage with Zehra to make his sister happy. But Zehra also has her own motives for marriage.
The Last Emperor (epic drama series)
Tracks the real life of the last Ottoman emperor, Abdulhamid Han, who led an ambitious empire, but faced opposition from family and state traitors.
Resurrection: Ertugrul (epic drama series)
The hero Ertugrul struggles to find land for his tribe and the woman he loves.
Aslan (animated series) (pictured)
A young boy in elementary school thinks up extraordinary inventions with his inexhaustible imagination.
Ege and Gaga (animated series)
The title characters head off on nature adventures in which the two learn new facts about their surroundings.
Momo (animated series)
Momo is a smart bunny who is gifted with the special ability of finding lost items. On his adventures Momo and his friends improve their problem-solving skills and help the environment.
---
MONDO TV – Stand G34

Heidi, Bienvenida a Casa (live-action series)
A friendly girl adapts from rural to city life, where she discovers a gift for singing, and befriends a girl who suffers from agoraphobia.
Heidi Bienvenida al Show (live-action series) (pictured)
Heidi makes more friends and embarks on new adventures. She even discovers a passion for perfume-making.
Invention Story (3D animated series)
Set in fictional Carrot Town, a freethinking rabbit named Silas and a clever fox named Kit compete for the town's attention with their new inventions.
Sissi The Young Empress (animated series)
Through magic and friendship, the title princess helps people and animals achieve harmony on the Schönbrunn Palace grounds.
MeteoHeroes (animated series)
Fulmen, Nix, Nubes, Pluvia, Thermo, and Ventum discover their supernatural powers of controlling the weather and atmospheric phenomena.
---
RECORD TV
Jesus (Jesús) (soap opera)
Tells of Jesus' childhood and the latter part of his life, revealing little-known passages of his fascinating story.
Leah (Lea) (soap opera)
Leah falls in love with Jacob, but is saddened to learn that he wants her sister Rachel, instead. Leah does marry Jacob, but he despises her.
Apocalypse (Apocalipsis) (soap opera) (pictured)
Begins in 1980s New York where four university students meet, then takes place across three generations.
The Rich and Lazarus (El Rico y Lázaro) (soap opera)
Asher, Joanne, and Zach were childhood friends, but that changed when the two boys both fell deeply in love with Joanne.
The Promised Land (La Tierra Prometida) (soap opera)
With his closest and most trusted allies, Joshua, the newly appointed leader of the Hebrews, must lead his people to Canaan, the Promised Land.
The Slave Mother (La Esclava Madre) (soap opera)
The prologue to The Slave Isaura focuses on the terrible story of the light-skinned slave obsessively pursued by Mr. Leoncio.
Moses and the Ten Commandments (Moisés y los Diez Mandamientos) (soap opera) (pictured)
The epic drama retells several biblical stories, including the birth of Moses and the parting of the Red Sea.
---
TWENTIETH CENTURY FOX TV DISTRIBUTION – Suite 5103
The Passage (drama series) (pictured)
An epic thriller that focuses on a dangerous virus that has the potential to lead to the cure for all diseases, or wipe out the human race.
Proven Innocent (drama series)
The story of one woman's fight to prove the innocence of others, as well as herself.
9-1-1 (drama series)
This procedural drama follows the life and work of emergency response personnel, who risk their lives to save others.
Mayans M.C. (drama series)
The next chapter following the Sons of Anarchy saga finds Ezekiel "EZ" Reyes fresh out of prison, with new prospects in the Mayans M.C. charter along the Mexico-California border.
The Resident (drama series)
A provocative medical drama that takes a behind-the scenes look at life (and work) in a hospital.
The Orville (sci-fi comedy series)
Set 400 years in the future, this sci-fi adventure follows the crew of a rickety old ship that's part of Earth's interstellar Fleet.
The Gifted (drama series)
A suburban family on the run must rely on an underground network of mutants after they discover that their children also possess mutant powers.
---