NATPE 

2017
A+E NETWORKS -Tresor Tower, Suite 2-1509/2-1511
Six (miniseries)
Based on the real-life tales of the elite special forces unit SEAL Team Six — known for killing Osama Bin Laden.
Knightfall (series) (pictured)
An epic drama series about the Knights Templar, one of the most powerful entities in history.
The Witness for the Prosecution (miniseries)
Revolves around the brutal murder of wealthy and glamorous Emily French in 1920s London.
The New Wife (format)
Examines the various ways in which remarried parents co-parent with both biological parents and newly married spouses.
Seven Year Switch (format)
Couples who've hit the breaking point in their relationships swap partners.
Doomsday: 10 Ways the World Will End (factual series)
Delves into exactly what the title says it will—the catastrophic events that could destroy our planet.
Leah Remini: Scientology and the Aftermath (documentary series)
The actress tells her shocking tale of leaving the Church of Scientology after 34 years.
sales.aenetworks.com
BENDER MEDIA SERVICES – Meeting Table 34
Hollywood Rewind (clip series)
Delves into the crazy-funny and just plain crazy things that happen surrounding the world's most famous awards show, the Academy Awards.
Officially Amazing (series)
Guinness World Records brings the biggest, weirdest and most surprising records the world has ever seen!
Celebrity Scoop (series)
Keeps you up to date on all the goings-on in show business.
Stars in Style (series)
Check out the hottest trends in fashion and beauty, including tips and tricks from luminaries.
Scoop (short-form videos)
A collection of short-form, broadcast-ready video items covering celebs, films, fashion, social media, news and more.
Raggs (preschool series) (pictured)
Tells the story of five colorful canines who learn important life lessons (and most importantly, play rockin' music) at their clubhouse.
Car Chronicles (series)
As the name suggests, it chronicles cars— like a beautifully restored historic Ferrari or a and a converted Hot Rod.
sites.google.com/site/bendermediaservices
BREAKTHROUGH ENTERTAINMENT – Meeting Table 20
L.M. Montgomery's Anne of Green Gables Good Stars and Fire & Dew (kids/scripted movies) (pictured)
The second and third films in a trilogy, these focus on Anne's teenage years and how they affect her middle-aged guardians, Matthew and Marilla.
Breaking Bread with Brooke Burke (food series)
A TV personality takes viewers to her famous friends with whom she prepares and shares a special meal and discusses food-specific family memories.
Wonder Women (factual series)
Ordinary females are shown accomplishing the extraordinary—battling poachers in South Africa, fighting fires in Mexico and exploring the icy depths of Japan.
Young Once (lifestyle series)
The show follows students at one of the most conservative universities in America, where alcohol, sex and even dancing are banned.
Hollywood Homicide Uncovered (factual series)
Tells the tales of terrible crimes that are somehow connected to celebrity.
The Shocking Truth (factual series)
Goes behind the real-world murders and paranormal events that inspired some of Hollywood's most memorable movies.
Daughters of Eve (scripted series)
Using historical narratives and dramatic reenactments, the series delves deep into the Old and New Testaments to tell the tales of Biblical women who rose from obscurity or slavery to become prophets and queens.
www.breakthroughentertainment.com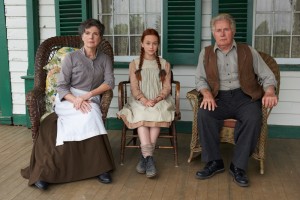 CARACOL TELEVISION – Tresor Tower, Suite 2-2015/2-2017
A Carnival Affair (telenovela)
Alejandro, a man who hails from the capital and hates those from the coast, is shocked to learn that his real father is from the coast, and embarks on a journey to find him.
Pursuit of a Dream (telenovela)
Consuelo Araujo wants to bring culture to every nook of the world, but in her quest to promote popular music, she witnesses her fair share of tragedies.
Surviving Pablo Escobar, Alias JJ (dramatic series) (pictured)
Based on the book by John Jairo Velasquez, who was the lieutenant of Escobar's gang of hitmen.
International Humor Festival 2016 (comedy)
The festival featured over 70 acts, including comedians, magicians, and multi-talented international artists.
www.caracolinternacional.com
DISNEY MEDIA DISTRIBUTION LATIN AMERICA
Tresor Tower, Suite 2-3211
The Catch (drama series) (pictured)
Alice Vaughan is a private investigator on a personal mission to catch her former fiancé—a man who conned her out of millions.
American Crime (drama series)
Follows the aftermath of the home invasion of Matt Skokie, a war vet, and an assault on his wife, Gwen. Four suspects are brought into custody because they fit a profile.
Soy Luna (kids series)
A young girl who loves roller skating around her hometown of Cancun moves to another country with her family. Will Luna be able to adapt?
Criminal Minds: Beyond Borders (drama series)
Follows Jack Garrett and his International Response Team—the FBI's go-to division for cases in which Americans are victimized abroad.
Stitchers (sci-fi series)
Kirsten is recruited into a covert government agency to be "stitched" into the minds of the recently dead to use their memories to investigate murders and other mysteries.
Beyond (drama series)
When Holden awakens suddenly from a 12-year coma he discovers enigmatic new abilities. Will he ever be able to figure out what happened to him while he was sleeping?
Disneymediadistribution.com

GRB ENTERTAINMENT – BOOTH 104
Close Up With The Hollywood Reporter (entertainment series) (pictured)
A roundtable interview series showcasing the biggest names in film and television.
Day 5 (scripted apocalyptic thriller)
During a fatal sleep epidemic, Jake wanders the abandoned streets unaware that most of the world has died in their beds.
Crunch Time (sci-fi dramedy)
Four brilliant grad students are interrogated by government operatives because the world is about to end.
Cien Por Uno (action)
A lieutenant in the Cabrillo cartel decides to go against his better judgment and offer a job to an untrustworthy mobster.
Arabia Motors (automotive)
Follows the partners of the most popular car magazine in the Middle East.
Enchufe Sin Visa: An Undocumented Comedy (comedy)
While also steering clear of immigration officers, six Latinos traveling to the U.S. for the first time must deal with the language barrier and unfamiliar food.
Babies Behind Bars (crime documentary)
Documents female inmates participating in a controversial program that allows them to raise their babies in prison.
www.grbtv.com
KANAL D – Tresor Tower, Suite 2-1703
Crossroads (drama)
Tells the riches-to-rags tale of Evren Erguven, a hotel chain owner who makes a bad investment and loses practically everything.
Family Secrets (drama) (pictured)
Businessman Kemal İpekçi and his family are living the good life in Istanbul when his son, Mert, discovers some hurtful secrets.
Flames of Desire (romantic drama)
Blood brothers Bayram and Salih plan to marry off their children to one another. But their kids have other plans for themselves.
For My Son (drama)
A police officer is unjustly accused of a crime he didn't commit, and loses everything he cares for in the process, including his wife and son.
Sweet Revenge (romantic comedy)
When Pelin's fiancé is a no-show at their wedding, she believes her bad luck is due to how poorly she treated Tankut, a man who loved her and whom she humiliated.
War of the Roses (drama)
Gülru grew up in the servants' quarters of a mansion. Her whole life, she admired Gulfem, the daughter of the mansion's owner. She crosses paths with Gulfem's former lover and her entire life is turned upside down.
Wounded Love (romantic drama)
A woman is forced to accept one man's marriage proposal while pregnant with another man's child.
sales.kanald.com.tr
LEDAFILMS S.A. – Tresor Tower, Suite 2-2511
Max Steel (sci-fi action) (pictured)
A teenage boy and his mom move to the town where his dad died in a mysterious accident, when new energy flare-ups that he can't control.
Colossal (sci-fi action)
The story of a woman who discovers that catastrophic events in the world are somehow connected to her mental breakdown.
Richard The Stork (animation)
A sparrow is adopted by storks and lives his whole life believing that he, too, is a stork.
Rock Dog (animation)
An adventure that follows Bodi, a Tibetan mastiff who is expected to be the next guard of a village, but balks at the idea because he worries that he won't be as good as his father.
The Whole Truth (thriller)
Keanu Reeves stars as an attorney who must defend a 17-year-old suspected of murdering his wealthy father.
www.ledafilms.com
LIONSGATE ENTERTAINMENT – Tresor Tower, Suite 2-1714
Dirty Dancing (special event)
A three-hour musical event based on the classic movie, starring Abigail Breslin as Baby, Debra Messing as Marjorie Houseman, and introduces Colt Prattes as Johnny Castle.
Swedish Dicks (comedy) (pictured)
An aging ex-stuntman and an optimistic Swedish DJ improbably come together to form a new private detective firm
Nightcap (comedy)
An unfiltered look at what goes on behind the scenes at a fictitious late-night show.
Kicking & Screaming (unscripted)
Follow unlikely duos composed of expert survivalists and pampered partners in new comedic survival competition.
Candy Crush (game show)
Four teams of two competitors each compete for cash prizes in this game show set in a colorful candy world.
Graves (comedy)
Former U.S. President Richard Graves decides to right the wrongs of his administration 25 years after leaving the White House.
Greenleaf (drama)
The family at the head of a Memphis megachurch struggles with greed, adultery, sibling rivalry and conflicting values.
www.lionsgate.com
MEDIASET DISTRIBUTION/ RTI SPA – Meeting Table 39
Call Me Francesco—The People's Pope (biopic mini-series)
Chronicles the life of Pope Francis, from his early days in Argentina to his election as pope in Rome.
Task Force 45—Hero for Love (drama)
While positioned in Afghanistan, an army major falls in love with a charming Afghan.
Solo (Alone) (drama thriller)
A solitary policeman is tasked with infiltrating one of the largest criminal organizations in Italy.
The Phone Secrets (unscripted)
Four couples agree to leave their smartphones on the table, giving their partners full access to them, and revealing hidden secrets.
The Bodyguard (unscripted) (pictured)
A three-judge panel will evaluate 12 contestants as they train to become the bodyguard for a superstar.
Jail (unscripted)
A reality drama puts contestants (including five celebs) in jail to see who will thrive and who won't survive.
I Love Dance (unscripted)
Non-professional dancers perform a number of dances inside a "dance box" as avatars with special sensors connected to real people.
www.mediasetdistribution.com
MONDO TV IBEROAMERICA – Booth 510
Heidi, Bienvenida a Casa (live-action series)
An adaptation of Johanna Spyri's classic 1880 novel about a country girl who moves to the big city.
YooHoo & Friends (animated series)
Five animal friends live on a magical island called Yootopia where there is the Tree of Life. Every time a fruit falls from the tree, the five friends must solve a problem.
Invention Story (animated series)
Tells the tale of Kit, an intelligent fox who invents all sorts of things that use Carrotsene, a fuel made from carrots.
Sissi, the Young Empress (animated series)
Depicts how the emperor's son was supposed to marry Sissi's sister, but fell for her instead. She finds a magic bracelet that helps her experience exciting adventures.
The Treasure Island (animated series)
Inspired by the famed Robert Louis Stevenson novel, this series expands on the classic tale, telling more of the adventures of Jim Hawkins.
Cuby Zoo (animated series)
The cube-shaped animal characters are just toys to most kids. But when the humans are away, the cubes shall play.
Eddie is a Yeti (animated series) (pictured)
Eddie lives far away from humankind. He one day ventures to a small town, where he meets nine-year-old Polly, who quickly becomes his "byff" (best yeti friend forever).
www.mondotviberoamerica.com
MULTICOM ENTERTAINMENT GROUP – Booth 403
Top Performing Titles of 2016 (package)
Feature films such as Dangerous Intentions, Just Buried, William Kelly's War, along with the classic series Colonel March of Scotland Yard.
The Cuba Libre Collection (travel documentary)
Three documentary-style filmsoutline a history of the Caribbean island, containing interviews with significant political figures like Fidel Castro and Hugo Chavez.
Larry King Presents… (series package)
A number of TV series from Larry King Now to Brown Bag Wine Tasting with William Shatner.
Sir Arthur Conan Doyle's The Lost World (sci-fi adventure series)
Follows a pack of explorers at the beginning of the 20th Century as they crash-land in a foreign part of the Amazon, where they encounter unimaginable monsters.
Cult Classic Film Library (action horror)
Features a number of cult classics such as the American slasher The House on Sorority Row, the thriller Grizzly, and the dark Freeway, among others.
Backlight (sci-fi drama)
The main characters find themselves driven to the center of a barren wasteland, in search of a mysterious lake so that they may save their lives.
Ca$h (crime thriller)
A husband-and-wife duo meet an ominous figure, who leads them on a wild ride through the streets of Chicago.
www.multicom.tv
RECORD TV  – Tresor Tower, Suite 2-1915
The Promised Land (La Tierra Prometida) (telenovela) (pictured)
After Moses dies, Joshua is tasked with getting the Children of Israel to The Promised Land.
The Slave Mother (La Esclava Madre) (telenovela)
The famed story of a light-skinned slave girl pursued by Mr. Leôncio.
Moses and the Ten Commandments (Moisés y los Diez Mandamientos) (telenovela)
A new retelling of one of the most famous parts of the Bible, Moses' life story—from birth to the Promised Land and everything in between.
The Miracles of Jesus (Los Milagros de Jesús) (telenovela)
A program about the many difficulties faced by folks before they obtained the blessings of Jesus.
Victory! (¡Victoria!) (telenovela)
Arthur falls from his horse and becomes a paraplegic at the tender age of 12. He's hurt when his father, Gregorio, begins to distance himself from him, but later discovers the truth.
Joseph from Egypt (José del Egipto) (telenovela)
A new series retells the Biblical tale of Joseph from Egypt. When his brothers—overcome with jealousy—decide to teach him a lesson, they throw him into a deep well and sell him as a slave.
www.recordtvnetwork.com
Smilehood Media – Tresor Tower, 2-1502
Ekaterina (romantic historical series) (pictured)
This period piece focuses on a young princess as she becomes the Empress of Russia, following the death of her husband.
Anna Karenina (historical series)
A St. Petersburg aristocrat's life is forever changed following an intense love affair with the attractive Count Alexey Vronsky.
Janissary (telenovela)
Marysia, a fearless beauty, meets Gulkhan, the son of a Turkish sultan. Gulkhan looks to wed Marysia, but his bodyguard Altan attempts to stop him.
Sophia (historical drama)
A historical feature on the life and times of the last Byzantine princess, Sophia Paleologue. She moves from Rome to marry the czar Ivan III.
Russian Beauty (drama)
Katerina Panova, an aspiring model, leaves her Russian hometown to experience the excitement of the Parisian catwalk, finding romance and jealousy on her path.
Host (sitcom)
Omar, a small entertainment business owner, faces losing his company to a bigger competitor, but attempts to maintain work by whatever way he can.
Alchemy For Ana (romantic comedy)
A contented singer's life undergoes a drastic change after hearing about the news of her best friend's death.
www.smilehood.com
Telefe International – Tresor Tower, 2-1909/1911
Dear Daddies (telenovela)
Four fathers play a very close parenting role for their children and still manage to have fun.
Love After Love (telenovela) (pictured)
The secret, tragic past of lovers is brought back into the present after serendipitously meeting once again.
The Return of Lucas (telenovela)
An affluent family's four-year-old son disappears. 20 years later, the mother Elena receives a mysterious photo of Lucas that sparks hope that he may still be alive.
Educating Nina (telenovela)
Twin sisters Mara and Nina were separated at birth. They meet as adults and Nina has to impersonate her sister.
Story of a Clan (telenovela)
Based on the real-life Puccio family, an infamously criminal Argentinian family, with members convicted of kidnappings and murders.
Lioness (telenovela)
Maria Leone, a textile factory worker rallies her fellow laborers to gain workplace rights. She forms a love with the new owner of the factory.
Bachelor Party (reality)
Reality TV show that features 12 couples about to marry. The men and women live in separate houses, and are able to watch whatever their soon-to-be-spouse does.
www.telefe.com
TELEFILMS – Tresor Tower, 2-2501/2-2503
Lion (drama) (pictured)
An Indian boy from the streets of Calcutta is adopted by a couple in Australia. Now, 25 years later, he tries to find his real family.
Hacksaw Ridge (historical drama)
The true-life tale of World War II Army medic Desmond T. Doss, who refused to kill people and became the first Conscientious Objector to win the Medal of Honor.
A Monster Calls (fantasy drama)
12-year-old Conor escapes into a fantastical world of monsters and fairytales to avoid the harsh realities of his life, including bullying and his mother's illness.
Moonlight (drama)
The life of a young black man from childhood to adulthood is chronicled, as he grows up in a rough neighborhood in Miami.
Jackie (biographical drama)
A biopic that trails the First Lady in the aftermath of her husband's assassination as she struggles with grief, consoles her children and defines JFK's legacy.
www.telefilms.com.ar
TELEMUNDO INTERNACIONAL – Tresor Tower, 2-3203
La Doña (telenovela) (pictured)
Altagracia suffered abuse at the hands of men who escaped punishment. She has since grown ruthless and ambitious, abandoning her daughter and amassing an empire.
La Fan (telenovela)
Valentina Perez, the president of telenovela star Lucas Duarte's fan club, comes face-to-face with her idol. It isn't long before the star realizes that he can't live without her.
El Chema (telenovela)
The origin story of Chema Venegas, detailing his rise to a leader in the world of organized crime, focusing on his ability to escape authorities time after time.
Apuesta Final (telenovela)
Choi Bok-Sun, the wife of Baek Man-Geum an incorrigible gambler, becomes a concubine of King Sukjong.
Ambar (telenovela)
Single mom Matilde loves her daughter, who equally loves her. Her daughter also loves Dany, the local bus driver. Will Dany steal her mom's heart too?
www.telemundointernacional.tv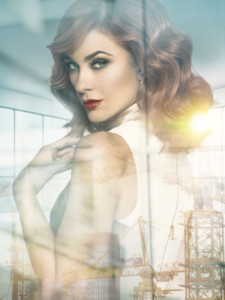 TELEVISA INTERNACIONAL – Splash 1-5
A Beloved Man (light melodrama comedy)
Odorico Cienfuegos, assisted by three spinsters and his daughter, is elected as town mayor thanks to his campaign promise to build a new cemetery.
My Sweet Curse (romantic melodrama)
As Aurora is born, her mother dies. The midwife gossips to the village that she only brings misfortune to those close to her. Aurora is then raised in isolation.
In Love with Ramón (light melodrama comedy)
Fabiola and Sofia vie for Ramón's heart, except that Fabiola has a boyfriend and Sofia's mob boss father forbid her to see him.
The Candidate (melodrama)
Centered on the love triangle between Regina, her husband Alonso, and Regina's old love Gerardo. Alonso competes against Gerardo for the president's chair and for Regina.
No trace of you (traditional)
Julia disappeared the night before her wedding. Five years later, she returns beaten and with no memory. With her fiancée married, Julia tries to put together her life's pieces.
Love Divina (teen)
Divina used to be a street child who watchd over other orphaned children. Then, Divina meets the love of her life Felipe after her long lost grandmother Irene takes her in.
http://www.televisainternacional.tv/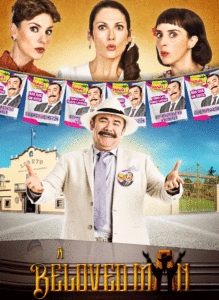 VIACOM INTERNATIONAL MEDIA NETWORKS AMERICAS – Versailles Tower 762
Legends of the Hidden Temple: The Movie (kids special) (pictured)
Based on the hit '90s Nickelodeon series of the same name, this program tells the tale of Noah, Sadie and Dudley, whose vacation becomes a quest to save civilization.
Rusty Rivets (preschool series)
Tech-savvy, 10-year-old Rusty and his best friend Ruby invent their way out of jams by repurposing found objects.
School of Rock (live-action series)
Prep-school students are in for a shock when a wannabe rock star poses as their new substitute teacher.
Stranded with a Million Bucks (competitive reality show)
10 millenials are stranded on a remote Pacific island. With no water or food, they only have the money to keep them sated. Those who survive will split the prize money.
That Awkward Game Show (entertainment game show)
A new series in which parents and their grown-up kids compete to win money while learning some shocking truths about their families.
Cleopatra (entertainment documentary)
The life and times of the legendary queen are reconstructed using evidence from experts to tell the true story of the Egyptian ruler.
Adolf & Eva: Love & War (entertainment documentary)
Tells the true tale of Nazi Germany's secret First Lady using her own home movies, along with expert interviews and dramatic reconstruction.
www.b2b.viacom.com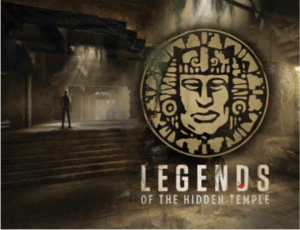 Vision Films – Booth 401
True Health: Body, Mind, Spirit (documentary)
Dr. Karlfeldt brings in experts for conversations on holistic treatment and eastern medicinal techniques.
A Doggone Hollywood (family adventure)
Celebrity canine TV star Murphy is sick and tired of show business executives and decides to run away from the industry.
Boone The Bounty Hunter (action)
Threatened with the end of his reality TV show, Boone decides to take down a drug lord and his drug cartel in the hope of raising the ratings for his show.
Bloodline: Now Or Never (action)
Special Forces captain Gabriel is on a rampage of vengeance for the murder of his partner and the hunting of endangered wildlife.
Executor (action)
After saving a young boy he was ordered to kill, a merciless assassin reevaluates his life purpose.
Hope Dances (family)
Hope is caught between her own passion for ballet and her parent's aspirations that she be a sports champion.
From War To Wisdom (documentary)
Follows a group of Marines, returning from Iraq, as they re-adjust to their home lives.
WWE
Raw (sports entertainment) (pictured)
WWE's flagship series features the best and brightest sports superstars, a slew of controversial moments and unbelievable battles.
SmackDown (sports entertainment)
WWE superstars showcase their incredible wrestling and entertainment abilities.
Total Divas (sports entertainment)
A personal look at the lives of the women of WWE, as they celebrate victories and endure hardships both in and out of the ring.
WWE Main Event (sports entertainment)
WWE superstars and divas of Monday Night Raw and SmackDown LIVE get into the ring and do their thing.
WWE Experience (sports entertainment)
A recap of all the storylines and matches from Monday Night Raw and SmackDown LIVE.
WWE BottomLine (sports entertainment)
A revisit of the action of Monday Night Raw along with exclusive updates from favorite Raw superstars.
WWE AfterBurn (sports entertainment)
Exclusive content from SmackDown LIVE.
www.wwe.com
ZEE ENTERTAINMENT ENTERPRISES – Booth 316
Kum Kum Bhagya (Wedding Bells) (family drama)
The tale of a mom who runs a marriage hall, but spends most of her time trying to marry off her own daughters.
Altard (fitness & lifestyle series)
Overweight brides and grooms are paired separately with fitness and nutrition experts to help them get in shape before getting hitched.
Finding Fido (reality series) (pictured)
Canine expert Seth Casteel helps prospective puppy parents find their perfect canine companions.
Spirit of India (documentary series)
Showcases the unique customs, cultures and traditions of the country's people.
Phantasmagoria (drama)
A collection of 12 short stories that bring about illusions, apparitions and deception, partially based on the signs of the zodiac.
Jamai Raja (family drama)
A hotelier decides to single-handedly repair the relationship between his wife and his mother-in-law.
www.zeebollyworld.com