MIPCOM 

2019
A+E NETWORKS
Stand P3.C1

Miss Scarlet and the Duke (scripted series) (pictured)
Eliza Scarlet enlists The Duke to be her partner in operating her father's private detective agency and solve crimes in the underworld of 19th century London.
Solo Wars (format)
Fifty men and fifty women compete for love and money in this studio-based game show.
Marrying Millions (format)
Features newly-in-love couples, where one half of the pair is wealthy and the other is not.
The UnXplained with William Shatner (factual entertainment series)
Examines fascinating and strange mysteries, and features commentary from scientists and other professional experts.
Damian Lewis: Spy Wars (factual series)
Reveals the remarkable true stories behind some of the most gripping and important international spy operations over the last 40 years.
The Secret Lives of Cheerleaders (TV movie)
Ava, a gifted cheerleader, is an instant hit at her new school. But the reigning homecoming queen doesn't like it.
The Clark Sisters: First Ladies of Gospel (biopic)
Chronicles the lives of the Clark sisters, who were an international success in the gospel music industry.
---
ABS-CBN CORPORATION
Stand P-1.D17

The Killer Bride (revenge drama series) (pictured)
The ghost of Camila Dela Torre, a woman who was found by her fiancé in a bloody wedding dress and veil, haunts the superstitious town of Las Espadas.
Mea Culpa (crime drama series)
Six friends have a night out on the town that turns into a drunken accident with disastrous consequences. Afterward, one mother will do anything to find her child.
The Heiress (family drama series)
Former lovers Romina and Carlos each have their own rags-to-riches tale to tell when they marry different partners. Romina weds business tycoon Robert, while Carlos marries Robert's daughter.
The General's Daughter (action drama)
Rhian Bonifacio, a military nurse, was trained to take revenge against her family's mortal enemy, Marcial De Leon, a high-ranking general.
Los Bastardos (family drama)
When tragedy strikes and Soledad and Roman Jr. are presumed dead, Don Roman seeks love from different women, who give birth to four illegitimate sons. His offspring later come together to fight for their father's fortune.
Now & Forever (family drama)
Eva and Inno meet in real life after crossing paths in the astral world. But when Eva's identity as the long-lost heiress of the Cortes family's wealth is revealed, their relationship changes.
Betrayal (romantic drama)
After years apart, star-crossed lovers Jacky and Lino meet again, but they are now married to other people. Has destiny given them another chance at being together?
www.abs-cbn.com/internationalsales
---
ALFRED HABER DISTRIBUTION
Stand P-1.L50

62nd Annual GRAMMY Awards (awards show) (pictured)
The music industry's biggest names will make their music heard at the special musical event, which will be broadcast in over 190 territories worldwide.
Help! My House Is Haunted (reality series)
Families attempt to reclaim their homes from unwelcome spirits and unexplained supernatural phenomena.
Shallow Grave (reality series)
This investigative series explores the scattered locations where bodies have been buried in shallow graves and provides clues to help viewers find the killer.
Elvis All-Star Tribute (music variety special)
Superstars Jennifer Lopez, Ed Sheeran, Shawn Mendes, Blake Shelton, Keith Urban, John Legend, and more, celebrate the 50th anniversary of Elvis Presley's iconic 1968 Comeback Special.
bublé! (music show special)
Michael Bublé performs classic songs such as "Fly Me to the Moon" and "When You're Smiling," as well as original hits like "Haven't Met You Yet" and "Home."
Motown 60: A GRAMMY Celebration (music special)
Motown superstars Smokey Robinson, Diana Ross, and Stevie Wonder join forces with newer hit-makers such as Ciara and Ne-Yo to salute the legendary record label.
2020 iHeartRadio Music Awards (music awards show)
Dynamic musical talents from across genres come to perform their hits. Last year's show featured Alicia Keys, Ariana Grande, and Halsey.
---
ALL3MEDIA INTERNATIONAL
Stand P3.C10

Eddie Eats America (factual series) (pictured)
The World's Strongest Man winner Eddie "The Beast" Hall tries to conquer America one meal at a time.
Ski A&E (factual series)
A dedicated team of emergency rescuers and doctors save lives at the Val Thorens ski resort located in the heart of the French Alps.
Van der Valk (drama series)
Marc Warren stars as the eponymous Commisaris Van der Valk in this detective procedural filmed in Amsterdam.
Diary of an Uber Driver (drama series)
This character-driven drama is based on the popular blog and e-book by Ben Phillips.
Blinded (thriller series)
Matias Varela and Julia Ragnarsson star in this financial thriller set in a world where risk is nothing and status is everything.
The Accident (drama series)
Sarah Lancashire plays a woman fighting for justice following a tragic accident that tears her community apart.
Heart Over Heels (format)
Kathi's life fell apart when her husband went missing. When she's finally ready to start fresh, her husband unexpectedly returns, and she is caught at the center of a love triangle.
www.all3mediainternational.com
---
AMC STUDIOS
VIP Club

The Preppy Murder: Death in Central Park (documentary series)
Re-examines the brutal killing of Jennifer Levin in 1986 and exposes evidence that was inadmissible at the trial.
Dispatches From Elsewhere (mystery dramedy series)
A group of ordinary people stumble upon a puzzle hiding behind the veil of everyday life.
The Walking Dead Series 3 (w/t) (horror thriller series)
Two young females come of age during a zombie apocalypse.
For Life (w/t) (sci-fi series)
Each episode features an entirely new story and cast. The six episodes tell provocative tales about the cost of finding true love 15 years from now.
Hip Hop: The Songs That Shook America (documentary series)
Focuses on groundbreaking songs that have been pivotal in the evolution of American music and culture, such as Run-D.M.C.'s "Rock Box, Queen Latifah's "Ladies First," and more.
This Close (relationship dramedy series)
Kate and Michael are determined to reboot their friendship, but conflicts arise, such as Kate's past returning to haunt her and Michael's attempt to walk a straight-and-narrow path.
Sherman's Showcase (sketch comedy series) (pictured)
Sherman McDaniels takes viewers through time with music and comedy from his 40-year-old library of a legendary musical variety show that has it all.
www.amcstudiosinternational.com
---
ATV
Stand P-1.J2

Hercai (drama series) (pictured)
Reyyan and Miran marry, but when Miran remembers how Reyyan's father killed his parents, he ends their relationship.
Love and Secrets (drama series)
Sevda steals money in order to rescue her brother, who has been taken hostage by a drug gang. Meanwhile former orphan Ali is unaware that his own brother heads the gang.
Lifeline (drama series)
Nefes, a child bride, was sold to a businessman named Mustafa. When Mustafa takes Nefes and their son to Istanbul for business, Mustafa's younger brother notices the domestic violence Nefes faces.
Foster Mother (drama series)
While at university, Alev has an affair and becomes pregnant. She attempts to kill her baby, Zeynep, but goes to jail. Consequently, Alev's sister raises Zeynep as her own child.
Grand Family (drama series)
Hizir tries to keep the balance among his family members, and refuses to choose between his wife and his mistress. All the while, he also tries to keep his family out of his mafia affairs.
Don't Leave Me (drama series)
Arzu is alarmed by her old friend, Esin, who threatens to reveal the truth about the real father of Tarik, one of Arzu's sons. Esin uses this information in the hopes of living the rich life she's always dreamed of.
Love and Hate (drama series)
Ali, who spent his youth in prison, and Mavi, who has never loved anyone, get to know each other by writing letters. When the time comes to meet face to face, will they be able to overcome their personal demons?
---
BANIJAY RIGHTS
Stand C20.A

The Gulf (crime drama series) (pictured)
Detective Jess Savage loses her memory in a car crash and becomes convinced that someone is after her.
Beauty Laid Bare (factual series)
Four young people explore America's beauty and cosmetics industry, touring offices of global makeup brands and manufacturing factories.
Together Forever (factual series)
Looks at the lives of conjoined twins Carmen and Lupita, exploring the challenges they face as they attend university.
A Night at the Museum (format)
Kids get the opportunity to visit Britain's remarkable educational spaces after closing time.
The School That Tried to End Racism (w/t) (format)
Depicts a school's groundbreaking program to test for racial bias among 11- and 12-year-olds.
Lodgers (format)
This generation-gap experiment pairs potential young flatmates with older men and women who own big properties with empty rooms.
Don't (game show)
A family of four compete to win money, but must follow one simple rule: Don't.
---
BOMANBRIDGE MEDIA
Stand P-1.D2
Paul Goes to Hollywood (lifestyle series)
Paul Hollywood takes a trans-continental journey on his Harley Davidson to explore his three passions: biking, movies, and baking.
Walking the Yangtze with Ash Dykes (factual entertainment) (pictured)
Explorer Ash walks over 4,000 kilometers of treacherous terrain and encounters the local people who live along the Yangtze River.
Shane the Chef (animated series)
Shane and his daughter Izzy take adventures in their town of Munchington to share positive messages on healthy eating.
Egypt From Above (factual series)
Shows the marvels of the country, exploring how geographical elements, such as the Nile River, were key to the nation's development as an ancient empire.
Smighties (animated series)
Six zany and heroic characters embark on fantastical and funny adventures in their imaginative world.
Gamerz (entertainment series)
Twelve contestants move into the Gamerz House, where they will compete in matches and interactive challenges.
Secret Life of Pets (factual entertainment series)
Hidden camera technology reveals what household furry friends get up to when left to their own devices.
---
CALINOS ENTERTAINMENT
Stand P-1.M51

Revival (drama series) (pictured)
On his son's second birthday, Kemal finds himself trapped in a fire in his office, and falls into a coma. When he finally awakens, he discovers that his family has moved on without him.
Forbidden Fruit (drama series)
Two sisters, Zeynep and Yildiz, want vastly different things out of life. Zeynep dreams of a career she can be proud of. Yildiz wants to marry a rich man.
Our Story (romantic drama series)
Filiz was forced to become a surrogate mother to her young siblings. She doesn't think she has time for love in her life. Until she meets Baris, that is.
Woman (drama series)
Bahar is a young mother of two who constantly contends with issues of abandonment.
---
CBS STUDIOS INTERNATIONAL
Stand R7.E2

Evil (drama series) (pictured)
A skeptical female psychologist partners with a priest-in-training and a contractor to inspect demonic possessions, hauntings, and other miraculous events.
FBI: Most Wanted (drama series)
The Fugitive Task Force is assigned to capture infamous criminals on the Bureau's Most Wanted List.
Tommy (drama series)
A former high-ranking NYPD officer tackles social and national security issues as the first female Chief of Police for Los Angeles.
Nancy Drew (drama series)
After her mother's passing, Nancy swears off crime-solving. Meanwhile, she unexpectedly becomes a prime suspect in the investigation of a murder.
L Word: Generation Q (drama series)
Beals, Moennig, and Hailey are joined by a new generation of LGBTQIA characters to experience a new set of issues around love, heartbreak, and success in Los Angeles.
Carol's Second Act (comedy series)
A 50-year-old woman pursues her dream of becoming a doctor, but first must start as a medical intern with a bunch of twenty-somethings.
The Unicorn (comedy series)
Wade is a single and attractive father who tries to embrace his new life after the death of his wife.
---
DISNEY MEDIA DISTRIBUTION – LATIN AMERICA
Stand C14
Stumptown (drama series) (pictured)
Sharp-witted Army veteran Dex Parios has a complicated love life, gambling debts, and a brother she cares for. Her unapologetic style often puts her at odds with the police.
El General Naranjo (drama series)
Follows Oscar Naranjo as he fights against global crimes and hunts down criminals of all kind, from Pablo Escobar to "El Chapo" Guzmán.
Emergence (drama series)
A police chief finds a young child near the site of a mysterious accident who has no recollection of what happened.
NeXt (drama series)
A brilliant but paranoid former tech CEO joins a Homeland Cybersecurity agent to stop the world's first artificial intelligence crisis.
Deadpool 2 (action adventure)
The wisecracking anti-hero partners with a motley crew of mutants to save a rebellious teenage mutant from a genetically enhanced super-soldier.
War for the Planet of the Apes (sci-fi thriller)
Caesar and his apes embark on a mythic quest and confront a ruthless colonel in an epic battle that will determine the fate of the planet.
Kingsman: The Golden Circle (action adventure)
Two elite secret organizations come together to defeat a common enemy after the Kingsman headquarters is destroyed and the world is held hostage.
www.disneymediadistribution.tv
---
ELECTRIC ENTERTAINMENT
Stamd P-1.A51
Almost Paradise (crime action)
After retiring to the tropics, a DEA agent finds himself at the center of an international drug ring.
The Outpost (fantasy adventure) (pictured)
While learning to control her supernatural power, Talon hunts down the perpetrators who destroyed her village and defeats a religious dictator.
Stephen J. Cannell Library (drama collection)
A collection of drama series from writer and producer Stephen J. Cannell, such as 21 Jump Street, The Greatest American Hero, Renegade, and more.
Change is in the Air (drama)
A mysterious young woman with a secret moves into a peaceful community and changes her neighbors forever.
Say My Name (romantic comedy)
After a one-night stand is interrupted by a robbery, strangers must navigate the underbelly of a Welsh isle in order to get their stolen property back.
Alone (horror thriller)
A writer takes refuge in a seemingly peaceful place in the countryside, but she soon confronts more than her inner demons.
Solar Impact (sci-fi action)
After Earth's inhabitants suffer solar radiation, a genetic cellular mutation causes the afflicted to attack and feed on the uncontaminated.
---
FEDERATION KIDS & FAMILY
Stand R7.L26
Find Me In Paris (tween drama series) (pictured)
Lena Grisky, a time-travelling ballerina and princess, becomes trapped in modern-day Paris, where she prepares for the Choreographers Grand Prix.
The Star of Andra and Tati (animated edutainment series)
Depicts the true account of two sisters who were sent to Auschwitz during World War II and were later reunited with their parents.
Squish (animated series)
The single-celled school kids of Small Pond go on adventures where they meet with algae, the cool kids of the school, untrustworthy parasites, and messy bacteria.
The Ollie & Moon Show (live-action animated series)
Two cats travel across the world to show children the joys of friendship and fun.
Love, Divina (teen drama series)
A kind and conscientious teenager takes a group of homeless children under her wing, while also working on her dream of becoming a pop star.
www.fedent.com/kids-and-family
---
FILMRISE
The Buyers' Lounge
West of Liberty (crime drama series)
Ludwig Licht, a former Stasi agent and CIA informant, is dragged back into the darkest corners of the intelligence world.
Little Dog (comedy series) (pictured)
A washed-up pro boxer makes one last attempt to prove his worth.
The Cat and The Moon (drama)
Nick visits New York City to stay with his father's old friend and makes new friends in the city.
Unintended (drama)
On the verge of losing her apartment and job, Leah confronts demons from her childhood.
Nighthawks (drama)
A wide-eyed Midwest transplant plays wingman to his calculating, privileged roommate as they explore the New York City nightlife.
1275 Days (documentary)
Fifteen-year-old Blake faces life in prison while his family fights for his freedom.
---
GLOBAL AGENCY
Stand R8.E17
Daydreamer (dramedy series)
Sanem and Can, two independent souls, discover love in Istanbul, and build a relationship filled with fun, jealousy, and adventure.
Sisters (drama series)
Love and betrayal tear sisters Ümran and Umay apart. Their daughters, Hayat and Hayal, will work to uncover their mothers' secrets while embroiled in their own drama.
Evermore (drama series)
Wealthy businessman Faruk and struggling singer Sureyya embark on a passionate love affair that is thwarted by Faruk's meddling mother, Esma.
Gulperi (drama series)
Gulperi struggles to live her dreams after her domineering father forced her into married life in a provincial town. After her husband's tragic death, Gulperi rediscovers her first love.
Meryem (drama series)
A fatal car accident ends one life and upends the lives of three others. Meryem, her lover Oktay, and businessman Savas are left in the wake.
Babysitter Celebrity Undercover (lifestyle series) (pictured)
Stars transform themselves into undercover babysitters and give kids the opportunity of a lifetime to spend time with their idols.
Golden Spoon (cooking series)
Moms challenge professional chefs to see who will win the title of best cook as judged by their own children.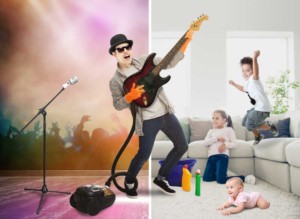 ---
GMA WORLDWIDE
Stand P-1.E67
For Love or Money (drama series)
A devoted wife is forced to comply with an indecent proposal in order to save her husband's life.
Love You Two (romantic comedy series)
Sisters Raffy and Sam are best friends until they fall for the same man.
The Silent Thief (crime drama series)
Jessie searches for her abducted son and uncovers secrets that point to unlikely suspects.
Obsession (thriller series)
Yvie faces off with the vengeful spirit of her husband's dead ex-girlfriend.
The Better Woman (rivalry drama series)
Andrew's fidelity is tested when he meets an exotic dancer who is his wife's long-lost identical twin.
Prima Donnas (family drama series)
Separated from their father, fraternal triplets must find their way back home in order to earn their rights as heiresses to the family fortune.
The Gift (drama series)
A blind man is gifted with the ability to see glimpses of the past and future.
---
GRB STUDIOS
Stand R7.K17
Listen (documentary) (pictured)
Ordinary people are forced to spend time with someone who has conflicting opinions on important topics.
The New Normal (documentary)
Five Parkland High School students cope with the aftermath of the mass shooting that left 17 of their classmates dead.
Highland: Thailand's Marijuana Awakening (documentary)
A growing community of Thai people meet to promote marijuana legalization in this documentary that explores marijuana's role in the country's laws and policies.
Cinderella Bride (docu-series)
Wedding planner Sheri Steffans and her team work to design dream weddings for deserving couples.
On the Case (crime series)
Murder mysteries are explored with interviews and commentary from witnesses and suspects.
Untold Stories of the E.R. (format)
Real-life events reveal the dramatic nature of medical practice.
Man At Arms (science docu-series)
Expert craftsmen recreate iconic weapons from video games, movies, and comics, then test them for their real-world functionality.
---
GUSTO WORLDWIDE MEDIA
Stand P-1.A51
DNA Dinners (food and cooking series) (pictured)
Each episode centers around an individual whose DNA test presents an opportunity to learn about global cultures through cuisine.
Bonacini's Italy (food and cooking series)
Celebrity chef Michael Bonacini prepares delectable Italian meals from 15 different regions.
Flour Power (food and cooking series)
Jessica McGovern demonstrates how to concoct extravagant baked treats for any occasion.
One World Kitchen (food and cooking series)
Nine young women who represent nine international cuisines share their unique perspectives and cultural cooking secrets.
Watts On The Grill (food and cooking series)
Spencer Watts shows viewers how to entertain guests outdoors using the art of barbecue.
The Latin Kitchen (food and cooking series)
Three men from Mexico, Venezuela, and Spain explore their respective Latin cuisines.
The Urban Vegetarian (food and cooking series)
The fashionable Desiree Nielsen acquaints viewers with a variety of delicious vegetarian cuisine.
---
KANAL D INTERNATIONAL
Stand R9.A32
Ruthless City (drama series) (pictured)
After moving to Istanbul, Seher crosses paths with Agah, who came from the same small town a long time ago. This serendipitous meeting will test both their families.
Love Trap (romantic drama series)
Ayse, who comes from a poor, working-class family, busts her boyfriend canoodling with her best friend, then plots to marry Kerem, whose family owns a successful textile factory.
Price of Passion (romantic drama series)
Asli must marry Ferhat in order to save her life. The two opposites quickly grow close, but Ferhat's lifestyle is too dark for Asli.
Wounded Love (period drama series)
This drama intertwines the lives of a hero destined to witness his family's decline, a father fated to be left alone, and a woman who is forced to accept a marriage proposal.
---
KEW MEDIA DISTRIBUTION
Stand C15.A6
Susan Hill's The Small Hand: A Ghost Story (drama series)
Adam Snow, an antique book dealer, receives increasingly sinister visits from the spirit of a small child, which will force him to reveal a haunting secret from his own childhood.
Cold Call (drama mini-series) (pictured)
June, the victim of a cold call fraud that destroyed her family's future, tracks down the head of the fraud empire, moves into his family home, and gets her revenge.
Worzel Gummidge (drama)
A mischievous scarecrow mysteriously comes to life in this comedic magical fantasy that reveals how everybody needs a place to call home.
The Movies (documentary series)
Combines archival footage and interviews with actors, critics, and historians to explore American cinema through the years, and the cultural and political shifts that framed its evolution.
Legacy List with Matt Paxton (non-fiction series)
TV personality Paxon and his team of expert movers pack prized antiques and memorabilia from family homes.
Griff's Great Kiwi Road Trip (non-fiction series)
Comedian and travel enthusiast Griff Rhys Jones journeys across New Zealand, going from the top of the North Island to the bottom of the South Island, while avoiding State Highway 1.
High Maintenance (non-fiction series)
Showcases engineering marvels, demonstrating the constant monitoring and maintenance that is required for different structures, buildings, and technological systems.
---
LIONSGATE ENTERTAINMENT
Stand C15.A8
Zoey's Extraordinary Playlist (drama series) (pictured)
Phenomenal computer coder Zoey Clarke questions her sanity when she is gifted with the ability to listen to the innermost thoughts and desires of people around her through song and music.
Manhunt: Lone Wolf (drama series)
Portrays the search for Eric Rudolph, the bomber of the 1996 Atlantic Olympics, which is remembered as one of the most complex manhunts on U.S. soil.
Love Life (comedy series)
Each season revolves around a different protagonist's adventures in love, telling the stories of a range of connections, from committed relationships to one-off incidents.
The Goes Wrong Show (comedy series)
The fictitious Cornley Drama Society takes on an overly-ambitious project that is made even more difficult by competitive actors, each of whom tries to get more stage time than the others.
Motherland (comedy series)
Working mom Julia, single mom Liz, and stay-at-home dad Kevin desperately want to win the approval of the Alpha Moms.
Ramy (comedy series)
Ramy Hasan goes on a spiritual journey in his politically divided New Jersey neighborhood, where he tries to parse what it means to be a part of his Muslim community, as well as a member of the millennial generation.
Ambitions (drama series)
Former best friends Stephanie Lancaster and Amara Hughes become professional and personal adversaries in this series that explores the machinations of love and power.
---
MADD ENTERTAINMENT
Stand P-1.J69
Kuzgun (drama series) (pictured)
Kuzgun grew up on the streets after he was taken from his family by thugs. As an adult, he is after revenge against Rifat, the man who ruined his father's reputation.
A Miracle (drama series)
A young medical school graduate with savant syndrome, Ali finds friendship and brotherhood among a hospital's surgical unit.
Love Makes You Cry (drama series)
Ada's mother died early in her life and her mean uncle took her in. Unhappy with her life, Ada runs away with Yusuf to Istanbul to start fresh.
---
MEDIASET DISTRIBUTION
Stand R7.F7
Rosy Abate (crime drama series)
Rosy paid her debt to society and looks forward to finally being reunited with her son, Leo. But Leo, who's going through a difficult period, may not welcome the reunion.
Kidnapped By Justice (L'amore strappato) (drama series)
A father is falsely accused of abusing his daughter, who ends up in the adoption system. His wife will fight to prove her husband's innocence and get her daughter back.
The Silence of Water (Il silenzio dell'acqua) (drama series)
The local police inspector must work with a homicide detective to uncover the truth behind the disappearance of a young girl that seems to involve all of the town's residents.
Love And Sacrifice (Sacrificio d'amore) (period drama series)
During the last year of the Belle Epoque and throughout World War I, the period drama's protagonists live out their passions.
Power Games (Juegos de Poder) (drama series) (pictured)
Presidential candidate Mariano Beltrán must overcome a serious family problem so that his political campaign can run smoothly.
Paradise Island (Isla Paraiso) (romantic comedy series)
As a result of her husband's irresponsible business dealings, Carolina is forced to leave her home with her son and take refuge with her twin sister.
It's Never Too Late To Be Happy (Casa de Muñecos) (drama series)
When their mother divorces their father, four sisters are left in disbelief. But their mother's desire for a new life will force them to question their own lives.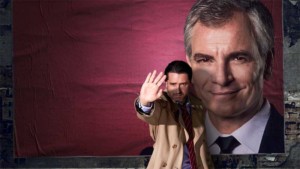 ---
MISTCO
Stand P-1.N51
Melek: A Mother's Struggle (drama series)
A powerful woman fights to protect her children, and sacrifices everything for them in the process.
My Champion (drama series) (pictured)
After Kafkas's wife passes away, the boxer will be forced back into the ring when he learns his son has the same disease as his wife.
Hold My Hand (romantic drama series)
With her father recently dead and her brother missing, Azra meets Mrs. Feride. When Mrs. Feride offers her an incredible opportunity, Azra meets the spoiled Cenk.
Beloved (romantic drama series)
It is love at first sight for Aziz and Feride. But when their fathers, who are sworn enemies, discover this young relationship, the lovers become pawns in a filthy game.
The Circle (crime drama series)
Kaan and Cihangir struggle to understand their interrelated pasts while balancing the demands of a criminal organization.
Resurrection: Ertugrul (epic drama series)
The hero Ertugrul struggles to find land for his tribe and the woman he loves.
---
MONDO TV GROUP
Stand P-1.M2/P-1.N1
MeteoHeroes (comedy adventure series)
Fulmen, Nix, Nubes, Pluvia, Thermo, and Ventum discover their supernatural powers of controlling the weather and atmospheric phenomena.
House of Talent The Web Series (live-action web-based show)
Twenty of Italy's best-known teen influencers are brought together to test their talents in areas such as cooking, science, fashion, and music.
Robot Trains (comedy adventure series) (pictured)
Season one follows the adventures of Kay and his friends, while season two depicts Kay's journey in Rail World and its four regions that represent the Earth's natural resources.
Sissi the Young Empress 3 (comedy adventure series)
Through magic and friendship, the title princess helps people and animals achieve harmony on the Schönbrunn Palace grounds.
Invention Story (comedy adventure series)
Set in fictional Carrot Town, a freethinking rabbit named Silas and a clever fox named Kit butt heads while thinking up inventions.
YooHoo to the Rescue (comedy adventure series)
The group of friends is on a mission to help endangered animals on Earth in order to return to their magical home of Yootopia.
Heidi Bienvenida (live-action series)
A carefree girl leaves her beloved mountain home to move to the big city, where she encounters a cast of characters who become her unconventional family.
---
MULTICOM ENTERTAINMENT GROUP
Stand R7.F28
The Archive (channel)
Dedicated to rare, retro, and 4K-restored films and classic TV.
The Grapevine (channel)
Features hundreds of documentaries, specials, and unscripted series on topics including food, travel, politics, and social issues.
Remarkable Life of John Weld (biographical drama)
Looks at John Weld, from his start in Hollywood as a stunt double in the '20s to his later accomplishments as a journalist and novelist.
For Now (dramedy)
Two Australian siblings travel up the California coast with their twenty-something friends while grieving their dead parents.
Blood 13 (thriller) (pictured)
After a gruesome crime scene, a reckless female detective risks everything to catch a serial killer on the loose.
Fat Legs (dramedy)
Amid mounting pressure from her parents to find a stable career, Anna decides to travel to Paris with her best friend, Jean, and his partner, Philippe.
Beyond the Mask (action adventure)
A mercenary for the British East India Company has been double-crossed and is on the run in the American colonies, where he attempts to redeem his name.
---
NBCUNIVERSAL INTERNATIONAL DISTRIBUTION
Stand P4.C4
Almost Family (drama series) (pictured)
Only child Julia Bechley has her life turned upside down when she learns that her fertility doctor father has conceived dozens of children over the course of his career.
Bluff City Law (drama series)
When Julia's mother dies, her father Elijah will ask her to rejoin the family law firm. Will they be able to get along?
Council of Dads (drama series)
After a health scare, Scott, a loving father of four, enlists his closest friends to act as back-up dads in case he can't be there for his family.
Devils (drama series)
Massimo Ruggero must join forces with a hacker-journalist to clear his name after being named as the prime suspect for his colleague's death.
Duncanville (animated series)
Fifteen-year-old Duncan Harris navigates raging hormones, an unrequited crush, his quirky family, and hilarious fantasies.
Resident Alien (drama series)
A crash-landed alien assumes the identity of a small-town doctor in order to fit in amongst humans.
Stateless (drama series)
The lives of four strangers intersect at a refugee detention center in the Australian desert.
---
PARAMOUNT PICTURES WORLDWIDE TELEVISION LICENSING AND DISTRIBUTION
Stand R7.N7
Looking for Alaska (drama series)
At his new boarding school, Miles meets the beautiful and troubled Alaska Young, who utterly captivates him.
Heaven Of Hell (w/t) (drama series)
A psychiatrist moves with her family from California to Mississippi, where she discovers shameful secrets that have an impact on everyone involved.
Angel of Darkness (drama series) (pictured)
Sara Howard enlists Dr. Laszlo Kreizler and John Moore to track down a mysterious killer on the loose.
The Great (dramedy series)
Details Catherine the Great's rise to power and her explosive relationship with husband Peter, the emperor of Russia.
Yellowstone (drama series)
A prominent ranching family encounters a problem with those who are encroaching on their land in Montana.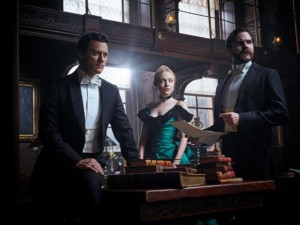 ---
RAI COM
Stand R7.D5
Angela (drama series) (pictured)
A powerful woman witnesses the murder of two parents and feels obliged to take care of their two children.
Commissario Ricciardi (Il Commissario Ricciardi) (crime detective series)
The titular detective, who has been gifted with the ability to see ghosts and listen to their thoughts, investigates the streets of Naples.
Live and let live (Vivi e Lascia Vivere) (drama series)
Elena discovers that her husband has been leading a double life with a second family abroad.
Escape From Mafia (Vita Promessa) (period drama series)
Carmela and Salvatore Carrizzo move their family to New York and live through the Great Depression.
Ladies' Paradise (Il Paradiso delle Signore) (period drama series)
A young woman leaves her hometown to move to Milan to work at a flourishing department store.
The Nest (Il Nido) (comedy series)
Addresses contemporary issues like direct democracy, the role of the elite, and solidarity with the disenfranchised.
The Devil's Watches (Gli orologi del Diavolo) (crime drama series)
Gianni becomes entangled in an international drug trade that will take him from the small province where he was raised to islands of drug traffickers and maximum security.
---
RECORD TV
Stand P-1.K63
Jezebel (Jezabel) (telenovela) (pictured)
A Phoenician princess uses her beauty to seduce King Ahab and marry him so that she can become queen. She then attempts to impose the worship of pagan gods on the public.
Topíssima (telenovela)
An ongoing police investigation implicates all the main characters in this telenovela that depicts the struggles of the modern workplace.
Jesus (Jesús) (soap opera)
Tells the fascinating life story — from birth to resurrection — of the man who changed the world.
Leah (Lea) (soap opera)
Leah falls in love with Jacob, but is shocked and saddened to learn that he wants her sister, Rachel, instead.
Apocalypse (Apocalipsis) (soap opera)
Begins in 1980s New York where four university students meet, then takes place across three generations.
The Rich and Lazarus (El Rico y Lázaro) (soap opera)
A romantic drama about three inseparable childhood best friends is set against Nebuchadnezzar's invasion of Jerusalem.
The Promised Land (La Tierra Prometida) (soap opera)
Joshua, the newly appointed leader of the Hebrews, is an experienced warrior gifted with courage and a powerful belief in God. He leads his people to Canaan.
---
STUDIO 100 MEDIA
Stand R7.C15
100% Wolf – Legend of the Moonstone (comedy adventure series) (pictured)
Freddy Lupin, heir to a proud line of werewolves, is shocked when his "warfing" goes awry, and he turns into a ferocious pink poodle, instead.
Heidi (adventure series)
A happy orphan girl lives with her grandfather in the Swiss Alps, where she feels free and learns to take on responsibility.
Tip the Mouse (preschool comedy series)
A little mouse embarks on fascinating adventures that have lessons for children.
Wissper (preschool comedy series)
Born with the ability to talk to animals, a curious little girl transports herself anywhere there is an animal in trouble by saying the magic word "Ssshhh."
Arthur and the Minimoys – The Series (fantasy adventure series)
Arthur enters the world of the Minimoys and visits his friends, Selenia and Betameche. He joins the resistance against tyrant Malthazar.
Maya the Bee (preschool adventure series)
Maya goes on fun adventures with her friends, including Billy Joe and Jimmy Joe, to discover nature and experience all of life's emotions.
Mia and Me (fantasy adventure series)
In the magic land of Centopia, Mia and her friends must protect unicorns from villains.
---
TELEFILMS
Stand P-1.C2
Midway (action drama) (pictured)
An undermanned American fleet is confronted by the Imperial Japanese Navy at the Battle of Midway.
Scary Stories to Tell in the Dark (horror thriller)
In the small town of Mill Valley, a young girl named Sarah has horrible secrets that she turns into a series of scary stories
Hustlers (crime comedy)
A crew of former strip club workers unite in order to scheme against their Wall Street client.
21 Bridges (crime drama)
A disgraced NYPD detective uncovers a wild conspiracy that leads to an all-night chase, ending with the closing of all of Manhattan's 21 bridges.
The Current War (historical drama)
Electricity geniuses Thomas Edison and George Westinghouse compete to develop a sustainable energy system for the American people.
---
VIACOM INTERNATIONAL MEDIA NETWORKS
Stand R7.K5
Victoria Small (dramedy series)
Four women who wish to become mothers welcome the birth of newborn Victoria. They put aside their differences in order to raise her.
To Catch A Thief (mystery series) (pictured)
Juan Robles returns to Buenos Aires to get his sick uncle, who has been charged with burglary, out of jail. His uncle is suspected of being El Gato, an infamous thief whose identity is known only to Juan
Club 57 (live-action teen series)
Siblings Eva and Ruben accidentally time-travel to 1957, but when Eva falls in love with JJ, her minor action causes a butterfly effect on the future.
N00bees 2 (teen telenovela)
Silvia returns to her normal life — she gets a new boyfriend and plays basketball — until an AI villain seeks revenge.
Dani Who? (sci-fi thriller series)
After Lorena disappears, Dani's life turns into a nightmare in which she struggles to understand who her real friends are.
Ana (comedy series)
The daughter of a Mexican beauty queen attempts to become a Hollywood star herself, while dealing with aging and her mother's unfulfilled dreams.
Backdoor (comedy series)
Short satirical sketches illustrate unique social situations.