CONTENT HIGHLIGHTS AT MIP CANCUN & DISCOP JOBURG
7A MEDIA
The Wait For Love (telenovela)
A movie star and a royal prince carry on a secret affair.
Reina de Flores (telenovela)
Rosa suffers from memory loss after a terrible accident. Her husband looks to Rosa's sister, Narcisa, for help. But Narcisa does the opposite of helping.
El Golazo de la Suerte (sports format) (pictured)
Families are pitted against each other in a variety of tests in order to reach the grand final.
Fotografías de un Crimen (Crime In Focus) (miniseries)
A successful photographer's life begins to go downhill when he takes a picture in a park of something out of the ordinary.
Hablamos Cuando Regreses (We'll Talk When You Get Back) (miniseries)
Two men with the same name were supposed to be on a plane that crashed and left no survivors. One didn't board. Their respective wives must discover which of their husbands is still alive.
Mundo C/Net (science and technology format)
Host Poncho de Anda showcases the latest news, products, and technological innovations.
En Foco, Con Neida Sandoval (documentary series)
Journalist Neida Sandoval introduces the best documentaries that focus on international issues.
---
A+E NETWORKS

I Knew Jesus (factual series) (pictured)
This docu-drama investigates the men and women who were closest to him while he was alive, including Mary Magdalene and John the Baptist.
Project Blue Book (scripted series)
Astrophysicist Dr. J. Allen Hynek is recruited by the U.S. Air Force to research UFOs and related phenomena.
Live PD: Police Patrol (factual series)
Dan Abrams introduces urban and rural police forces to offer viewers insight into local police departments.
Forged In Fire: Knife Or Death (factual series)
America's most experienced bladesmiths, martial artists, and knife experts make their way through unimaginable challenges to win a $20,000 grand prize.
Jane Green (movie series)
The trio of TV movies depict passionate stories, from extramarital affairs to mid-life crises.
No One Would Tell (TV movie)
When her daughter goes missing, single mother Laura must fight for justice when a case is brought against Rob, her daughter's boyfriend with a dark past.
Nightwatch Nation (factual series)
Viewers experience the most unnerving time for first responders: the overnight shift.
---
ABS-CBN
DISCOP Johannesburg Stand 89

The Better Half (drama series) (pictured)
Believing her husband Marco to be dead after an airplane crash, Camille meets a new man. But Marco later reappears in Camille's life,  now married to another woman.
Forever My Love (romantic drama series)
As children, Gabriel and Bianca developed a special bond. Years later, a chance encounter at a triathlon reunites the couple, but will their connection stay true?
The Blood Sisters (drama series)
Three identical sisters were separated at birth, unaware of each other's existence. A mysterious criminal case brings them together, raising many questions.
Asintado (drama series)
The family of Ana's lover orchestrated a murder attempt on her life. While she rebuilds her life, Ana also plans her revenge.
The Good Son (drama series)
Victor is the father of four sons who have been separated into different families. When Victor dies after being poisoned, the primary suspects are the four brothers.
Lost Hearts (family drama series)
Aspiring fashion designer Tessa and beauty queen Marga were best friends until Marga betrayed Tessa. Their paths intersect again when their children meet.
Betrayal (drama series)
When Jacky and Lino were younger, they were not allowed to be together. As adults, they meet again, this time with their own families. Will their love rekindle?
internationalsales.abs-cbn.com
---
ALL3MEDIA INTERNATIONAL
DISCOP Johannesburg Viewing Booth 4

White Dragon (aka Strangers) (drama series) (pictured)
University lecturer Jonah Mulray travels to Hong Kong to identify the body of his dead wife and discovers her double life.
Cheat (drama series)
What began as academic deception between university professor Leah and her student Rose devolves into a series of events with fatal consequences.
The Bisexual (drama series)
Desiree Akhavan stars in this funny and unapologetic take on the differences between dating men and women.
Flirty Dancing (factual entertainment)
Singles are taught specially choreographed dance routines that they then must perform with a stranger they've never met.
When I Grow Up (factual entertainment)
A group of kids are given free reign in running a chocolate company, a high-end estate firm, and a celebrity magazine.
Secret Mayor (factual entertainment)
Equipped with hidden cameras, city mayors go undercover to witness and understand the problems facing their cities.
www.all3mediainternational.com
---
AMC STUDIOS

Unspeakable (drama series) (pictured)
Chronicling the emergence of HIV and Hepatitis C in Canada, the drama follows two families who, tragically, were affected by tainted blood.
This Close (relationship dramedy)
Twenty-something best friends Kate and Michael, who just to happen to be deaf, try to navigate Los Angeles, but the people closest to them see their disability first.
Documentary Now! (comedy series)
Hosted by Dame Helen Mirren, each episode tells a fascinating (yet untrue) story inspired by some of the world's most famous docs.
Eli Roth's History of Horror (documentary series)
Eli Roth brings some of the masters of horror together to reveal the themes that most inspired them and explore how horror has evolved through the years.
Jonestown: Terror in the Jungle (documentary series)
Docu-series shows how Jim Jones went from a charismatic preacher and champion of civil rights to an egomaniacal demagogue who led the biggest mass suicide in American history.
Lodge 49 (dramedy series)
Dud, an optimistic ex-surfer, finds himself at a rundown fraternal lodge, where he discovers a world of cheap beer and easy camaraderie.
Ministry of Evil: The Twisted Cult of Tony Alamo (documentary series)
This four-part series traces the rise and fall of cult leaders Susan and Tony Alamo through archival footage, including an exclusive videotaped deposition with Tony.
www.amcstudiosinternational.com
---
ATV
DISCOP Johannesburg Viewing Booth 11

Lifeline (family drama series)
Nefes is a child bride whose husband, Vedat, beats her. She thinks she can't escape, but when businessman Mustafa and his brother, Tahir, come to visit, she and her young son stow away in Tahir's van.
Foster Mother (drama series)
Damla welcomes her sister's unwanted baby into her home. After the girl turns eighteen, tensions flare between her birth parents and her foster mother.
Don't Leave Me (family drama series)
Arzu is a middle-aged woman with a happy marriage, two sons, and lots of secrets, including the fact that she bore a child after being raped.
Love and Hate (drama series) (pictured)
Ali is in prison for murdering Ahmet, and Mavi is his pen pal. The two plan to wed. Little does Ali know that Mavi is actually Ahmet's sister, and she plans to kill Ali on their wedding night.
Orphan Flowers (drama series)
Tells the story of Eylül, an orphan, who is both lucky and unlucky enough to be attending a luxurious private college.
Wedlock (family drama series)
Aylin thinks she's marrying a mild-mannered surgeon, but when Yekta turns violent, she's heartbroken. She's more heartbroken when her son turns out to be like his father.
She Was Pretty (romantic drama)
Childhood friends encounter each other years later and enter a complicated love game.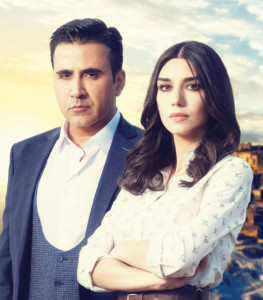 ---
CALINOS ENTERTAINMENT
Forbidden Fruit (drama series)
A tale of two sisters: Zeynep, who lives by her ethics and wants a successful career that she worked hard for, and Yildiz, who wants nothing more than to marry rich.
Our Story (drama series) (pictured)
Filiz, the oldest of six kids, is forced to become a surrogate mother to her siblings since her useless alcoholic father cannot parent them.
Woman (drama series)
Bahar is a woman who's suffered much loss in her life, from being abandoned by her mother to her husband's unexpected death.
---
GMA WORLDWIDE
DISCOP Johannesburg Viewing Box 31

Another Chance (drama series)
After losing her husband and son to a brutal crime, Lyra is offered a second chance at love when she meets widower Bernard, who has a son. Turmoil occurs when Lyra learns that Bernard's son is not his and may be her friend's missing child.
Memories of Love (drama series) (pictured)
Joseph, a severely wounded soldier, is nursed back to health by his girlfriend Andrea. Joseph must convince a doubtful Andrea that he is really who he says he is.
Once Again (drama series)
Des and Aldrin, who have never seen one another in real life, meet each other in their memories and dreams.
Rhodora X (drama series)
Diagnosed with multiple personality disorder, Rhodora is kidnapped by child traffickers.
Someone To Watch Over Me (drama series)
Tells of the romance and marriage of Joanna and TJ. Doctors detect early onset Alzheimer's disease in TJ, who then is unable to recognize his own family.
The Other Mrs. Real (drama series)
Anthony Real is happily married to his wife, Millet, when he gets a higher paying job. At his new workplace, he encounters Sheila, who becomes his other wife.
Until We Meet Again (drama series)
Taken from her father and hidden deep in the woods, Ana becomes a feral child, unsure if she will ever see her family again.
---
KANAL D INTERNATIONAL
DISCOP Johannesburg Stand 102/103

Price of Passion (romance series) (pictured)
Ferhat is a hitman. Aslı is an idealistic doctor. After Aslı operates on a man that Ferhat shot, she is forced to marry him to save her life.
Tragedy (drama series)
Cemal works as a waiter in order to provide for his impoverished family. When his father dies, Cemal goes in search of his rich uncle, who he hopes will help him.
Wounded Love (romance series)
The story of an epic romance with strong characters, timeless human emotions, and a penetrating script.
Big Fat Lies (drama series)
Müjgan and Ahmet's orderly married life goes awry when Ahmet meets Sude, a young and beautiful girl.
Flames of Desire (drama series)
Blood brothers Bayram and Salih hatch a plan to marry their children to one another, but it doesn't go as planned when their kids fall in love on their own.
Double Trouble (drama series)
Rival police officers MKC and Barca must collaborate in order to tackle a drug network led by ruthless criminals.
Waiting For The Sun (drama series)
Demet and her daughter Zeynep move to Istanbul. Zeynep has trouble adapting to the city and her new school, where bullies have targeted her.
---
MISTCO
MIP Cancun Meeting Table 123
Hold My Hand (romantic drama series) (pictured)
When her father dies, Azra is left alone in the streets with her autistic brother, and meets Cenk, the spoiled son of a wealthy family.
The Prisoner of Love (romantic drama series)
Troubled by his mother's abandonment, Omer enters into a marriage with Zehra to make his sister happy.
The Last Emperor (epic drama series)
Tracks the real life of the last Ottoman emperor, Abdulhamid Han, who led an ambitious empire, but faced opposition from family and state traitors.
Resurrection: Ertugrul (epic drama series)
The hero Ertugrul struggles to find land for his tribe and the woman he loves.
Aslan (animated series)
A young boy in elementary school thinks up extraordinary inventions with his inexhaustible imagination.
Ege and Gaga (animated series)
The title characters head off on nature adventures in which the two learn new facts about their surroundings.
Jade (animated series)
Curious Jade goes on trips with her bug-like friends called Mat Mats, during which she saves her clumsy pals from troublesome situations.
---
MONDO TV
DISCOP Johannesburg Stand 101
Heidi, Bienvenida a Casa (live-action series)
A friendly girl adapts from rural to city life, where she discovers a gift for singing, and befriends a girl who suffers from agoraphobia.
Heidi Bienvenida al Show (live-action series) (pictured)
Heidi makes more friends and embarks on new adventures. She even discovers a passion for perfume-making.
Invention Story (3D animated series)
Set in fictional Carrot Town, a freethinking rabbit named Silas and a clever fox named Kit butt heads while thinking up inventions.
Robot Trains (3D animated series)
Five young trains that transform into robots bravely face adventure and adversity.
Sissi The Young Empress (animated series)
Through magic and friendship, the title princess helps people and animals achieve harmony on the Schönbrunn Palace grounds.
The Treasure Island (animated adventure series)
Jim Dawkins recounts his past galactic adventures that began when the pirate Billy Bones entered his life.
Nutri Ventures (animated series)
Theo, Lena, Ben, and little Nina, are tasked with finding the Nutri-Guardians in order to reintroduce the food groups into a world of high-calorie, manufactured junk.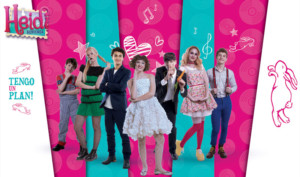 ---
MULTICOM ENTERTAINMENT
For Now (dramedy) (pictured)
Four Aussie pals and siblings take a road trip to California to audition for a dance school.
Streaker (sports comedy)
High school teacher Balz Naef is experiencing a financial crisis. His solution is to recruit students as streakers in an illegal sports gambling ring.
Film Restorations (variety)
Since 2017, Multicom has completed more than 20 film restorations, including The Long Way Home, The Convent, and The Adventures of Pinocchio.
Remarkable Life of John Weld (documentary)
Looks at John Weld, from his start in Hollywood as a stunt double in the '20s to his later accomplishments as a journalist and novelist.
Shadow of Suribachi: Sammy's Story (historical documentary)
World War II Marine and Iwo Jima survivor Sammy Bernstein tells the terrifying tale of the two battles he was forced to fight.
The Grapevine (unscripted)
Multicom's unscripted channel showcases true stories, interviews, and reality programming.
The Archive (archival)
Multicom's archival channel shows rare, retro, and restored films, as well as classic TV series.
---
RECORD TV
DISCOP Johannesburg Stand 72
Jesus (Jesús) (soap opera)
Tells the fascinating life story — from birth to resurrection — of the man who changed the world.
Leah (Lea) (soap opera)
Leah falls in love with Jacob, but is shocked and saddened to learn that he wants her sister Rachel, instead.
Apocalypse (Apocalipsis) (soap opera) (pictured)
Begins in 1980s New York where four university students meet, then takes place across three generations.
The Rich and Lazarus (El Rico y Lázaro) (soap opera)
A romantic drama about three inseparable childhood best friends.
The Promised Land (La Tierra Prometida) (soap opera)
Joshua, the newly appointed leader of the Hebrews, is an experienced warrior gifted with courage and a powerful belief in God. He leads his people to Canaan.
The Slave Mother (La Esclava Madre) (soap opera)
The prologue to The Slave Isaura focuses on the terrible story of the light-skinned slave obsessively pursued by Mr. Leoncio.
Moses and the Ten Commandments (Moisés y los Diez Mandamientos) (soap opera)
A retelling of the biblical story of Moses, from his birth to the parting of the Red Sea.
---
VIACOM INTERNATIONAL MEDIA NETWORK
100 Days To Fall In Love (comedy series) (pictured)
Two friends make deals with their husbands to take a break from their marriages for 100 days.
Killing Me Lovingly (drama series)
A widower turns into a serial killer whose victims are women with fatal diagnoses.
Club 57 (live-action kids' series)
Siblings Eva and Ruben accidentally time travel to 1957, and change the future in the process.
Educando a Nina (comedy series)
Nina is a reggaeton group showgirl who dreams of being a singer. In order to save her father, she must take on another person's identity.
N00bees (live-action kids' series)
Silvia creates an E-Sports team to enter the Professional League of Video Games.
Rise of the Teenage Mutant Ninja Turtles (animated kids' series)
The iconic band of brothers, consisting of Leonardo, Raphael, Donatello, and Michelangelo, returns.